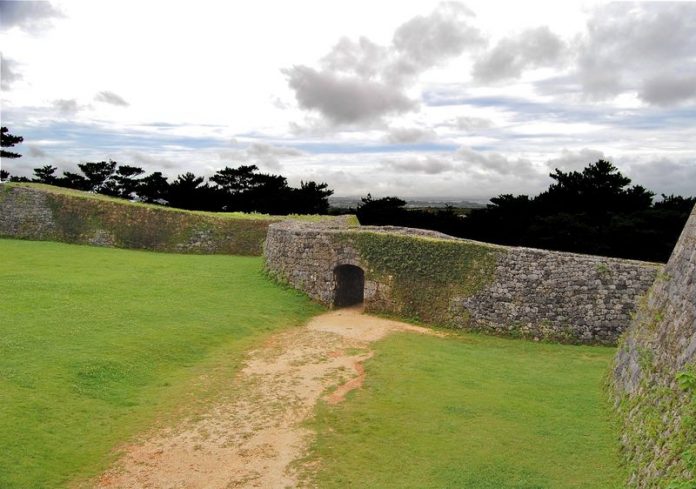 CONTRIBUTED BY JENNIFER MARTINEZ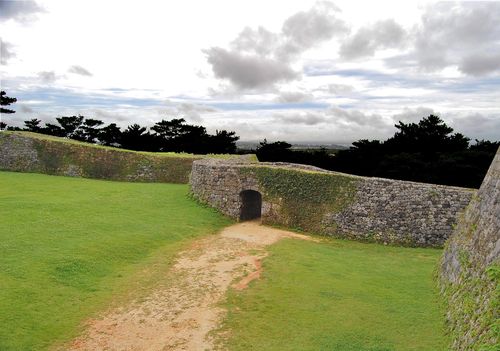 After our trip to Cape Zanpa Lighthouse, my family and I saw a small sign to Zakimi Castle Ruins — 1.6km.  We were on our way home, but thought why not finsh the day strong?  If we didn't make it to the castle that day we may never have made it.  One thing I've noticed after 2 years of living in Okinawa is how easy I can still get lost, find a great place, forget how I got there, and never find the spot again!   Especially if it's a location that isn't on the maps.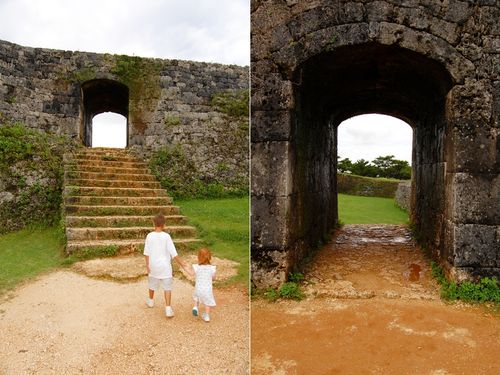 Zakimi Castle was an amazing site all around.  We saw people in kimonos who seemed happy to allow me to take their photograph.  The location had a true feeling of calm.  It was like an old village, a small reminder of what Okinawa may have been in ancient times.  There was no city view for the majority of the walk through the castle grounds which allowed us to really absorb the natural vibe.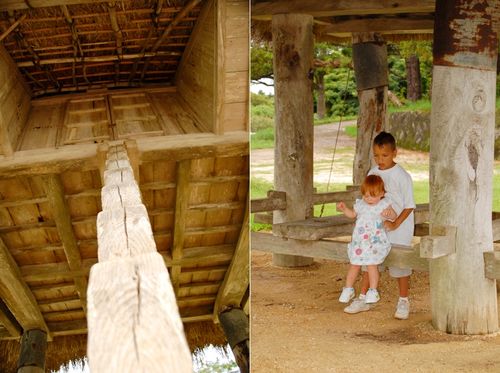 The kids enjoyed playing in a small hut-type gazebo, running up the wide staircase and down the old roads between the trees. There was also a beautiful log bench to sit down and rest.  I recommend this site to those who enjoy a piece of Japanese history or anyone in need of a moment of relaxation.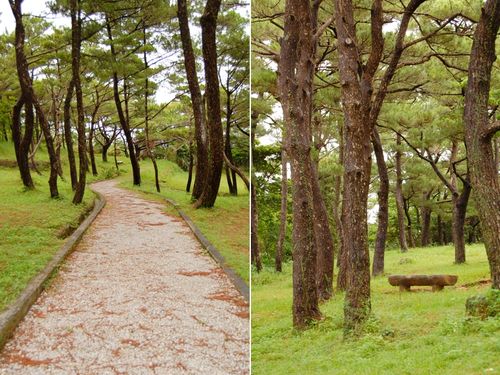 Zakimi is a UNESCO World Heritage Site and for good reason.  It is full of historical goodness and worth studying up on.  The visitor center is in the building that sits in the parking lot. It doubles as the Yomitan Village History Folklore Museum.  We did not go in, but I hear it has all the information you need and can answer any questions you may have.  It has over 400,000 items on display.  We will be going back soon to discover it for ourselves. It costs 200yen to enter the museum. The information is in the link below. There is an abundance of information online if you're interested in finding out more about Zakimi Castle Ruins history here are a few resources to get you started:
Gusuku Sites of Ryukyu Kingdom
Yomitan Village History Folklore Museum
Directions: Take Highway 58 north towards Nago. Keep left and continue through Kadena Circle.   Turn left onto Route 12 towards Zakimi Castle Ruins. Follow the road for 1.7 kilometers, and then turn right up a steep hill. Turn right into the parking lot.
Zakimi Castle
Hours:  Open 24 Hrs a day
Admission:  FREE
Yomitan Village History Folklore Museum
Admission: 200 yen
Open hours: 9am-5:00pm Closed days: Mondays and Japanese Holidays
Address: 708-6 Zakimi, Yomitan-son, Nakagami-gun, Okinawa Phone 098-958-3141