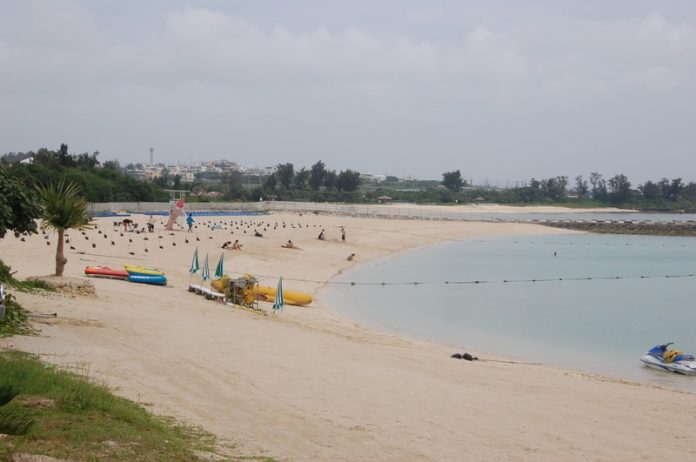 CONTRIBUTED BY DANIELA
I love beaches. They scream of vacation, tans, fun, drinks with little umbrellas and summer. All around a fantastic time. But nobody wants to think of the logistics; How much does it cost? Where do I park? Is it a good swimming beach? How about low tide? Can I still swim?
Well, don't fret. I am here to take care of your every beach knowledge wish. It will take some time of course, but I have made it my mission to visit every beach on this island. So far I have made some good progress and I thought maybe I share it with you. The ladies of Okinawa Hai have made that possible. Thanks, Ladies!
So, I was wondering on how to go about this. I am an organizing freak. I am German. It's what we do.
Categories and scores. I have come up with some ones like "Kid Friendly", "Accessibility" ( I have been know to go to some pretty rough spots) and so forth. If there is one I haven't thought of please let me know and I can add it at anytime. I will go an a scale of 1-10. 10 being great for that category, 1 being low.
So here we go:
I want to start out big for my first post. I want a bang. I want Moon Beach! Until I discover that my husband got overexcited at the Maxvalue last night when he purchased items to cook me dinner. Now I do not have any yen for parking and I know I need some for Moon Beach. I am already on the road and I have to improvise. That's easy. It's what the Military teaches us every day, right? Besides, he cooked a great dinner!
Actually I can't take credit; my Knight in Shining Armor/Cook saved the day again.
I present to you ZANPA BEACH:
Acessibility-10
Amenities-10
Facilities (Bathroom/Shower)-10
Cleanliness- 10
Snorkeling-0
Kid Friendly-10
Life Guard- yes
Booties needed-10 meaning none
Parking-10
Low Tide/High Tide-10 One of the few that are good for swimming during low tide
Surrounding Area (what else is there to do)-10
Daniela Score-9 You will see me there this summer
The only reason I give this beach a 9 is because it is rather crowded in the summer. Everything else is perfect for families with children and a it's just a short drive away.
This beach is great if you want something a little out of the way to spend the day. It is even good for a couple of hours, but there is enough to do for the day.
Located just before Cape Zanpa and very well protected from the surf. Take your little ones and feel the sand between your toes! No booties needed here. Pure white sand, no rocks in the water, very well taken of, with no trash whats so ever. Parking is free and plentiful. Rent a chair and umbrella for 2500 yen or just drop your stuff and get settled. There is a fenced off swimming area and a life guard on duty. What is that? You want to jet ski/banana boat ride/rent "whatever" gear? No worries. All is available, for a price of course — resort prices that is. 10 minutes of banana boat ride will set you back 1.000 yen for adults and 500 yen for kids 6-11. 20 minutes of jet ski is 4.000 yen. You get the picture. An important note: snorkeling is not allowed on this beach.
There is food you can buy. What kind you ask? I don't know… it was all in Japanese and I didn't see anybody eating. The ice cream looked delicious however. Showers are available for 100 yen and 200 yen for hot water. Bathrooms are there too.
So now you have been on the beach for a couple of hours and the kids are getting cranky. What to do? Ah, there is Cape Zanpa and the lighthouse of course, but there is also a petting zoo and restaurant across the street. So pack up and get friendly with some animals. You can also take a short walk under the trees along the coast line and stop here and there at small beaches/ look out points. They also have BBQ pavilions for rent in the adjacent park, but you have to make reservations and can't bring your own food to BBQ. This seems rather complicated to me but if anybody wants to take a stab at it the number is 958-0038 Zanpa Misaki Recreation Park.
As far as I can make out from the Japanese brochure they also have glass bottom boat rides for 1.500 yen adult/ 1.000 children 6-11. Prices are for 30 minutes. The only thing that annoyed me slightly is the music played from the loud speakers, but that is a personal preference. All in all a great beach for swimming, even during low tide and for families with rather small children. I do however believe that even my 13 year old would enjoy to play carefree in the sand and surf. Look for me there this summer.
However, do not miss the walk up to the top of the cliffs of Cape Zanpa! Take plenty of pictures and if you still have time stop at the Yomitan Pottery Village, but that is a whole other story.
Directions:
From Kadena Gate 1 make a right and go north on 58 until you hit 6. Make a left and follow the signs. The beach is hard to miss. It's on your left right before Cape Zanpa and the lighthouse. Once you see the big Shisa on your right you are there. If you go to far just make a u-turn. Park in the lot to your right or in the marked spaces on your left. I would guess that drive time is about 30 minutes from Kadena.
The petting zoo will be on the right side of the road.
This beach is officially open from April to October.