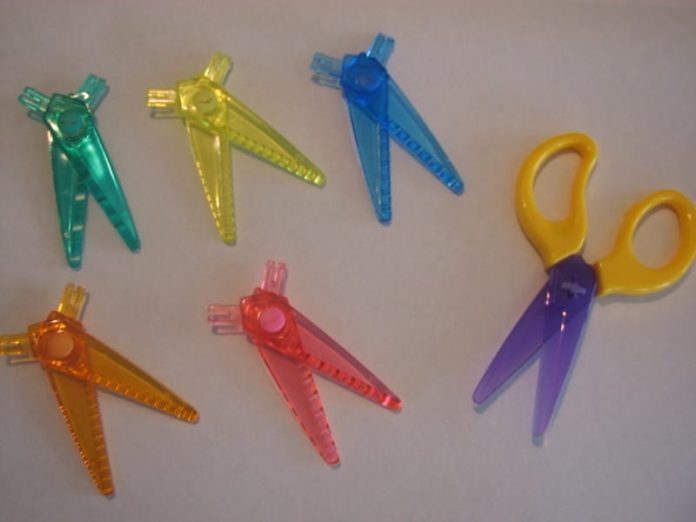 CONTRIBUTED BY KAHO
I LOVE 100 yen stores.  We're moving back to the States this summer and one of the things that I will definitely miss about Japan is 100 yen stores.  So hard to live without them.  As it is described in the store name, all the goods cost 100 yen in the store.  (Most accurately all, but sometimes you find items that have different prices.)
One of my recent purchases, which I am very happy with, is plastic scissors for my 3-year-old. I gave the same scissors to my friends' kids.  They probably figured out where they were from, but now they know for sure!  Don't worry, not all my gifts are from there.  😛  I'd been looking for plastic scissors since my daughter started getting interested in scissors.  I couldn't find plastic ones for a long time and I finally saw them at a 100 yen store!  I was excited!  I love them.  I can let my munchkin use the scissors without worrying that she'd cut something that she's not supposed to or get injured.
I also love laundry netting bags for washing machine, which are made for putting underwear, bras or other items that are labeled to hand-wash.  There are special bags that have plastic frames inside.  These are made specifically for wire bras.  With this, no need to worry that your bras get deformed in a washing machine!  I think that laundry bags would make a good souvenir back to the U.S., don't you think so?
Let's see, I love Pooh plastic plates for kids.  I use them for my daughter's daily plates and she likes them.
Oh, then my husband and I have used piggy banks for 500 yen coins.  Whenever we got 500 yen coins, we didn't use them and put them in our piggy bank.  If you fill this piggy bank, you save 100,000 yen (about $1,000).  Well, if you get a kind that says so.  In the past two years, we filled two of these piggy banks.  If you use Japanese yen often, why don't you start one?  Maybe you have enough money to travel by the end of the year.
My friend bought me a garlic peeler at a 100 yen shop.  You put a garlic inside this plastic tube and roll it on a table with your hand and the skin of the garlic comes off!  Kind of fun.  My daughter likes it.
I love buying Hello Kitty and Disney Princess items for my daughter, too.  I'm such a sucker for that.  You can't beat the price anywhere, you know!
I have numerous items from 100 yen shops as you can imagine and I still plan on going back there to stack up on their items before leaving!!
Let me know if you have any items from 100 yen shops that you are very proud of or you recommend us to buy!