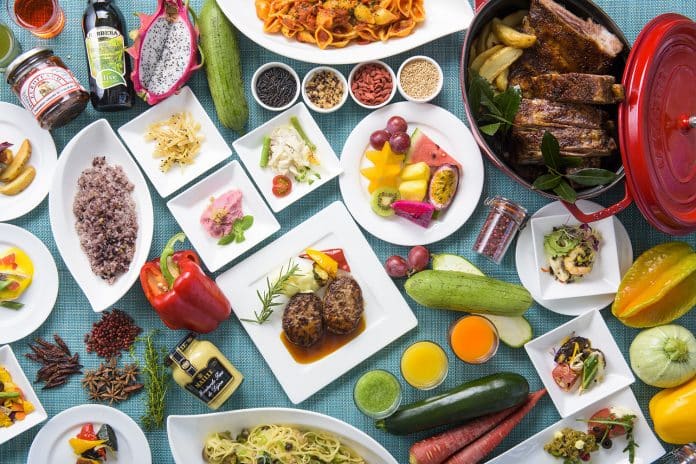 Our February 2018 events calendar is sponsored by ANA Intercontinental Manza Beach Resort. It's their 35th anniversary and they are offering a family friendly Semi submarine ride for free with the purchase of a lunch buffet at Aqua Belle.
Get A Free Ride on the Semi Submarine
February 1st-end of February
Renaissance Okinawa Resort – Renaissance Okinawa Resort Illumination
Visit Renaissance Okinawa Resort in the months of November through February for free festive lights displays for Christmas and New Year. It should be a small but beautiful beach-side display. Please visit the following link for more information: www.renaissance-okinawa.com/redchristmas-newyear/
TEL: 098-965-0707 Japan, 〒904-0416 Okinawa Prefecture, Kunigami District, Onna, Yamada, 3425−2
Okuma Private Beach & Resort – Okuma JAL Private Resort Illumination
Okuma Resort is also hosting a free Christmas lights display to light up your holiday season (during the same period as the Renaissance Okinawa Resort lights display)! Please visit the following website for more information on this display: https://okumaresort.com/info/hotel/545
TEL: 980-41-2222 Japan, 〒905-1412 Okinawa Prefecture, Kunigami District, Kunigami, Okuma, 913
Yomitan Village, Murasaki-Mura – Ryukyu Night Lantern Festival
This annual event is a beautiful thing to behold as you walk through Murasaki-mura park at night surrounded by thousands of brightly lit colorful lanterns (their Facebook page states that this year's event will feature 50,000 lanterns). There are usually food/vendor stalls (although not as many as you'd find at a summer matsuri) and entertainment of some sort (live music typically). Admission to this event is 600 yen (so bring yen with you) and the admission hours are between 6 p.m. and 9 p.m. nightly. Please visit https://lantan.ryukyu for more information.
TEL: 098-958-1111
読谷村字高志保1020-1
Yomitan-son Nakagami-gun, Okinawa, Japan 904-0323
February 1st-18th
Southeast Botanical Gardens – Tonan Night Decoration
Visit the scenic Southeast Botanical Gardens between 5 and 10 p.m. during this date range for festive holiday lights throughout the gardens! The prices are as follows: Adults – 1800 yen each, High School students – 1000 yen each, Middle & Elementary students – 500 yen, and children 6 and under are free. Please visit the following website for more information: https://www.southeast-botanical.jp/events/detail.php?id=41
TEL: 98-939-2555  2146 Chibana, Okinawa, Okinawa Prefecture 904-2143, Japan
February 3rd
Across Japan – Setsubun
Setsubun is a Japanese holiday marking the day before the beginning of Spring. One way to celebrate this holiday is to participate in the custom of "mamemaki" (bean scattering), which is said to drive away evil spirits. You'll notice soybeans being sold in little packets at local markets for this purpose.
Naminoue Shrine, Naha – Setsubun Matsuri
Visit the beautiful Naminoue Shrine in Naha at 10 a.m. on Saturday, February 3rd to celebrate Setsubun with fun traditional mamemaki (bean scattering). If this event is anything like the ones in years past, you'll want to bring a bag to catch the beans thrown by the shrine workers (catching as many as you can will bring you good luck). This is a fun way to enjoy local traditions and gain some stories for your friends and family back home. Kids would especially enjoy participating!
1 Chome-25-11 Wakasa, Naha-shi, Okinawa-ken 900-0031, Japan
Narita-san Fukusenji Temple, Nakagusuku – Setsubun Matsuri
This is an event you really should experience at least once in Okinawa. Visit Narita-san in Nakagusuku for their annual Setsubun Matsuri and enjoy catching beans thrown from the temple steps (it's a free-for-all so bring a bag and a competitive spirit) for some luck. There are vendors around the temple grounds selling tasty festival foods as well (I recommend the ichigo daifuku – mochi with red or white bean paste and a whole strawberry inside). The festivities start at 1 p.m. but I recommend arriving a bit early (parking gets really full).
618 Ishadō, Nakagusuku-son, Nakagami-gun, Okinawa-ken 901-2403, Japan
February 1st-12th
Nakijin Castle Ruins, northern Okinawa – Night-time Sakura Viewing
For just the cost of entry to the castle ruins (400 yen per adult, 300 yen per child elementary-high school), you can enjoy the beauty of Yosakura (nighttime cherry blossom viewing). Stroll through the castle grounds at night viewing the lit-up flowers of the many sakura trees blooming around the castle. It's a really unique and awesome way to enjoy the sakura aside from the typical daytime festivities! Visit the following website for more information like times and parking: https://www.nakijinson.jp/sakura_festival1
〒905-0428 沖縄県国頭郡今帰仁村今泊5101
February 1st-4th
Mt. Yaedake Sakura no Mori Park, Motobu – Sakura Matsuri
Visit scenic Mt. Yaedake in Motobu for a beautiful display of sakura trees and gorgeous views of Okinawa from the mountain. This event has great food vendors and lovely open areas to sit and enjoy a picnic as part of your hanami (flower-viewing) outing. This is a free event but definitely bring yen for delicious festival foods! Please visit the following website for more information about the event: https://www.town.motobu.okinawa.jp/newslist40
26°38'50.69″N   127°54'58.14″E
February 9th-25th
Shuri Castle, Naha – Ryukyu Hana Mikoi
Visit Shuri Castle between 8 a.m. and 6:30 p.m. during these dates to enjoy an awesome flower display of over 30,000 flowers! The beautiful castle grounds covered in hibiscus and bougainvillea provides a perfect introduction into Spring. Admission to this event is free (although entry to the castle itself should cost the usual entry fee, if you intend to go into the castle as well). Visit https://oki-park.jp/shurijo/events/detail/3557 for more information.
首里城, Japan, 〒903-0812 Okinawa-ken, Naha-shi, Shuritōnokurachō, 3 Chome−1
February 17th-March 17th
Okinawa Children's World Zoo & Museum, Okinawa City – Hana Matsuri (Flower Festival)
Visit the zoo between the middle of February and the middle of March to enjoy beautiful flower displays and fun events/workshops. Visit https://hanamaturi.wixsite.com/2018 for pictures of the displays and more information.
Okinawa Prefecture Okinawa City Huya 5 – 7 No. 1