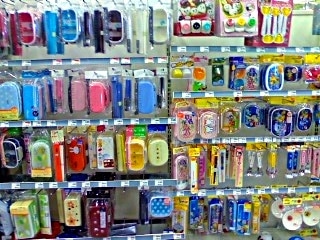 CONTRIBUTED BY HEATHER NORDELL
By definition Bento is a meal (typically lunch) served in a box. The longer you live in Japan and the more bentos you see the more you come to realize they are so much more. Bento making is an art form is taken very seriously by some. A typical Japanese Mother can spend almost an hour creating a wonderful bento meal for her child. After all it is said that "When a person eats a box lunch prepared by a loved one, the preparer's feelings are transmitted through the food. In other words, the bento serves as a vehicle for communication between the maker and the eater.
A bento prepared at home is imbued with the love of the eater's family." Kids Web Japan web site If your child goes to a local school no doubt you have already experienced the joys of bento making. Even our own lovely Meredith got in on the bento making action while she was here and was kind enough to blog about it for us all.
I am new to making bentos myself and when you combine that with being new to the island it basically means I needed help. Katy of O'bento Lunches 4 Kidz was kind enough to show me around town and share her bentoware deal finding wisdom with me. She took me on a fabulously fun bento shopping spree. And I was so overjoyed and full of bento love that I had to share our experience with all of you.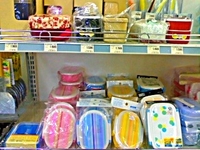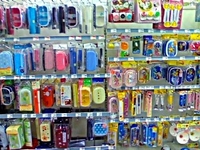 First I want to let you know that none of the stores we visited are going to be "new" to those of you who have been on the island for awhile, in fact I have been to them all many times. What was surprising to me about our shopping trip was that I had never looked for these items before or really even knew where to look. Bentoware is very common in Okinawa which means you can stock up on it fairly easily and it can be really cheap. Before commencing on our shopping excursion we fueled up at Ichiban Tei which I highly recommend to everyone.
Then we stopped at our first destination which was right across the street – Makeman. I know I was a little surprised too! Turns out Makeman has quite a large selection of bento items in the 100yen section. After thoroughly enjoying the fabulous deals in the 100 yen section we began browsing in the cookware section and found even more wonderful items. I was getting very excited about having found so much bento goodness that I had to remind myself this was only the first stop of the afternoon.
Next we headed over to the Ginowan 100yen store.100yen stores are like heaven when it comes to getting bento items. You can find almost anything you need and at wonderful prices. At the Ginowan 100yen store most of the bento items are in the back with the other cookware but if you are looking for cutie character items they are in a different section. The character bento items can be found mixed in with the other character items in the kids section. They have many fun and unique character bentos here in Okinawa. They have everything from Thomas the Train to Disney Princesses to Miffy. The best part is that because you are at the 100yen store you can pick up an entire bento set (the box, utensils, bag etc.) for around 500yen.
After adding a few more shopping bags to our pile at the 100yen store we headed over to Jusco near American Village – I told you none of these stores would be "new" to you all. We first headed up to the Saniro store on the second floor because both Katy and I have girls who love Hello Kitty. Their bento items can be a little expensive but they are super adorable and well made. Plus where else would you find Hello Kitty shaped nori (edible seaweed) to decorate your rice balls?
Our next stop was a little shop in the back corner of Jusco and I am sorry but I have no idea what it is called. It is very crowded in there but it is full of all sorts of fun things. In the front left corner you will find a wonderful assortment of themed bento items. They come in all sorts of shapes and sizes. They have a variety of characters on the front some of which I recognized and others that I didn't.
After wandering around the delightful shop in what seemed like circles (I get lost easily) we found our way out and went down to the bottom floor of Jusco. We headed over to the cookware section in what I call the "Jusco grocery store" and looked at their items. This is the best place to go if you are looking for more grown up bento boxes. They have larger sizes and more grown up color schemes. They also carry larger picnic style bento sets that would be perfect to pack a meal for the whole family in. Just remember that they charge for plastic bags now so remember to bring your reusable grocery bag with you.
So there you have an entire afternoon's worth of bento shopping. We got ourselves a pile of goodies and had a very enjoyable shopping excursion in the process. For those of you new to the island here are directions to the Ginowan 100yen store: From Foster's Commissary Gate, turn LEFT onto Hwy. 58. Turn RIGHT at the first traffic signal. Turn RIGHT at the 3rd traffic signal (you'll see the Uniqlo sign on the far right corner). Almost immediately you'll see a short two-lane road in between the Uniqlo building (from the back) and another building. Take a LEFT here to enter the parking lot for Uniqlo and the 100 yen store. Happy bento shopping!