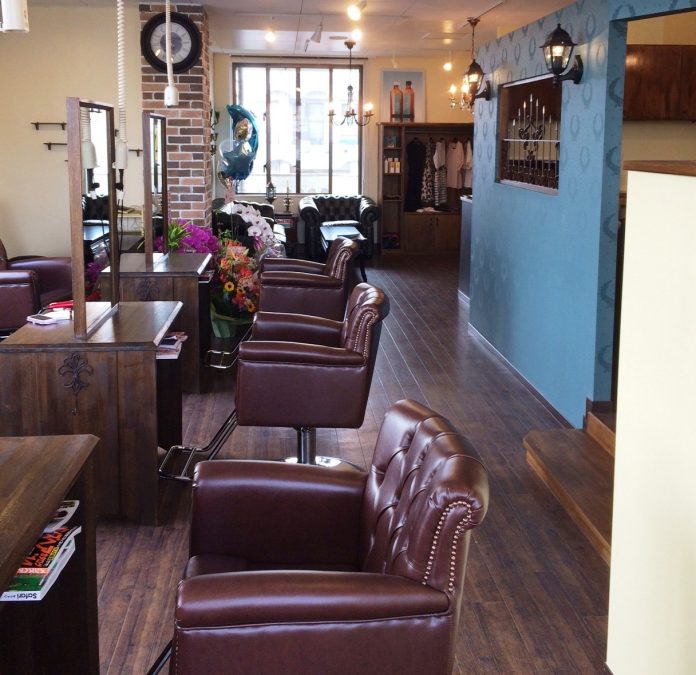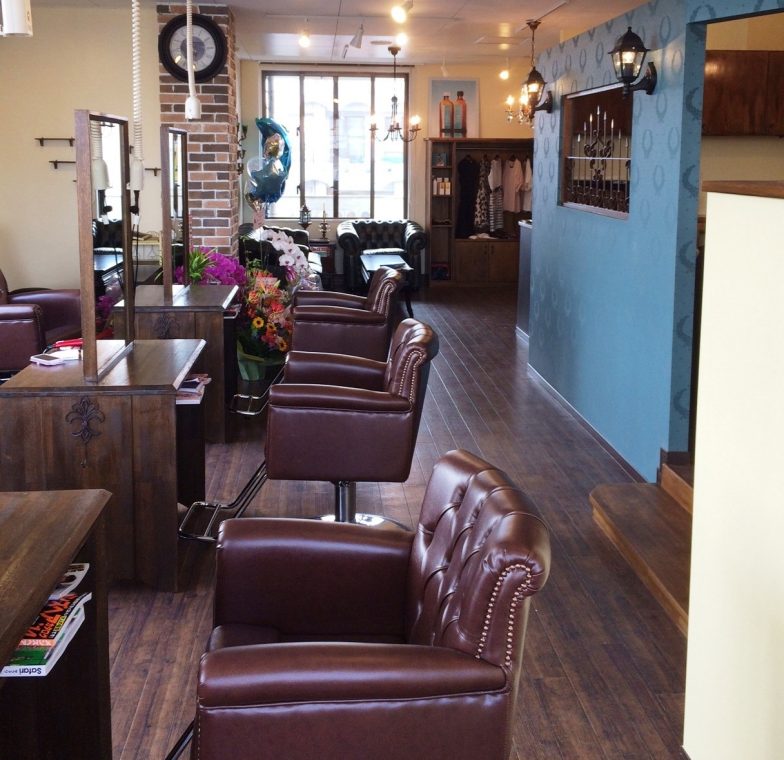 CONTRIBUTED BY LINDSEY NORMAN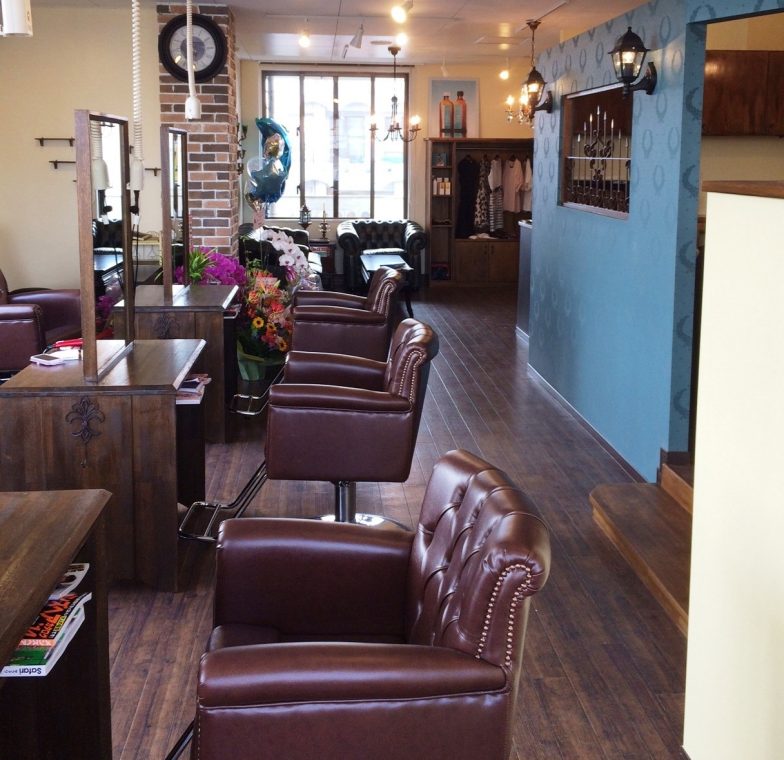 When moving to Okinawa, I was extremely nervous about having my hair done. One of the main reasons I was nervous to have my hair done in a foreign country is because I have had blonde highlights for years and didn't want to run the risk of coming out with purple hair. Also, I have fine, thin hair so haircuts are extremely important because the wrong cut can be disastrous for months. With having blonde highlights, I couldn't make it long in Okinawa before it was time to go for a touch-up. Luckily I chose the perfect salon that exceeded my expectations and delivered quality customer service.
Amber Rose is the perfect American-style beauty salon placed in the heart of Okinawa. The staff is well-versed in English, so you are able to call and make appointments and then explain exactly what you are wanting to the beautician. It's a second floor salon in a basic three-story building (located right down the street from Yellow Box). Meg is the primary stylist and owner, and she is also my personal hair stylist; however, there are other Japanese stylists in the salon who speak great English and do hair well too. There is also a nail tech that works there for any pedicure/manicure needs.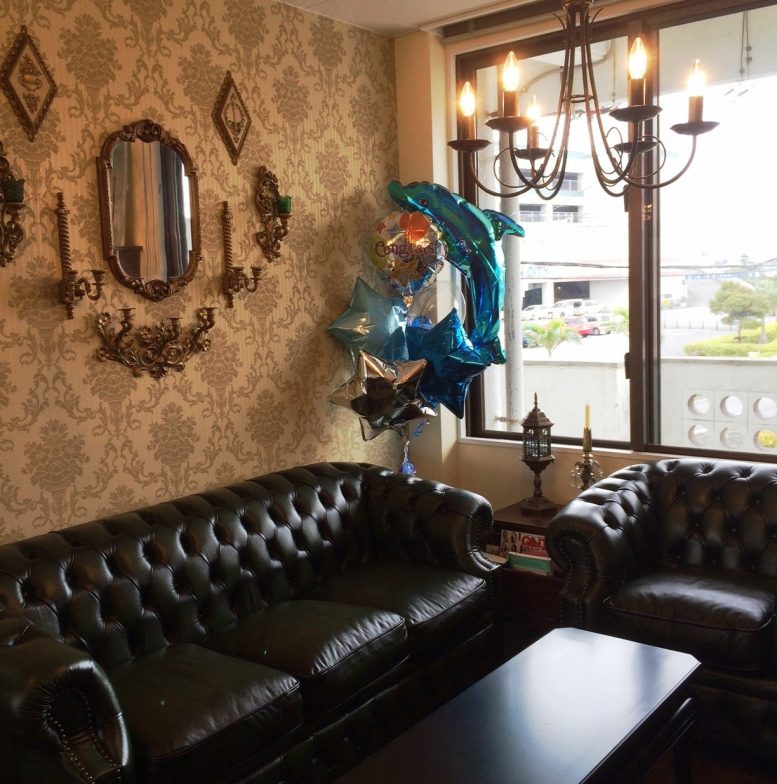 The staff at Amber Rose truly ensures that you are comfortable and they also ensure that you are getting the services that you want. They even offer you a coffee, tea, or water to enjoy while you relax and enjoy your time at the salon.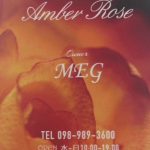 Amber Rose offers a variety of services and products to their customers including cuts, colors, straightening treatments, highlights, and various deep conditioning treatments. The salon features Moroccan Oil as their key product and for anyone who ever used this product stateside, you will know that it works magic on your hair. The deep conditioning treatments are an extreme treat in addition to the entire spa experience. The staff will ensure that you have a deep scalp massage if you chose the deep conditioning option, which is magical to say the least.
I would recommend Amber Rose to any American who is searching for amazing salon services.
Phone: 098-989-3600
Hours: Wednesday- Sunday 10:00 a.m. – 7:00 p.m., Monday 11:00 a.m. – 6:00 p.m. Closed every Tuesday and 3rd Monday
Payment: Yen and credit cards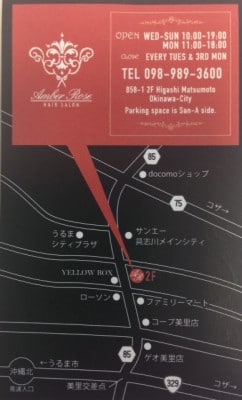 Address: 858-1, Matsumoto, Okinawa, Japan, 904-2151 (2F)
Prices:                Cut ¥3500
Color ¥5000
Deep Conditioning Treatment ¥2000 or ¥4000 (Depends on the one you select)
Cut/Color Short Hair ¥6000
Cut/Color Medium Hair ¥8500
Cut/Color Long Hair ¥9000
Straightener Treatment ¥11000 or ¥14000 (Depends on the one you select)
Pedicure ¥3990
Manicure ¥2500
Directions: From Foster Legion Gate, make a left onto 330. Follow 330 until you reach 85. Make a left onto 85. You will pass San-A Main City & Marinos on your left and you will pass Yellow Box on your right. About two-three stoplights down from Yellowbox you will see Amber Rose on right. Amber Rose is located on the corner on the second floor above a restaurant. You are allowed to park in the large parking lot by the building for accessing the salon on the second floor.