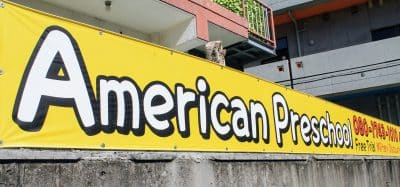 For all you parents looking for a preschool that suits your kids, we're hoping to add a little something to aid in your search. Parents of children who attend various preschools on island have filled out a series of questions about the schools for the benefit of the rest of us. We welcome more than one voice on each school since everyone has a different experience, so please feel free to add in your two cents in the comments.
If your child attends a school that has not been reviewed on this site, please contact our Submissions Manager for the template.
CONTRIBUTED BY Meredith Nye
Name of the school: American Preschool Okinawa
Address:   1-2 1F Hamagawa Chatan-Cho OKINAWA
Phone:  080-1743-1010
Website: www.preschoolokinawa.com/en/
Facebook: https://www.facebook.com/American-Preschool-Okinawa-363560067101343/
Ages Accepted: Half/Full/Extended hours for 16 months-6 years old
Ages of Your Kid(s) in this School: 3.5-5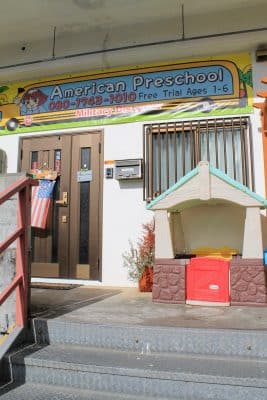 Admissions/Enrollment
What is the current number of students? 25
Is enrollment open/year-round enrollment or per semester?  They accept enrollment year-round.
Does my child have to be potty-trained to attend? No
Can I bring my child in for a pre-enrollment visit? Yes, and they are offering a free week trial.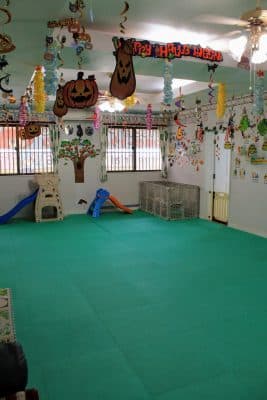 Days and hours
What are the school's hours?  Monday- Friday, Classes are from 9:00 am to 1:00 pm or 9:00 am to 3:00 pm. Extended care is available from 7:00 am – 6:00pm.
Is the school on a Japanese or American schedule? They follow the American schedule, closed on weekends and American holidays.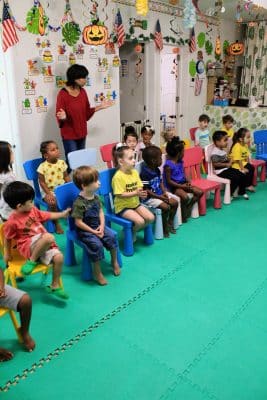 How flexible is the school with pickup and drop-off times? You can drop off your kids 10 minutes before the school starts. Other than that there is not much flexibility and a small cost for being more than 15 minutes late at pickup.
Costs
What are the registration fees? None
What are the tuition fees? Fees are determined by how many days and hours per week your child attends.
 Are any discounts offered for referrals, siblings, volunteering, working there, etc.? There is a 30 % sibling discount.
Is there a late-pickup fee? Yes, after 15 minutes it is $3.
Parent Involvement and Interaction
Does the school encourage spontaneous visits from parents?  Yes
How do you communicate with parents? Daily communication with the teacher. You can send messages on their email and Facebook page.
 Is there a daily report or other process for informing parents of what children did during the day (naps, BMs, snacks, etc.)? Parents can ask the assigned teacher for child's school activity. All paperwork completed is sent home with the student at the end of the day.
 Classroom Structure and Size
How are the kids grouped?  Students are grouped into baby class, toddler class and preschool class.
What's the teacher-child ratio in each group? There is one teacher per class.
What is the school's educational philosophy? American Preschool provides safety environment, encourage independence, self-confidence and inspire imagination to foster the skills necessary to create positive attitudes that will help the students achieve their full potential and promote healthy habits for a balanced purpose driven life.
Is the school program developmentally-based or does it have an academic focus? Montessori System of education combined with a balanced mixture of other styles proven to get great results.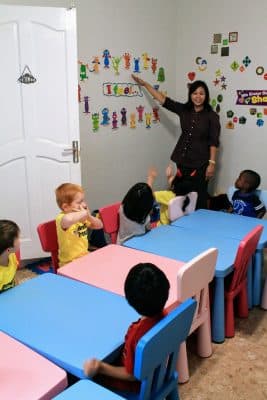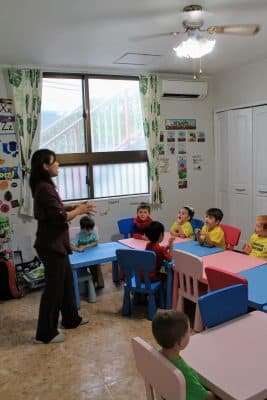 Is there a playground for the children to play on? There is a small playground for baby class. Big kids go to a nearby park.
What do the children do on any given day?  Are there extracurricular activities or field trips?  School starts with circle time, then kids go to their respective class to do paper works, Montessori toys, puzzles, playdough, artwork…etc. Japanese lesson (numbers, colors, days of the week, months of the year, parts of the body/face.. etc.) Lunch is at 11 am.  Children are allowed to bring toys on certain days for show and share. There is nap time/quiet time. Kids are encouraged to take a rest/break. Snack time, free play, movie time (not everyday).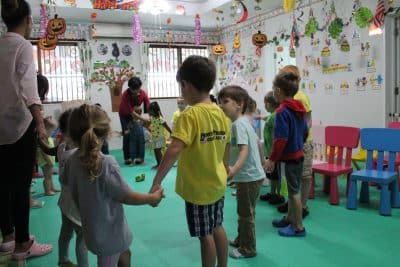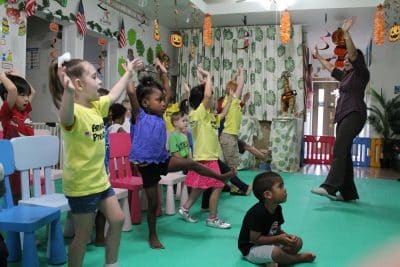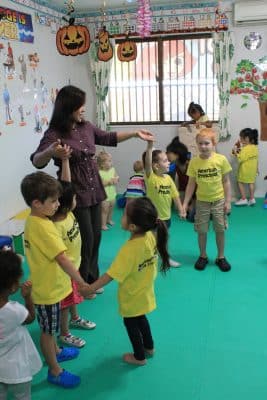 How does the school discipline children?  Teachers talk to the kids and explain things in an appropriate way.
 Final Comments or Observations about the School:
My son has been attending American Preschool for almost two years. We love that it is a smaller school, focused on individual learning and care. This was my son's first preschool experience and Ms. Marie was patient, kind and attentive to his needs. Within a few classes, I could see such an improvement in his social and academic behaviors. Ms. Marie and American Preschool have not only helped to prepare my son for Kindergarten but they have also helped him to come out of his shell, try new things and look at every situation from an open mind. If you are looking for a smaller school, where your child will be treated like family, American Preschool is the perfect choice for you!