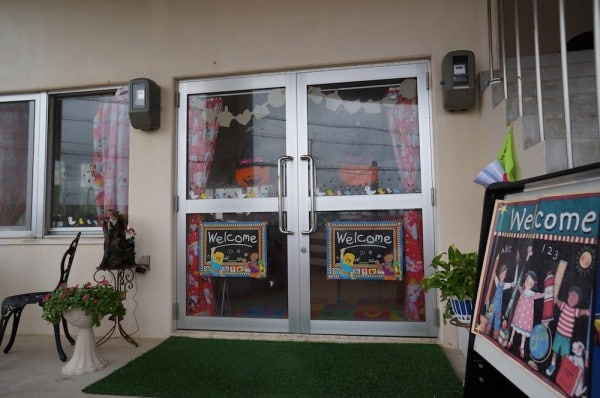 For all you parents looking for a preschool that suits your kids, we're hoping to add a little something to aid in your search. Parents of children who attend various preschools on island have filled out a series of questions about the schools for the benefit of the rest of us. We welcome more than one voice on each school since everyone has a different experience, so please feel free to add in your two cents in the comments.
If your child attends a school that has not been reviewed on this site, please contact our Submissions Manager for the template.
CONTRIBUTED BY TAMI SALAZAR
Name of the school: American Preschool Mihama
Address:  2-8-3-2F Mihama Chatancho Nakagamigun, Okinawa Japan
Phone: James Bruce, Principal 098-923-1229 & 080-1743-1010
Website: www.preschoolokinawa.com/en/
Ages Accepted: half/full/extended hours for 1-6 years old
Ages of Your Kid(s) in this School: 4 ½ years old
Admissions/Enrollment
What is the current number of students? 8
Is enrollment open/year-round enrollment or per semester?  They accept enrollment year-round.
Does my child have to be potty-trained to attend? No
Can I bring my child in for a pre-enrollment visit? Yes, and they are offering a free week trial.
Days and hours
What are the school's hours?  Monday- Friday, Classes are from 9:00 am to 2:30 pm. Extended care is available from 6:30am-6:00pm.
Is the school on a Japanese or American schedule? American. They are closed on weekends, American holidays, and the Kadena American Preschool Graduation day.
How flexible is the school with pickup and drop-off times? You may pick up early or drop off later. You may not leave or pick up your child any more than 10 minutes prior to or after the school day without notification beforehand. Picking up late after the 10 minute window may result in a fee of 500 yen.
Costs
What are the registration fees? None
What are the tuition fees? Fees are determined by how many days and hours per week your child attends .For example: Five days a week for 6 hours each day is 36000 yen per month. Three days of 6 hour days is 26000. You may choose how many days and what hours you would like as long as it is approved by the school.
Are any discounts offered for referrals, siblings, volunteering, working there, etc.? Yes, there is a discount of 50% for siblings.
Is there a late-pickup fee? Yes, after 30 minutes it is $4, after 1 hour it is $8
Parent Involvement and Interaction
Does the school encourage spontaneous visits from parents?  Yes, but is preferred to contact prior to visit so as to not interrupt teaching
How do you communicate with parents? Verbally each day the teacher goes over what the child learned and participated in doing. A notebook of all work is sent home each day.
Is there a daily report or other process for informing parents of what children did during the day (naps, BMs, snacks, etc.)? Yes, you may ask when you pick up your child. If you would like to know anything in particular you may ask if they could write it down.
Classroom Structure and Size
How are the kids grouped?  Mixed ages, but as the school grows in numbers it may be grouped differently
What's the teacher-child ratio in each group? As of now there are 2 teachers and 8 students. The ratio is 2:4.
What is the school's educational philosophy? "to provide a positive ,creative, secure and nurturing learning environment, where children are being supported in their cognitive, emotional, and social development."
Is the school program developmentally-based or does it have an academic focus? It is a "well-balanced program  with American and Japanese-style education adapted partly from the Montessori Education Method".
Is there a playground for the children to play on? There is an indoor play area, equipped with a small slide and swing. Also there is an open space for ride on toys. There is a park less than 1/2 km that they can easily walk to with the teachers, that is away from traffic. Almost every day they go to the park for an hour.
What do the children do on any given day? Practice writing and identifying letters, drawing shapes, colors, numbers, sing songs, and several types of artwork. They also practice communication skills, by learning to answer questions about pictures and ideas that the teacher is presenting. Children that are learning EAL (English as an Additional Language) are stimulated to learn and use English in the instruction and learning environment. In addition, they learn Japanese language and culture by practicing greetings, singing songs, annual events and crafts. Usually, if the weather is nice they will walk to the nearby park with the teacher.
Are there extracurricular activities or field trips? Yes, there are several school events and field trips throughout the year. Field trips include: visiting a fire station, a police station, the zoo, a fishing village, and and Ocean study tour…etc. Events include: Thanksgiving, Christmas, Valentines day, Easter, 4th of July, Shichi-Go-San ( a Japanese celebration for 3, 5, and 7 year olds), Girls' Day, Boys' Day, and a Graduation Program.
How does the school discipline children? Separate the child from the other students, discuss the problem, have the child apologize to other(s).
How does the school comfort children? The teachers are very kind. They will pay special attention to the child and allow them to sit with the teacher.
Final Comments or Observations about the School:
We are so happy we found this preschool! Our son loves going to school and everyday I am amazed at the work he does. Every day the teacher goes over our sons work that  he has done with the parent at pick up. He is 4 1/2 years old and pracitices writing letters and beginning phonics daily. He writes his name on all of his work,and is proud of the work that he does. Since the school is small our son get's a good share of attention, which I am very happy about.
Although Ms. Mariko and Mr. Bruce are new to Okinawa, they have been a part of another successful preschool in Hawaii, a sister school, called Happy Keiki Preschool in Honolulu, prior to moving to Okinawa.  Ms. Mariko, the head teacher at the American Preschool Mihama, has over 30 years in teaching experience in an International school setting teaching English.  Ms. Mariko is also qualified to teach Japanese students, and Japanese students in the local community are welcome to attend the preschool. She integrates both English and Japanese language learning (as mentioned in the post). Also of note, is the fact that Ms. Mariko has been certified as a Montessori teacher for over 30 years and truly believes in the Montessori methods. She continues to implement the Montessori learning activities in her teaching today.
Directions: It is right on highway 58. It is a pink building on the corner of 58 and the Enos gas station. It is across the street from the Enos gas station on the second floor. It is between the A&W and KFC on the ocean side of the highway.
From KAB: go out Gate 1 and make a left onto 58, then down through 3 lights, you will pass highway 23 then 2 more lights and you will see the large sign for Enos gas station on the right. At the next intersection make a right turn, and it is right there (on the left ). You may park right in front of the building.
Address: 2-8-3-2F Mihama Chatancho Nakagamigun, Okinawa Japan
Editor's Note: This school was originally named American Montessori Preschool Mihama, but has since changed its name in accordance with the official Montessori organization.  According to our original contributor, this school does incorporate some of those teaching methods and one of its teachers has been trained to teach in this manner, but this is not an official Montessori school.