Submissions
How it Works
Okinawa Hai runs solely on Submission Power; each post is written by you, our readers. When you have eaten at that restaurant, shopped at that store, experienced that experience, done that thing that you can't stop talking about – THAT is the moment to share.
NOTE: Now that we have reviews that are more than seven years old, we know some updates are in order. If you discover a review of a restaurant or attraction is out of date and in need of an update, send a query email to our Submissions Manager; we'll review it and let you know to go ahead with a full rewrite, or maybe just some additional information to add to our existing review. 
What Posts Are and Are Not
Posts are…
about your personal experiences
inclusive of the details – keep those 5 "W"s in mind
respectful towards Japanese and Okinawan culture
long enough to cover your topic thoroughly
better with your pictures
well-written and spell-checked
Posts are not…
negative reviews of any place or thing
advertisements written by owners or proprietors
plagiarized from anyone or any place; if you have a personal blog that you've written a post on and would like to share here, that's acceptable
Perks 
FAME!  Writers contributing 10 or more posts will have their photo and bio added to our "About Us" page.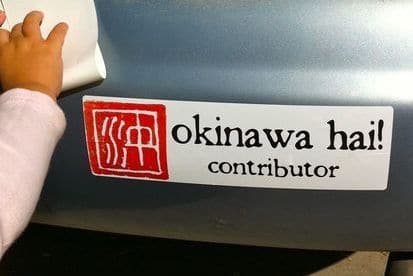 Submission Details
Prepare your submission in a Word document.
If you want your name linked to your personal website in the post put the URL above your text.  Please include this each time you submit a post.
Photos need to be sent as jpeg attachments. The photos you use

must

be yours or you must have permission to use them.
Note: Horizontal photos work best with our website template; we can only include a limited amount of vertical photos in posts. Your pictures may be cropped and/or edited as needed. Please resize all photos to 600 pixels before sending.
Include the full URL of any links that you'd like to include in the text. You may embed them in the text or copy/paste in the body of the text.
At the bottom include the following (where relevant): address and/or GPS Coordinates, directions, hours, phone, website URL, and payment types available.
Email all of the above to submissions@okinawahai.com. The subject of your e-mail needs to be the title of the post and your name as you want it to appear in the CONTRIBUTED BY line. For example: Some Beach/Jane Koshimizu or Soba Place/Jane K.
We will respond within one week to let you know if your submission has been accepted and when it has been scheduled for posting.
At the beginning of the month following the month in which your post is published, you will receive payment via PayPal to the email address you specify. (For example, a post published in March will be paid for in early April.)
Fine Print
The Submissions Manager has the final say in accepting or rejecting any submitted posts. You may be asked to make changes in order to keep a post in line with our overall tone and voice. Rejected posts can be resubmitted after necessary changes. Furthermore, Okinawa Hai reserves the right to make editorial changes either before or at any time after publication.
We retain all rights to posts once they have been submitted and we have posted.  This means we may choose to highlight a post you have written on our Facebook Page, as well as allowing other media sources of our choosing to republish without advance notice or compensation to you.
We retain all usage rights to any photos you submit to accompany your posts once they have been published and you have been compensated. This means we may choose to reuse these photos without advance notice or compensation to you in other posts we publish on Okinawa Hai, in media images we create for promotional purposes, and/or on any of our network social media accounts, to include Facebook, Instagram and Pinterest. You may watermark your images before submitting them to us if you choose.
Up to twenty posts are accepted for publication each month.
Questions? Send an email to our Submissions Manager.