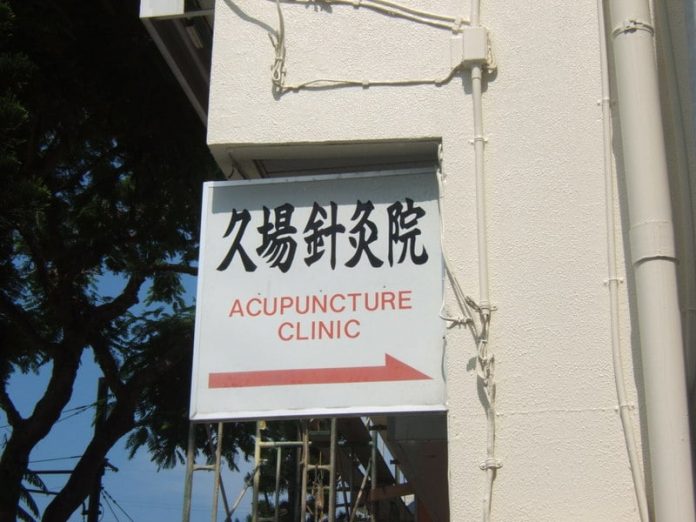 CONTRIBUTED BY NICOLE INGRAHAM


Acupuncture has always fascinated me. The thought of all these points in your body being affected by needles is rather interesting. Check for more scientific information here: acupuncture
So being miserably pregnant, I thought I would solicit some help in finding relief. Luckily, a faithful reader, Nicole Ingraham has shared her experiences with acupuncture. Thanks, Nicole!
Above are photos to the clinic: Leave gate 2 Kadena, head towards China Pete's (picture 1). You will turn on your second left, after China Pete's. You may see the little sign (see above). If not, the front door (second picture) is the entrance to his office, left side. I parked right in front and slid the door open.
1. How did you find out about the clinic?
I called Lester OB to find out if they knew of anyplace- someone there told me about it. They of course cautioned me that that didn't mean they were recommending it, since they can't do that.
2. What was your problem?
I had severe siatic nerve pain due to pregnancy-I was somewhere around 20 weeks along. I could barely walk some days-actually fell once getting out of bed b/c my leg collapsed underneath me. The docs at Lester could offer no help, so I got desperate!
3. What was the initial visit like?
I stopped by first to check it out-spoke to the acupuncturist. Told him the problem, asked about prices.
I then called and made an appt. I kind of just had to trust that he knew what he was doing and would do a good job. He did not explain what he was doing as he did it-I just had to go with the flow. (I also didn't ask him to explain, so maybe he would have).
His office is very small-the treatment area has two beds, but I was the only one there. He was very professional and matter of fact-I had needles inserted into my upper butt area, so I was a little exposed but didn't feel uncomfortable at all.
Although I did not ask about sterility practices, I did notice that he had an autoclave and the proper equipment for sterilizing. He also is a member (according to a plaque) of something along the lines of an official Japanese acupuncture society (I can't remember exactly what it said, but it was in English). The clinic is very neat and clean. He has linens that cover the table where you lay and he puts fresh ones for each person (I'm guessing, due to the stack of nice, folded (clean?) linens and basket of (dirty??) crumpled linens). He also washed his hands each time before doing any "procedure" on me-so he observed good hygiene practices!
4. What did it feel like?
He first kind of pressed on the areas where the needles were going to go into-not sure what the effect of this is. Maybe to determine the best points for insertion??
Then he swabbed the insertion areas with alcohol, washed his hands and then got to inserting the needles.
Inserting the needles didn't hurt at all, with the exception of one inserted in the bony part of my ankle-that pinched a bit, but nothing I would consider actual pain. I had several needles inserted in my hip area, upper buttock, mid-hamstring, back of the knee and ankle. After insertion, I laid on the table for probably about 10-15 minutes, though I can't be sure of the time. I swore I felt a slight tingling sensation all over that side of my body (well, hip down) but I don't know for sure.
After the inital time, the needles were removed. He then tapped with something (another needle??) in the same general areas. I had some minor discomfort in a few areas-which corresponded with the areas that hurt the most.
He applied some sort of heat treatment after that with a wand-like device. The heat was a direct application to the skin, at the insertion sites (or thereabouts). Again, no real pain, although the heat was on me long enough that a few seconds longer and it would have turned to pain. He seemed to know exactly how long the heat would be tolerated and took it off just before the point of it hurting.
Then he lit something with a lighter-maybe some sort of incense?? I honestly have no idea-it smelled like incense, so that's my best guess. Whatever it was that was lit was placed against my skin, again at the insertion areas. This was kind of pressed in with some decent pressure. Again, no actual pain-though it was mildly uncomfortable due the heat. It seemed to be most uncomfortable at the areas that corresponded to the most pain.
Then I was good to go!
(I laid on my stomach the whole time, so I couldn't really see what he was doing).
5. How long did it take?
a little over a half hour
6. Cost?
3000 yen (as far as I know, no dollars accepted) for the first time, and then it was 2500 for the subsequent visits. He doesn't have you fill anything out-paperwork wise, I guess he just has a good memory!
His hours are 9-6 M-F.
7. English spoken?
yes, enough to explain/show what the problem was. I also asked when he used the heat wand what it was and he was able to explain it to me. I have no idea if he spoke enough English to be conversational, but he also didn't seem like a conversationalist sort of man.
8. Was this your first acupuncture?
yes, this was the first time ever. I got relief from the very first session-not much immediately, but as the day wore on, I noticed the pain lessening (whereas usually, it got worse as the day went on). I went back a week later. He recommended 3-4 treatments, 1 week apart, but I only got in 2 (childcare issues). I felt nearly 100% after the 2nd treatment. I was able to go back to my regular fitness routine (I go to One Moore Rep) without any problems, able to walk around, get off the couch without looking like I was 90….
I went back several weeks later (as I had a bit more pain again as the pregnancy progressed). He also helped with the neck pain/shoulder pain I had developed due to sleeping on my side (gotta love pregnancy).

8. Anything you would recommend to a reader who is thinking about going?
My only regret is not going sooner-I suffered for way too long! I think acupuncture is recommended to help with many, many problems…migraines, other pregnancy related issues (nausea, etc), I've even heard it helps with infertility (but who knows!).
9. Any other details you want to add:                                                                                            My 2nd and 3rd visits were a bit shorter-right at 30 mins. No heat wand that time. Also, on the third, I got teeny, tiny little needles on a band-aid type thing that I kept on for 3 days and removed.
I will definitely return for any other issues in the future.
So readers, have you tried acupuncture or any other ancient form of relief? Do tell.