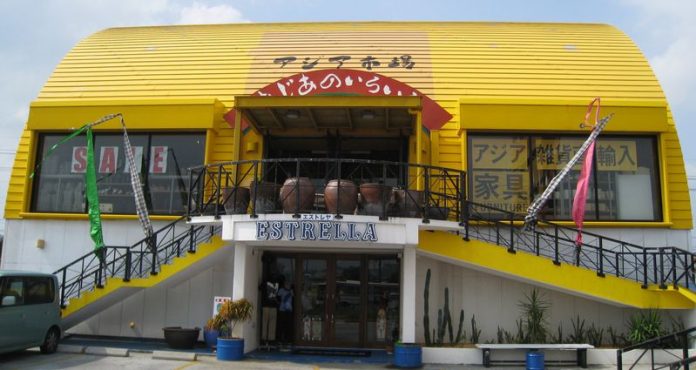 CONTRIBUTED BY JEANINE CZUBIK
Despite the warm breeze still calling me to the beach, the holiday season is once again approaching.  If you aren't set on giving a gift uniquely Okinawan, consider Asia Ichiba.

Ichiba means marketplace in Japanese, and Asia Ichiba carries a variety of imports from India, Thailand, and the Philippines.  I have often driven past this shop and wonder what it held, the bright yellow roof catching my eye.  The ground floor is a skate board clothing and accessory store, so head up the stairs to the second floor.

Textiles, pillows, candles and holders, lamps, hand-beaded bags, jewelry, wood-carved animal figurines in sizes from miniature to life-sized, handbags, glassware, tea sets, ceramics, tiled mirrors and stationary fill the space and most of these items are truly unique and interesting.

Spanning the back of the store are clothes – part used American sports jerseys and clothing, and part newly crafted and imported (primarily) from India.  I spotted these cute mother-daughter matching dresses, although depending on sizes it might be older sister-younger sister dresses.

Nestled in front of the clothing is the large Second's section where gifts, fabrics and household accessories are reduced to pretty phenomenal prices.
Stairways on both edges of the store lead to a loft packed with solid wood furniture.  Compared to what I've seen at the base concessionaires and a few off-base markets, the furniture is very well priced.

Asia Ichiba is an ideal shop to pick up some décor inspiration, find a housewarming gift or the perfect gift for your closest friend.
---
Asia Ichiba
Hours: Daily 1100 – 2000
Payment: Yen and credit cards accepted.
Phone: 098-936-8100
Address:
GPS Coordinates:
Directions: Across 58 from Camp Foster, approximately 1.1 km north from Foster Gate 5 (Commissary gate). Ample parking in front and behind store.