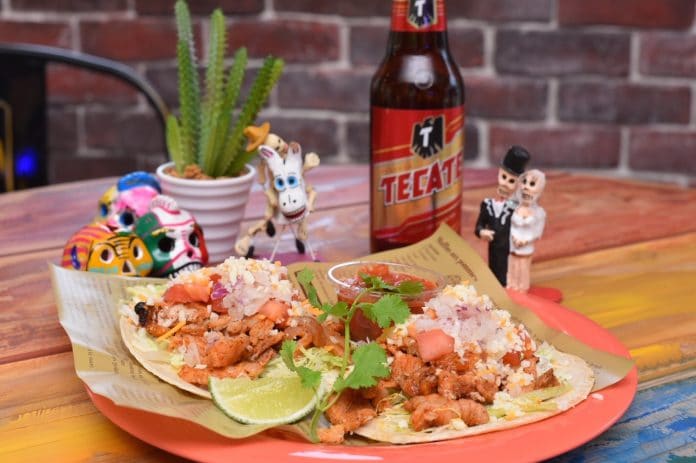 Contributed by Keri C.
Sponsored by Taco Loco, Authentic Mexican food.
July 16th – August 31st *
Hilton Okinawa Chatan Resort, 3F Terrace – Summer Festival 2017
*Thursdays and Sundays only during this period (with fireworks being on Sunday nights). This summer festival will run from 7-8:30 p.m. on the dates mentioned and will feature hula dance performances, taiko dance, festival foods like kakigori (shaved ice), yakisoba, and takoyaki, etc. The festival is free to enter but snacks will require a voucher (that you have to purchase at the 3F reception area of the resort). Please visit the following website for more information: https://hiltonchatan.jp/activity/kids/summer_festival
Hilton Okinawa Kitaya Resort 40-1 Mt. Kitaya cho, Nakagami-gun, Okinawa Prefecture 904-0115
TEL: 098-901-1111
July 21st – August 31st *
Ryukyu Mura – Ryukyu Mura Summer Festival
*This event is occurring throughout the time period listed above except for on Sundays and Mondays (when they will be closed).
This event occurs between 6 p.m. and 8:30 p.m. during the period listed above and requires pre-booking on the Ryukyu Mura website (listed below). The admission fee is 3500 yen per adult, 2800 yen per child 6-15 years old, and 1000 yen for children 3-5 years old. Admission includes all-you-can-eat barbecue, shows, and games (including a firefly-watching tour). Please visit the following website for more information (as well as to reserve a spot if you choose to go): https://www.ryukyumura.co.jp/en/official/plans/ennai/family/65/
TEL: 098-965-1234
July 22nd – August 26th *
Okinawa Children's World Zoo & Museum – Zoo at Night
*This event only happens every Saturday during this time period and during the hours of 6 p.m. to 9 p.m.
During this period the Okinawa Children's World Zoo & Museum will be open 3 hours each Saturday night (after usual zoo closing time) for a nighttime zoo exhibition. This might be a fun way to visit the zoo while escaping the heat of summer days. Admission is 500 yen for adults, 200 yen for middle and high school students, 100 yen for children ages 4 through elementary school, and free for children 3 and under. Please visit here for more information: https://www.okinawastory.jp/event/600009329
沖縄県沖縄市胡屋5-7-1
TEL: 098-933-4190
August 5th
Higashi Village (sports field) – Higashi Village Matsuri
From 10 a.m. to 9 p.m. (with fireworks starting around 8:45 p.m.), enjoy a day of festivities in the Higashi Village area. There will be live music, a fun "rock paper scissors" competition to watch, a Bingata experience, boat rides at Fukuji Dam (while the festival is free to enjoy, the boat rides cost 500 yen for middle school-age children and older and are free for elementary and younger kids), etc. They are even giving out 200 free pineapples at the festival (while they last). The following link goes directly to the festival flier from the Higashi Village website:
https://www.vill.higashi.okinawa.jp/UserFiles/File/2.KIKAKUKANKOU/HIGASHISONMATSURI/HIGASHISONMATSURI.pdf
Taira, Higashi, Kunigami District, Okinawa Prefecture 905-1204
August 6th (Possibly moved to August 5th)
Kokusai-dori (Kokusai Street) – 10,000 Eisa Parade
Come see an iconic event in Okinawa, the 10,000 Eisa Dancer Parade on Kokusai Street! This event is free and always has a massive crowd. Watch as 10,000 Eisa performers parade down Okinawa's iconic International Street performing traditional song and dance. The parade starts at 1 p.m. and festivities go on until 6:30 p.m.; however, because of the crowds and the parking situation, we recommend you show up early if you don't want to miss anything (plus they'll block the road to traffic about an hour before the parade starts).
https://goo.gl/maps/LtCbiQA4Atr
Nago Fishing Pier – 39th Nago Haarii Dragon Boat Race
Visit the Nago Fishing Pier between 8:30 a.m. and 6 p.m. on the 6th to enjoy a summer haarii (dragon boat race), a free sporting event rich in local culture. More than 180 teams participate in this event so it is sure to be a good time.
https://goo.gl/maps/qEywpzWsxYt
TEL: 098–053-7755
August 12th – August 13th
Ogimi Village, Shioya Port park – Ogimi Village Eisa and Furusato Matsuri
For some free fun, check out this cool local festival at the port in Ogimi Village between 11 a.m. and 9 p.m. (Saturday the 12th ) and 12:30 p.m. and 9 p.m. (Sunday the 13th ). Sunday night at 8:15 p.m. there will be fireworks and the day-specific festivities include a children's tug-of-war on Saturday and a goat tug-of-war on Sunday.
https://goo.gl/maps/58Qw4jtFvA82
August 13th
Ishikawa Dome – All-Island Summer Bullfighting Tournament
At 1 p.m. on August 13th visit Ishikawa Dome to enjoy a cool event: Okinawan-style bullfighting! This bullfighting isn't like what you've seen in other countries and is more like sumo wrestling between two bulls. The admission cost is 3,000 yen or 2,000 yen for foreign guests. Please visit the following website for more information: https://www.oki-islandguide.com/things_to_do/all-island-summer-bullfighting-tournament
https://goo.gl/maps/PBQxd8WArrS2
Kuwae Park, Chatan – 38th Chatan Eisa Festival
Free festival in Chatan to enjoy traditional Eisa music and dance. The festivities start at 5:30 p.m.
〒904-0103沖縄県北谷町桑江467-1
August 19th – August 20th
Itoman Fishing Port – Itoman Summer Festival
If you're visiting southern Okinawa (main island) on the weekend of the 19th – 20th why not stop by the fishing port and enjoy free festivities? This summer festival will have a fireworks finale on the last night, sometimes around 8:45 p.m.
糸満市西崎町1-4-11
https://goo.gl/maps/t7uzShkh7M32
August 20th
Yonabaru – 35th Yonabaru Daisuko Festival
Visit Yonabaru Town for a fun day of festivities including a big tug-of-war. The event is free and parking for the event can be found at the nearby elementary school or the Higashihama Baseball stadium (link below to the elementary school parking). The pre-tug-of-war festivities start around 3:30 p.m., there's a parade around 4:30 p.m., and the actual tug-of-war starts at 5 p.m. There will also be fireworks around 8:50 p.m.
Parking: 〒901-1303 Okinawa-ken, Shimajiri-gun, Yonabaru-chō, Yonabaru, 735
TEL: 098-945-5323
August 26th – August 27th
Heiwa-no-mori Baseball Field, Yomitan – Yomitan Eisa Matsuri
From 5 p.m. visit the Heiwa-no-mori baseball field in Yomitan for eisa music and dancing. This event is free and a great way to enjoy some local culture.
https://goo.gl/maps/nRMvn5mqEGN2
August 27th
Chatan Park Athletic Stadium – Eisa Furusato Matsuri
Between 3 and 9 p.m. on the 27th, visit the Chatan Park Athletic Stadium to enjoy some eisa music and dancing. Eisa performances are a memorable part of an Okinawan summer so be sure to check out some while you can.