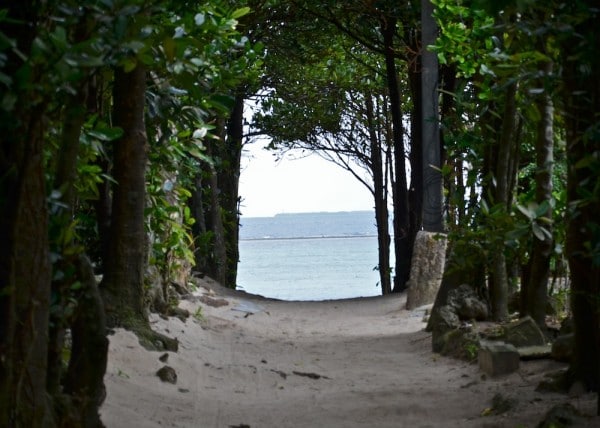 CONTRIBUTED BY SARAH FILLMAN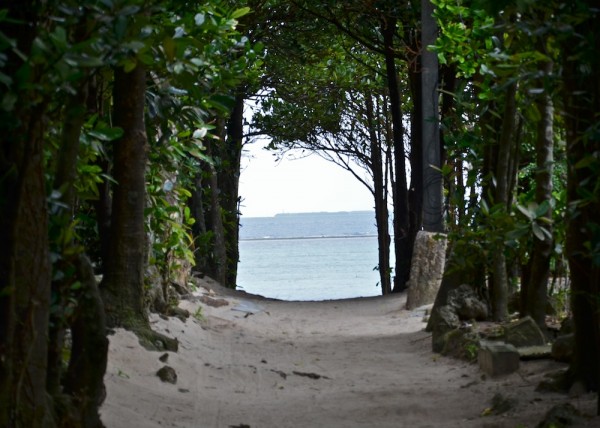 Just north of the aquarium is a quaint little village, hiding under dense foliage, called Bise. Throughout the village you will find yourself under a thick canopy of Fukugi trees lining sandy pathways.  You will pass private homes, small restaurants, wandering animals, and a magical shell shop, among other surprises.  Walking through the village the sun is blocked by thick leaves that tower over you.  At small intersections you will see pathways to the ocean where the sun is beaming through; these paths lead you to the ocean where you can walk along the water, with a beautiful view of Ie Shima Island.
It is a place that will make you smile.  If you are a lover of nature, you could stay here all day.  You will feel like an explorer, a photographer, a traveler in a wondrous land.  The natural beauty has yet to be overrun by tourists and on a calm day all you hear are the waves in the background and the wind through the trees.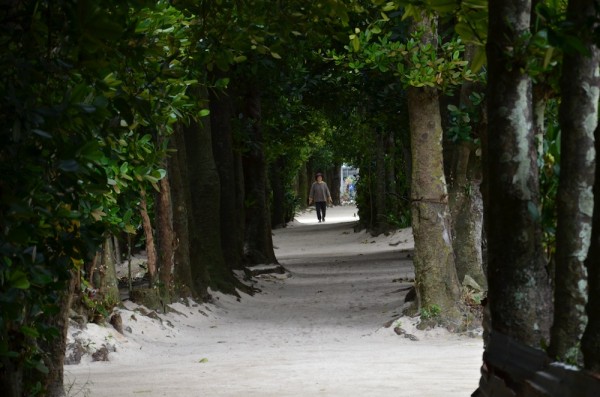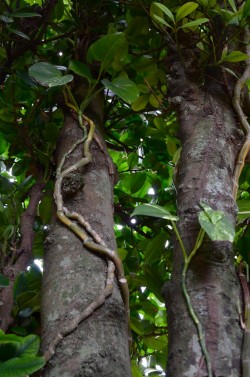 There are bike rentals and while we wandered around on foot, through the trees framing the path we would see people whizzing by on bicycles.  We did not see bicycles on the sandy path, only on the road through the village or the paved path along the beach.
Maybe you've seen the signs for the Bise Fukugi Tree Road, or Bise Village, throughout Nago.  As you get closer, they gear toward Ocean Expo Park and the Chaurami Aquarium.  However, if you continue past Emerald Beach, You will finally see a sign for Bise but I recommend turning down an unmarked road just before the sign with the ocean to your left.  You will arrive at a small parking area.  I urge you to park, and explore this area on foot.
If you decide to find Bise Village, please remember that people live here.  You are walking by their homes in a quiet neighborhood; Respect their privacy.  They keep the path and streets clean and are very kind and courteous.
Directions:  Take the Expressway North to Nago or 'Kyota I.C.' and it will turn into 58.  You will need to pay the toll.  Stay on 58 until you reach 449 North and make a Left.  Stay on 449 for a while until you get to 114 and make a Left.  You will be driving along the coast most of the way.  If you are unsure, just follow directions to Chaurami Aquarium and Ocean Expo Park.  When you reach the Aquarium on your left, continue past the large parking deck and you will see Emerald Beach on your left.  There is a small road just after the beach, take a Left.  (If you miss this Left, you can make any of the next few left turns and it will lead you into Bise Village.  We initially were lost and this is what we did.)  You will reach a parking lot at the beginning of the village, or if you prefer you can drive through the village on the main road and you will eventually reach another parking lot at the end.  You definitely want to park and get out to walk around.  Just inland from the coast is where you will find the sandy pedestrian path through the Fukugi Trees.
YouTube video about Bise:
This post was featured in Stripes Okinawa!