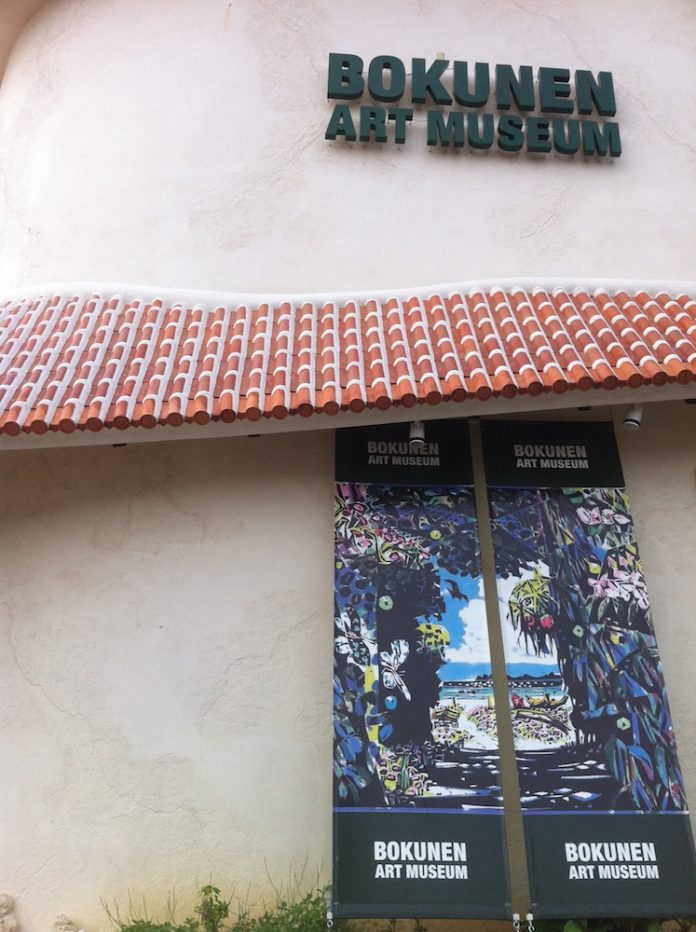 Bokunen Exterior 2
CONTRIBUTED BY ERIN SCHALK
For me, moving to Okinawa has been, for a variety of reasons, both a wonderful opportunity as well as a tremendous challenge. I have studied and loved art for many years and left behind a support group of fellow artists in the states. "Art doesn't happen in a vacuum," or so they say, so working alone has been far from easy. A friend of mine, a language teacher who loves dance and theater, soon figured out our similar fine arts interests. As a cheering up gift, she gave me tickets to Bokunen Art Museum, a gallery of woodblock prints by artist Bokunen Naka.
What is woodblock printing? And what are woodblock prints? You may already be familiar with woodblock prints if you have lived in Okinawa for awhile. They often depict scenes from life such as landscapes or people, have been popular in Japan since the Tokugawa era, and can be found in many shops and kiosks around Okinawa.
Woodblock printing is a form of fine art printmaking where an artist carves away a design from a piece of wood. In order to do this, the artist uses woodcutting tools that are somewhat similar to chisels. These tools come in a wide variety of sizes and edges such as v-shaped and u-shaped, and each individual tool produces a different cut. Printmakers well versed in their art know the exact woodcutting tool they need to produce a desired effect. Being a painter primarily, I have not reached this level and simply hope that none of the blades ever become lodged in my fingers or hand. I have definitely poured out sweat for my art and shed a few tears but have not spilled any blood (yet)!
While in school, I was awed by advanced printmakers with the skill and patience to meticulously draw their designs onto the wood, sometimes on blocks as large as six feet long, and then carve the negative space away as the piles of shavings grew to be molehill-sized! What is meant by negative space? Woodblock printing is considered a subtractive art form, which means that the artist must cut out the area surrounding the design instead of the design itself. This leaves the artist's image raised so ink can be rolled across the woodblock's surface. Since the surrounding area has been cut away and is now recessed, ink cannot easily pool there and instead remains on the design. The artist can now lay the block, ink side down, onto paper or cloth, then roll both through a press to fully transfer the image. This process can be repeated multiple times to create a series of prints, also known as an edition.
Bokunen adds an additional dimension to his artwork by painting onto the back of the semi-translucent paper he uses for printing, enlivening the black ink images with splashes of vibrant colors. Lush, green banyan trees, cobalt oceans and carmine hibiscus pop from the pale yellow museum walls. Small placards are scattered among the museum prints that include quotes from Bokunen describing the content and inspiration for his work, as well an explanation of how he makes his art. The gallery's far wall is a stunning series of large murals with dancer-like figures that seem to move whimsically but have enigmatic expressions. At over seven feet in height, it is easy to become lost in the scene while marveling at the time it must have taken Bokunen to create this body of work.

Bokunen Roof
Also inside the museum is a white, spiral staircase leading upward. At the top of the stairs is a door that opens to a small lookout area on the same level as the museum's roof. This bird's eye view is breathtaking! The hubbub of hasty shoppers is below, on one side is a panoramic view of the ocean, and on the other side is the museum's undulating red roof. It is important to note that this lookout area is fully enclosed, however, only one to two people can fit in the space at a time, and it would not be safe to leave small children there unsupervised.
The museum also houses a gift shop that is filled with a variety of artwork and merchandise. One wall is covered with small-scale Bokunen prints, costing approximately 3,500 to 9,500 yen. Prints from other local artists are also available and are within a similar price range. Less expensive items include magnets, key chains, tenugui and coffee thermoses. The museum staff is happy to gift-wrap larger purchases such as t-shirts or artwork and requests that you continue browsing until they are finished wrapping. I mentioned in passing that I planned to send a recently purchased print to my family, and the clerk gift-wrapped and bubble wrapped the piece to protect it during the journey overseas!
Payment:  Admission to the museum is 500 yen for adults, 300 yen for students. English is not spoken extensively, so consider this an opportunity to practice a little Japanese. You can ask for tickets by saying, "bijutsukan no kippu o ichi-mai kudasai," replacing ichi (1) with however many tickets you would like: ni (2), san (3), shi (4), go (5), etc.
Hours:  Regular hours are from 11 AM – 9 PM, however, the museum's website notes that its closing time is subject to change without notice.
Phone:  098-926-2764.
Directions:  Bokunen Art Museum is located in American Village, Chatan. If you are heading south on Highway 58, take a right at Four Seasons restaurant. Continue going straight ahead, passing two stoplights and the Mihama 7 Plex movie theater. Take a right and park in the parking lot near Depot Island. You cannot miss the art museum's distinctive curved, red roof!
**Please refrain from talking loudly and taking pictures inside the gallery.