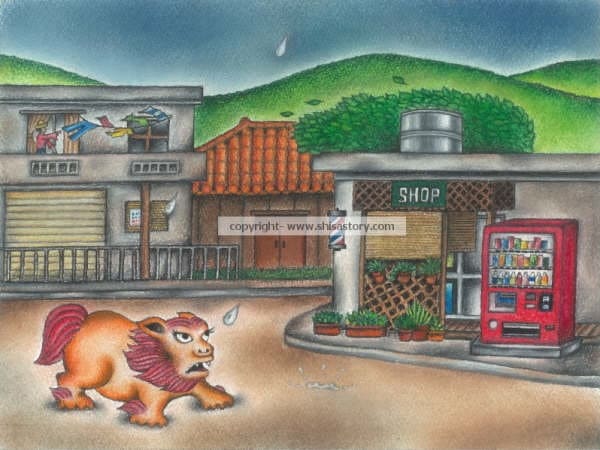 CONTRIBUTED BY JOELLE YAMADA
She's a nurse.  A brilliant job choice for a military spouse.  A career where jobs are available everywhere, right?  Well… everywhere except Okinawa.
Carmen explained to me that while it is possible for spouses to work in civilian nursing positions at Lester Hospital, openings are limited.  They did hold a job fair last fall that she attended but there was nothing available in public health nursing or women's services (specialty fields she is interested in) so instead she has chosen to work with the DoDDs schools as a substitute school nurse.
She contacted the schools just after moving to Okinawa, and though there were no full-time spots available, they told her they are always in need of substitute nurses.  So she filled out an application, along with a lengthy background check form, and about six weeks later she was approved to sub.  Substituting doesn't guarantee a certain number of hours and sometimes it is on short notice, but a full day of subbing pays just under $100. Carmen says that school nursing is something she might be interested in when getting back to the States, so it's nice to get some experience here.
But when it became clear that a full-time nursing position wasn't in the cards for the moment, Carmen began considering her other options, as many of you have.
There had always been a passion in her life.  Something she loved and took great pleasure in, but that had always been relegated to hobby as she pursued her science/nursing education.  It is her art.  Mostly pastels and other dry media.  Mostly landscapes and wildlife art — realistic drawings.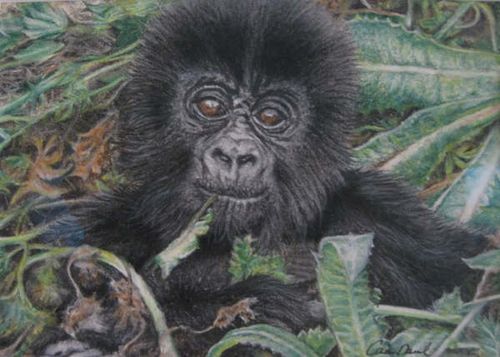 It all began with the box of crayons her parents gave her as a kid.  She was great at self-entertaining if she just had some paper and those crayons.  There was always something new for their fridge!  In school, she was blessed to have some wonderful teachers who recognized her artistic talent and presented her with opportunities to grow as an artist.
And though she never had any formal training, in her free time you could always find her sketching and drawing.  It never seemed like something that could be a job because it wasn't work, it was a joy.
And so maybe it was time.  Maybe the space and time and beauty of Okinawa was offering her the opportunity to pursue this hobby as more of a career. Sound familiar?
So she began to put out feelers with other artists she had met on island. Questioning them about how to start a business.  She continued working on her gallery of pieces and trying to figure out how to really do this thing.
And then last September she received a very unusual and unexpected email from our very own Kelly Garcia (your very own To Eat Oki Hai Editor).  Would Carmen be interested in illustrating a children's book she was writing?
Carmen was immediately excited, but also nervous because children's book illustrating, which often has a cartoon-like style, was not something she had done a lot of.  Kelly asked her to submit her vision of what Takako (the main shisa character) might look like.

Carmen scoured the internet for all the pictures of shisa she could find.  She looked at figurines in local stores. She searched rooftops for more examples of shisa.  She finally settled on a shisa as the one she wanted to base Takako on.  She held onto the terracotta coloring and as a last minute addition, decided to add the adorable eyelashes to show Takako's feminine side.
Kelly loved it.  And her new job as illustrator of Takako and the Great Typhoon began.
Since Kelly's inspiration for the book was her local Yomitan neighborhood, she and Carmen spent an afternoon wandering the streets of Kelly's neighborhood, exploring possible Okinawan traditional sites could be worked into the book. They decided to include gate ball, eisa dancers, vending machines, banyan trees, a water tank, a farmer's truck and those fabulous round mirrors that help us negotiate our little Okinawan roads.  One of the main illustrations in the book is drawn directly from the corner near Kelly's house.
Here is the photo: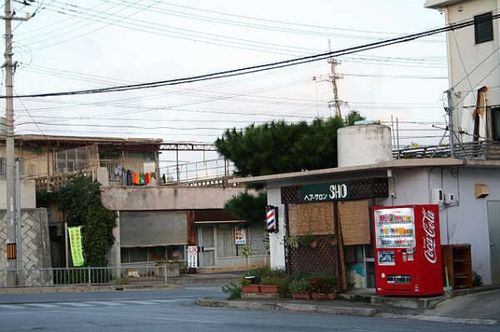 And Carmen's illustration: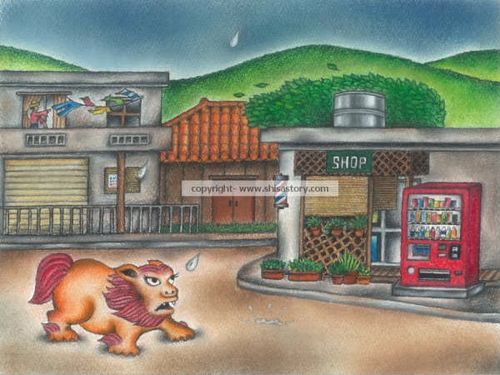 Carmen explained that it was wonderful to work her more realistic art into the background of the illustrations.  She thought often of the Winnie the Pooh series with the colorful and detailed backgrounds as she drew for Kelly.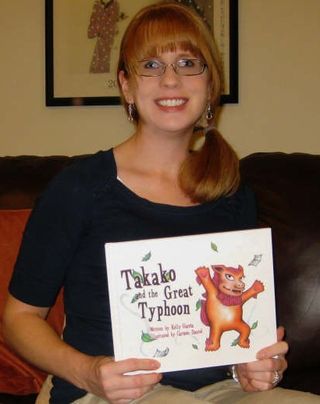 It has been so exciting to watch the book develop and change and become an actual thing she was able to hold in her own hands for the first time this week. The team of Kelly and Erin (the designer) and Carmen truly enjoyed creating this Okinawan folktale for all of us.
As a small-town lifelong Kansas girl, the transition to Okinawa was, needless to say, a little nerve wracking.  But she is loving it here. The experience of a different culture, the food, language, social customs, architecture are all wonderful inspiration for her art as well as her life.  "There's always something new to learn here," she said.
She hopes to be able to continue her art business when they return to the States… figuring out some way to balance her art with her nursing career.  In the meantime, she said, "It's so nice to be able to work from home doing something I love."
Website info for Carmen:  www.carmen-daniel.com
Website info for Takako and the Great Typhoon:  www.shisastory.com