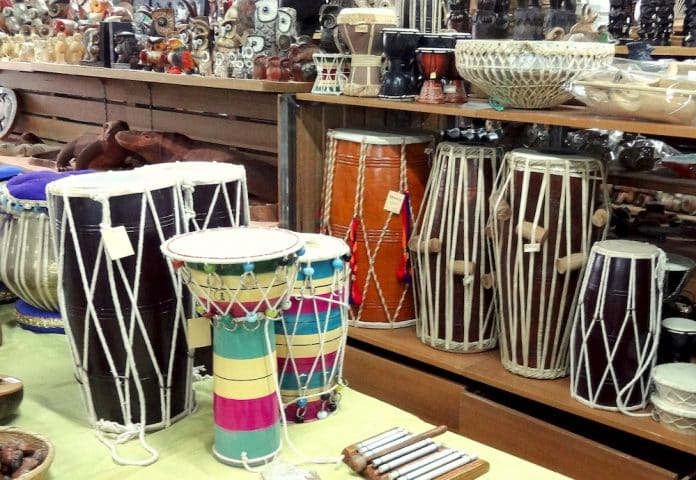 CONTRIBUTED BY KHURSTEN CORNWALL

Chikyu Exterior
If you're looking for a last minute gift, something unique and worldly, quaint and cute, or just a great thing to do on a Saturday afternoon, I've got a treasure for you! Last week a friend of mine called me up and invited me to join her on a visit to Chikyu Zakka Import Warehouse. At first I wasn't very excited about the impromtu shopping trip, but it was well worth tweaking my plans to have learned of this place.

Chikyu Shoes
I have been in Okinawa for almost two years and by now I feel like I'm pretty well versed on the 'island's secret hot spots.' I was a little shocked and amazed that I'd never been to Chikyu Zakka, let alone heard about it! This is the Lester, Kadena, and Foster gift shops combined in one, on a shipment day, times ten! When describing it to my husband I said, "This is where Pier One gets their stuff."

Chikyu Furniture

Chikyu Instruments
It has solid wood furniture, musical instruments, textiles, clothing, shoes, home décor, jewelry, pottery, YOU NAME IT, they have it! The best part is, there is something for every price range. If you need to find a quick birthday gift for a coworker for under 1,000 yen, I know you'll find something here. But if you're looking for that expensive item that is special because you bought it in Okinawa, this is you're place too!

Chikyu Papers
When it says 'warehouse' on the front of the building, they mean warehouse. This place is huge! I walked through it three times and still felt like I hadn't seen everything. They get shipments in from all around the world on a regular basis and have items in stock in the back too. If you spy something you want that has a scratch, ask the very accommodating staff to check for an un-scarred replacement.

Chikyu Items
According to my friend, Chikyu Zakka used to be located in American Village, but a couple of years ago they relocated to this new spot just past Torii Station in Yomitan. Though their new home is big enough for room to grow, it's definitely not along the beaten path. No one would even know it was there unless they were told. However, once you know of it, it's not hard to find, and they've got plenty of parking.

Chikyu Wall Sculpture
Directions:  Chikyu Zakka is about a 15-20 minute drive from Kadena Gates 1 or 3 and only about 5 minutes from Torii's main gate. To get there, take 58 going North and turn left on 6 toward Torii Station. You will pass the main gate to Torii on the left. A few lights down you'll come to a Max Value on the right. Two lights past the Max Value, you will turn left. There will also be a blue sign to Yomitan Care Center at this light. After turning left, drive down a few blocks and you will see Chikyu Zakka on the left. You can't miss it! There are a few parking spots in front of the building, but the parking lot across the street is also for Chikyu Zakka customers.
Hours:  1000-1900 every day
Payment: Yen and American credit cards
I can go on and on about how great this place is, but really it's more fun if you just go see for yourself!!