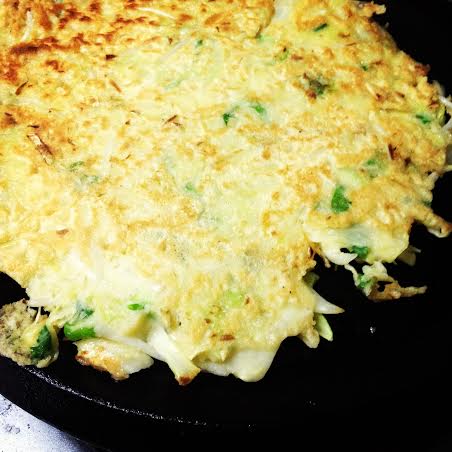 CONTRIBUTED BY KELLY GILLOTTI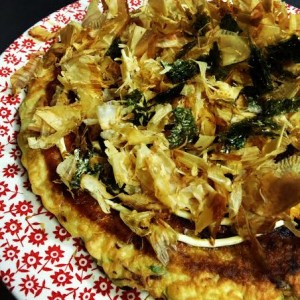 We spent New Year's Eve in Kyoto this year with my sister-in-law and her beau. It was beautiful and busy, but most restaurants were not open. It seems to me that Japanese people take their holidays very seriously.  I mean, where are people going to eat? Options limited for dining and drinking, we made the best of the situation and bought kimonos to stroll around the streets of Gion, greeting passersby with "Akemashite omedetou gozaimasu!" During our stay, we ended up eating at an okonomiyaki place twice … in one day. Yes, it was that delicious, but our hand was a little forced by the occasion.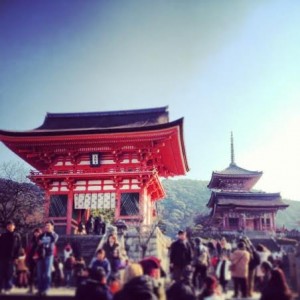 Kyoto is in a region of Japan that is well known for its okonomiyaki. The name for this savory, grilled "pancake" translates as okonomi, for "whatever you want," and yaki, for "grilled." I particularly like how easy this is to throw together. I think it's a great, last-minute meal for cleaning out the refrigerator, which is appealing to my frugal senses. I purchased a gigantic head of cabbage for fewer than two bucks and had to make plans for using it up. After Mexican and Vietnamese-inspired coleslaws, I still had a lot leftover. Okonomiyaki is the perfect vehicle for hiding lots of veggies into a quick and delicious dinner.
The recipe:
2 eggs
1 ¾ cups wheat flour
1 tsp salt
3 tsp baking powder
1 ½ cups water
3 handfuls of shredded cabbage
2 chopped long green onion
3 chopped mild green peppers, or shishitou(ししとう)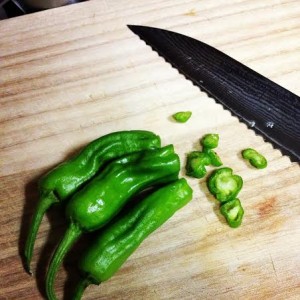 1 handful of bean sprouts, or moyashi (もやし)
1 sheet of torn Nori seaweed (のり)
1 handful of bonito flakes, or katsuobushi  (かつおぶし)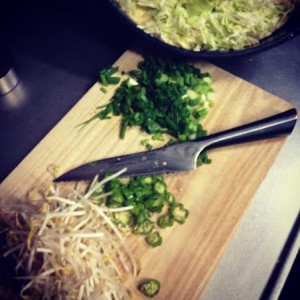 1 tsp ghee
1-3 tsp of mayonnaise (I used Kewpie)
For the sauce:
1 tsp apple butter or ketchup
2 tsp Worcestershire sauce
1 tsp soy sauce
½  tsp Sriracha
1 tbsp brown sugar
Mix the flour, salt, baking powder, egg, and water together. Heat the ghee in a skillet. Mix the vegetables into the batter.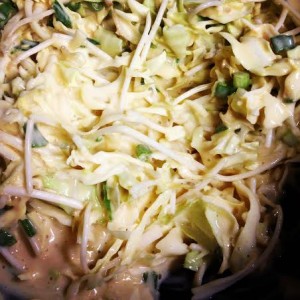 Once the ghee is hot, pour half the batter mixture into the skillet for form a pancake shape.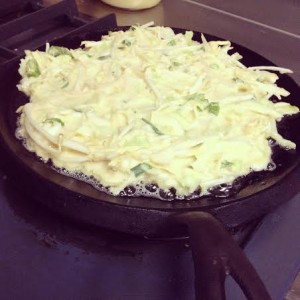 Cook until the bottom is golden brown and then *carefully, with two spatulas* flip over to cook the other side.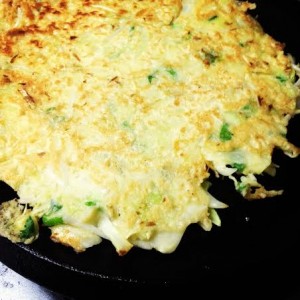 Meanwhile, whisk the sauce ingredients together. Once the okonomiyaki is done, begin cooking the second one. Spread half of the sauce over the top of your cooked okonomiyaki, add the mayonnaise (a thin-tipped squirt bottle makes this look really flashy), and then cover with katsuobushi and nori flakes.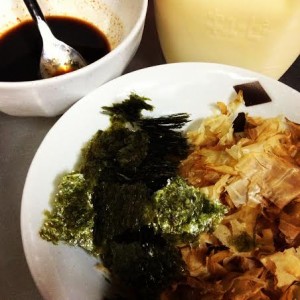 Do the same when the second okonomiyaki is finished cooking.