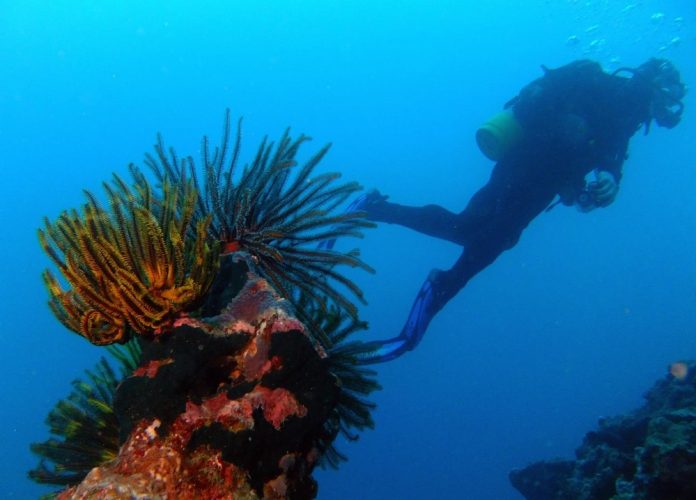 CONTRIBUTED BY SANDRA STAMOS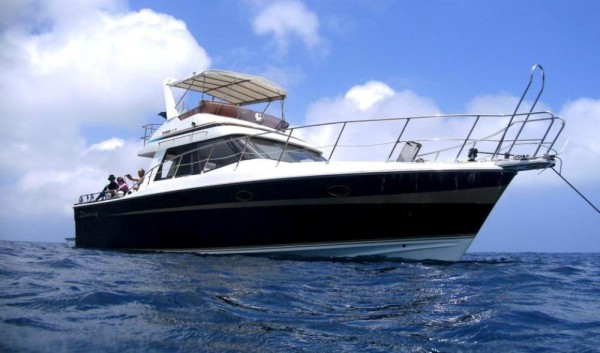 Looking to spend the day out on or under the water? I highly recommend Destiny Charters.
Based out of the Okinawa Marina (next to Sam's by the Sea in Awase), it is very easy to get there. 
The Destiny is the only American-owned boat going out to the Okinawa Barrier Reef (OBR) and east side/Pacific side sites. These sites are just as amazing as the Great Barrier Reef in Australia, but quite a bit more affordable and a whole lot closer! The average time to get to a dive site after leaving the port is about 30 minutes. The morning dive trips leave at 8:30 a.m. and return back to the dock around 1:00–1:30 p.m. My husband has been taking some absolutely amazing pictures on the OBR.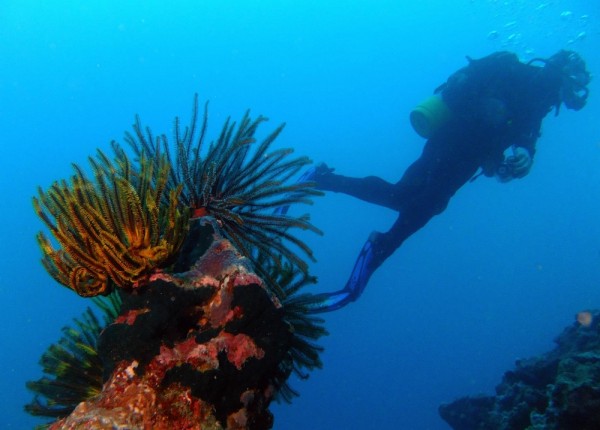 We began diving on the Destiny in the summer of 2012, between typhoons. Aaron Burrows, the captain, took us on some great dive trips on the west side – out to the Sand Islands and the Keramas. Dave Burrows, PADI Dive Instructor, Dive Master and Aaron's dad, kept us safe as divers and provided excellent pre-dive briefs of our locations. Dave is a former Marine who has been on Okinawa for more than 40 years; he knows this place!
In the winter of 2012/2013, the Destiny re-located to the east side and began exploring the OBR. What is really fantastic about the east side, besides the short boat ride to the dive sites, is that Aaron can always find a sheltered dive site no matter what the sea conditions.
There are several artificial reefs on the east side. A particular favorite are The Cubes. These are a series of concrete, open-sided cubes in two locations: one deep (starting at around 60 feet and descending to about 90 feet) and one shallow (no deeper than 60 feet). These are spectacular – all kinds of soft corals, fragile sea fans and sea whips, tropical fish, and eels live amongst the cubes. You definitely want to spend your time looking closely at The Cubes.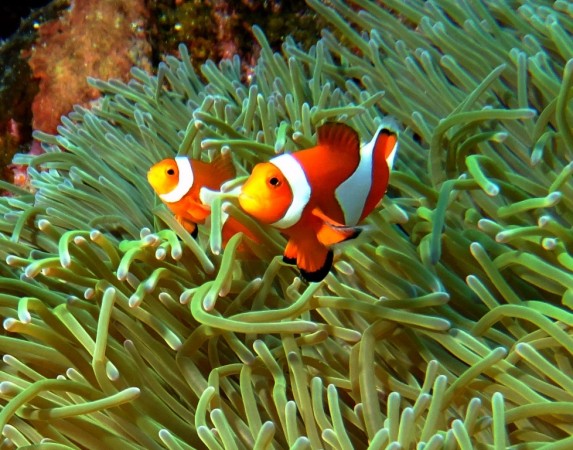 They are constantly looking for new sites for their dive/snorkel passengers. They have found a "lion fish wall" just off Tsuken Island. Never have I seen so many lion fish in one place. Prior to diving this "wall", the most I had seen was two together. On this site, I stopped counting when I reached two dozen!
Compared to the shore dives we started doing here, boat diving on the OBR is a totally different experience. The visibility alone (75 feet to 150 feet on most days) makes it worth the trip.
Sea turtles and sea snakes are regulars on the OBR.  My husband was even lucky enough to snorkel with some humpback whales this spring!  Just keep your eyes open; you never know what you will see!
I have "liked" the Destiny on Facebook because they post pictures from their weekend trips. It is cool to be able to see what we saw on the weekend trips with our friends back in the States.
The crew are like family and take care of you while you are on board. Water and sodas are complimentary. They have coolers on board if you want to bring items which need to be cool. Please feel free to bring along your own snacks. During the surface interval, the crew grills up some hot dogs! Best tasting dogs you will ever have! The boat even has a grill if you want to do some cooking at sea.
Prices are quite affordable. Currently, weekend dive trips are ¥5,000 per diver/snorkeler (tanks maybe rented through Dave, if pre-arranged at ¥500 each). They go out every day on the weekend, weather permitting. Mid-week trips are available but must be scheduled ahead of time (¥40,000 to charter the boat, up to 12 divers). The Destiny is available for private party charters that do not have to include diving. I found it very easy to make reservations and payments using Paypal on the Destiny's website. If you don't want to use Paypal, you can pay cash at the dock.
Don't miss this great adventure!
Facebook: Destiny Charters
Website: https://destiny-charters.com/
Phone: Dave Burrows 090-9569-4080
Payment: Yen and Dollars accepted. Payment for trips can be made using Paypal on the Destiny website.
Directions: From Kadena:  Exit Gate 2 – go straight (this is 20) – cross 330, corss 329. The next major intersection is going to be 85/Awase Bay Street.  Go straight (there will be an AU store on the opposite left corner). At the next light, turn left – you should see signs for Sam's By the Sea. Approx 3 blocks, turn right. Marina is on left.
Parking at Marina: Drive all the way down along the berths and park next to the Destiny. You can park right in front of the boat to load your gear and jump on!