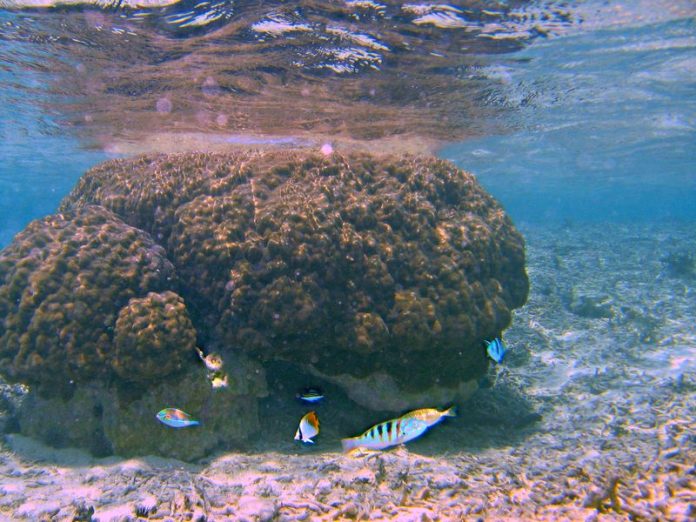 My husband and I knew before we came to Okinawa that we wanted to get scuba dive certified as soon as possible once we arrived here.  Once settled (and work schedules permitted) we did just that!  My 2010 New Year's resolution was to get certified and about 14 hours into the year I had checked that box.  Was it cheating to make that my resolution on the day we had our final dive certification scheduled?

[adrotate banner="169″]
Both my spouse and I work full-time and our schedules are never the same, so when we have the chance to dive we want to get in the water as efficiently as possible.  It's a bad feeling to waste precious dive time driving around lost.
Maeda Point 
Maeda Point is also known as "Danger Spot Number Five" according to the AFN commercials. Some days it earns that reputation; other days it is a beautiful place to dive or snorkel.  The key is checking out the sea conditions before you gear up.  If the water is rough or foamy there is no safe place to don or remove your fins or even get a secure foothold. On the rough days I have also seen signs placed at the top of the stairs warning swimmers about the sea condition.
Directions: Maeda Point is one of the best marked dive spots we have seen on island.  There are a few ways to get there.  This route takes you past a few familiar places: from Kadena gate one travel north on Route 58 until you get to Highway 6.  Take a left.  This will take you past Torii Station.  Continue on Highway 6 past the turn off for Zampa.  Continue until you see the white signs for Maeda Point.  Go north on this road between some sugar cane fields until you see the parking area for Maeda Point.
Entry/Exit: Get ready to hike!  There are a lot of steps between you and the water!  While you are climbing up or down, be thankful that there are steps. One of my friends, a long-time Okinawa dweller, tells tales of scrambling down rocks "back in the day!"  At the bottom of the steps is a rocky pool area. Wade out to put on your mask and fins and then you are ready to snorkel.  If you are looking to dive, snorkel out about 20 yards where the shelf drops off approximately 40 – 60 feet.  Please be considerate of other divers and swimmers!  This is a very popular spot with only one set of stairs!
What you may see: As you are looking out to the sea, there is a cave along the cliff face to your right.  We have seen many amazing creatures here: cuttlefish, stingrays, lion fish, Christmas tree worms, bat fish, lobster…
Other stuff: This is a great area for those who don't dive/snorkel or for those who are between dives.  Inside the main building there are two small take out counters, one with Japanese style food and the other with ice cream.  An additional ice cream shop is located next to the bathrooms.  There are a few short walking trails as well as some shelters for resting.
Maeda Flats
Sometimes it is just too rough to go in at Maeda Point, but head around the corner and you may find that Maeda Flats is just that – flat! Maeda Flats has already been covered from the beach perspective here, so I won't go into much detail.

Directions: If you are in the Maeda Point parking make a right after you exit. Continue straight towards the ocean.  You will drive between sugar cane fields as the road curves left to parallel the shore.
Entry/Exit: This is a sandy beach entry.  The current pulls you south [to the left] as you look out to the water.  It is a pretty good workout to get all the way out past the breakers to actually dive, but the snorkeling here is truly great.  When snorkeling, it's easiest to let the current carry you down the shore.  After a while you will see a concrete boat ramp that slopes into the water.  If you want to make this a "drift dive" you can exit here and follow the ramp back up to the paved road; follow it (left) bac k to your car.
What you may see: We once spent a full ten minutes engulfed in a huge school of sliver fish!  The fish were so thick that we could not see our partners only a few feet away from us!  Besides the occasional school there are lots of barrel coral, sea cucumbers, sea urchins, blue damsels and plenty more.  The water depth varies from as little as 2 feet deep at low tide to about 5 feet deep at high tide.
---
Maeda Flats Beach & Point
Website: http://www.maedamisaki.jp/en/
Has parking cost information as well as a live camera feed and current sea conditions
Facilities at the main parking area
Restrooms for Men, Women, Physically-Challenged
20 Hot-Water Showers (200yen): 10 for Men, 10 for Women
Coin-Lockers (100yen)
Changing Rooms: 3 for Men, 3 for Women
4 Hair Dryers (100yen)
1 Telescope (100yen)
Address: 469-1 Maeda, Onna, Kunigami District, Okinawa Prefecture 904-0
GPS Coordinates: 26.4450618 127.7714252
Directions: Take Highway 58 north past Kadena Circle, make a left at the Ryukyu Mura sign (the sign is at the light, so watch for it). Turn left at the second light past a sign for Ryukyu Mura. Make a right at Maeda Misaki, about .8 km, and then left just before the parking lot.
Parking for Maeda Point: There is a main parking lot that has a nominal fee. Visit the website link above for current parking fees.
Parking For Maeda Flats Beach:
There are areas to pull off the road and walk to reach the beach area. However, the facility managers ask that you respect the local residents as parking along the narrow road causes traffic problems and poses difficulties to the local farmers trying to access their farm land. YOU WILL get a ticket if you park along the narrow road leading to the cape; we were lucky and heard the announcement and only received a warning.  I suggest the easiest way to get to the beaches is to go all the way to the Cape Maeda Facility area and pay to park, then hike down.
To get to the beach from the parking lot: if you are standing FACING the parking lot with the water behind it, you turn LEFT down that road. Once you've turned left from facing the parking lot, you'll go down maybe 1/4 or 1/2 mile, then look for a narrow dirt trail. The first part is dirt, the second part has steps, then out of nowhere, you'll see a pretty secluded beach area.
In the main parking lot there are spaces for 180 vehicles, plus 4 handicapped vehicle spaces
To see more information regarding the cost of parking visit the website above