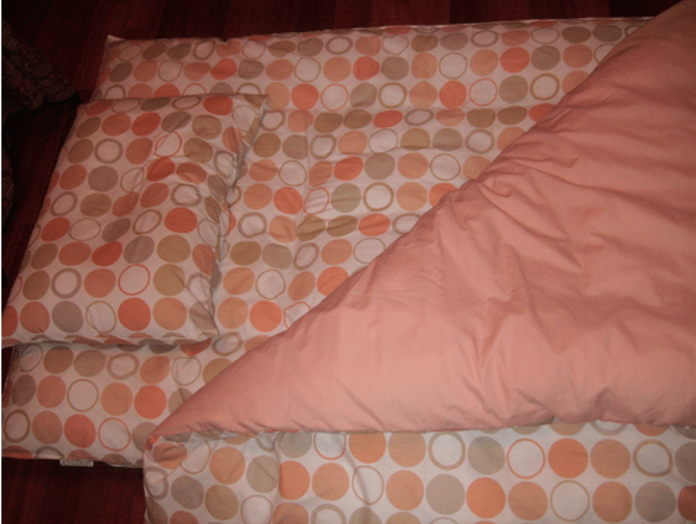 Futon 4, originally uploaded by kahoristori.
CONTRIBUTED BY KAHO
If you're expecting multiple house guests at the same time, but do not have enough beds to offer, or you're in the dog house and don't get to sleep on your bed :), a Japanese "futon" will come in very handy! It is better for your back to sleep on a hard surface, so it might help alleviate a back problem. You might think that futon on a hard floor will be too hard and uncomfortable, futons actually have enough cushion that it won't hurt your back. I think it's comfortable, but I grew up sleeping on it.  The great thing about futon is that you can fold the mattresses to make them compact and put them away in your closet. We bought a set of futon for our daughter since she is growing out of her crib. A futon works great since we do not have to buy a side guard for the bed or do not have to worry about her falling off the bed.  It is convenient to us since our 2-year-old all of the sudden started feeling spooked about staying in a dark room all by herself, so I need to stay with her until she falls asleep. Sometimes I lay next to her and this futon is convenient for that.
Was I able to convince you that futons rock? If you're interested in purchasing one for your time in Japan, where could you go to buy a set? NITORI, a home furnishing store, would be a great place to buy one. Nitori is like IKEA of Japan. Not only do they have modern and fashionable furniture and household items, but the prices are very reasonable. Nitori sells futon sets which come with two mattresses, a blanket, a pillow, a mattress cover, a blanket cover and a pillow case and all of this cost 7,990 yen (about $68). For more detailed information on this product CLICK HERE. It is in Japanese, but you should be able to see pictures of the individual items included in the package.
[post edited to include directions from comments] Directions to Nitori from Kadena: head straight out Gate 2 and keep going, it will seem like too far, pass the zoo and head down hill, then look for KFC and MaxValue on your right, and then turn left on 85, I think there is a San A at this intersection. Just follow 85 north for a few blocks and when you start to see harbor/ocean on your right then look for Nitori on your left. The sign is in Japanese so check out this link and familiarize yourself with the symbols.