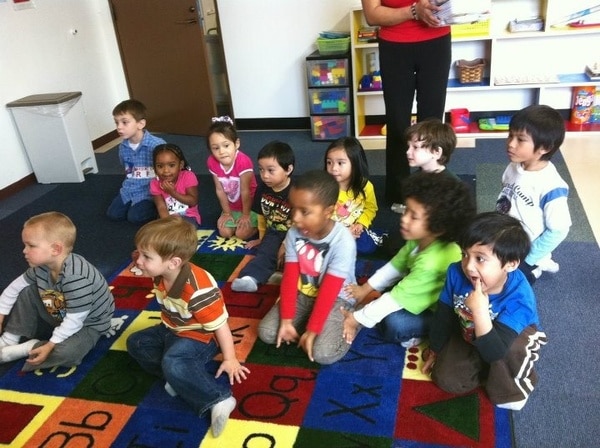 For all you parents looking for a preschool that suits your kids, we're hoping to add a little something to aid in your search. Parents of children who attend various preschools on island have filled out a series of questions about the schools for the benefit of the rest of us. We welcome more than one voice on each school since everyone has a different experience, so please feel free to add in your two cents in the comments.
If your child attends a school that has not been reviewed on this site, please contact our Submissions Manager for the template.
CONTRIBUTED BY JOHN ROBINSON
Name of the school: Golden Mind Achievers International Preschool
Address: 1177 Aza Yoshihara, Chatan, Okinawa Japan
Phone:  098-989-9808
Email:  admin@goldenmindachievers.net

Ages Accepted: 6 weeks to 6 years old
Ages of Your Kid(s) in this School: mine's under 2 yrs old, but they accept ages 6 weeks to 6 years old

Golden Mind Circle
Admissions/Enrollment:
What is the current number of students? 42 students
Is enrollment open/year-round enrollment or per semester? Year-round
Does my child have to be potty-trained to attend? No
Can I bring my child in for a pre-enrollment visit? Yes
Days and hours:
What are the school's hours? Monday to Friday from 6am to 6pm
Is the school on a Japanese or American schedule? They observe American Holidays
How flexible is the school with pickup and drop-off times?  Child must be dropped off and picked up on the schedule the child is enrolled in.

Golden Minds Coloring
Costs:
What are the registration fees? One time fee of 5,000yen
What are the tuition fees?
Infant to 2 yrs: 40,000yen a month Full time
Mon to Fri 9am to 3pm: 35,000yen a month
3 days a week 9am to 3pm: 30,000yen a month
3y.o to 6 yrs: 38,000yen a month Full time
34,000yen a month for 9am to 3pm
If any, what are the assessment and school supplies fees?
For 1-2 yr old: 5,000yen
For 2-3 yr old: 10,000yen
For 3-6 yr old: 20,000yen
Are there any discounts offered for referrals, siblings, volunteering, working there, etc.?  5% discount on additional siblings
Is there a late-pickup fee? 500yen per hour
How and when does the school require payment (in yen, dollars, etc.)? Monthly due is every 18th of the month. For example, May's tuition is due April 18. They accept yen and dollars.

Golden Minds Easter
Parent Involvement and Interaction:
During programs like Easter egg hunt, Halloween party, Thanksgiving party and Christmas party Notice is given to parents ahead of time so they can attend. Parent involvement and interaction is highly encouraged.
Does the school encourage spontaneous visits from parents? Yes
How do you communicate with parents? Through daily reports, newsletters, and face-to-face interaction (during drop-off and pick up).
Is there a daily report or other process for informing parents of what children did during the day (naps, BMs, snacks, etc.)? Yes, they have a booklet assigned to each child.
Are there parent/teacher conferences? Twice a year , but you can always request a conference as needed
Classroom Structure and Size:
How are the kids grouped? Age and their level
What's the teacher-child ratio in each group?
Infant room : 8 kids to 2 teachers/assistant
2y.o to 3y.o: 15 kids to 2 teachers/assistant
3y.o to 4y.o: 20 kids to 2 teachers/assistant
4y.o to 6y.o: 20 kids to 2 teachers/assistant
How many full-time teachers do you have? Seven full-time teachers
How many assistants? Two assistants

Golden Minds Lunch
What is the school's educational philosophy? Per school administrator: "To provide high standard principles of education in all areas of learning through a mixture of Montessori and international school curriculum. We are dedicated in providing an exceptionally loving, nurturing, safe, and fun environment while learning. "
Is the school program developmentally-based or does it have an academic focus? Both. The lessons and activities are academic and developmentally based.
Is there a playground for the children to play on? Yes, there's an outdoor playground. They also close the entrance and exit gates (as needed) so the kids can ride trikes or do school/outdoor activities (like Easter egg hunt).
What do the children do on any given day? They play, learn (through lessons and educational activities), listen to music, sing and dance, and watch educational shows.
Are there extracurricular activities or field trips? Occasional field trips and activities during certain holidays.
How does the school discipline children? They use the Montessori method where self-discipline is promoted, taught, and practiced. They talk to the children about the misbehavior and explaining the effects of good or bad behavior and how their behavior affects themselves and others. In the event that a child needs to be separated from other kids, the child sits with a teacher instead of being alone.
How does the school comfort children? They use a nurturing approach – they hug and give individual attention.
Final Comments or Observations about the School:
This is a fairly new preschool/daycare. Our child has been going there since February and we've been happy so far. We mainly want our child to socialize with kids around his age and Golden Mind Achievers delivers more than that. They have fun and educational activities for the kids. Since this is also a preschool, the older kids have classroom time with set curriculum. Our child is in the infant room, and they also have learning time.
The teachers are very nice and caring. When my child arrives in the classroom, they immediately greet him. At pick-up time, they always update us on what our child did all day. They also always say "bye-bye" to our son. Best of all, our child is always happy being there.
Directions:  From Kadena, go on Hwy 58 towards Lester. After the Lester main gate (Starbuck's Gate), turn left at the light (there's a foot bridge at this intersection). Follow the road. Once you pass by Family Mart on the right, you'll see the colorful gates with the school name on the wall (Golden Mind Achievers)
Address: Chatan-cho Aza Yoshihara 1177 Okinawa, Japan