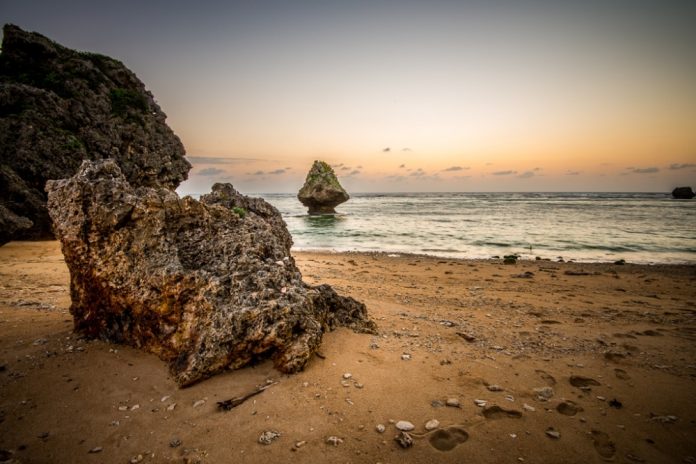 CONTRIBUTED BY RYAN P. BURGER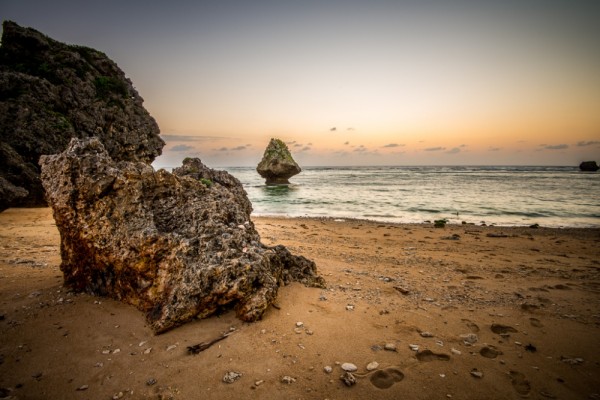 In my travels around Okinawa shooting landscapes, I've tried my best to stick to areas that aren't oversaturated by other shooters or beachgoers, discovering (or rediscovering from another's perspective) places to capture the beauty of this tiny rock in the middle of the Pacific. I was scouting out Oki from the air via Google Maps and came across this gem, "Hidden Beach" as I'm unable to discern it's true name.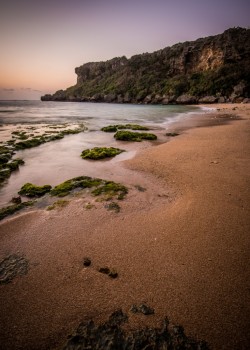 It's the middle of three "sister beaches" on Miyagi-jima, nestled between 75-foot cliffs and a smattering of fallen boulders from the cliff face.
Some friends and I decided to do a sunrise shoot (the beach faces east) and enjoyed the location immensely.
The drive out is scenic and easy – to a point. The road leading down to the beach was, at one time, paved – but time has taken a heavy toll and the road is impassable to "normal" automobiles. 
You'll have one of two options, park at the "trail head" and hike it or drive it via a 4×4 equipped truck or van (with good ground clearance). We took a friend's Mitsubishi Delica 4×4 "man van" which handled the 8 to 12-inch deep pot holes with ease.  Eventually the road becomes too rough for an unmodified off-road vehicle, and you'll have to hike the remaining 300 yards to the beach; there are plenty of clearings on the road shoulder where you can park.
When you make the small walk (or long walk if you couldn't drive!), you'll be greeted by a sign you might be familiar with. It makes various statements about the rip currents and unpredictable wave patterns for the beach and essentially warns you to exercise extreme caution near the water. I WHOLEHEARTEDLY agree, especially regarding the how remote the location is. ALWAYS go exploring with a buddy, never alone – besides, its more fun with friends!
Another interesting tidbit on the sign is a map of the beach, the current flow, and the fact that the images show that the beach was pretty popular at one time. There is evidence around the site of building foundations, booths, etc.
Not a whole lot needs to be said about this location; it is stunning in every way possible and more than worth the drive. Let the photos speak for themselves. 
In addition to the images, I created a little home movie documenting our trip out to the beach and making some great images – it will give you a better idea as to the road conditions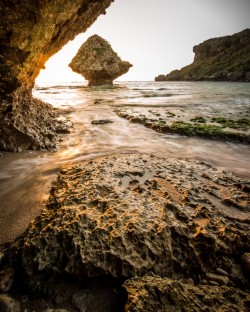 and the gorgeous scenery that awaits anyone that makes the journey to this thrilling location. 
Directions: from Kadena Gate 3
1.     Turn right out gate 3 (Route 74)
2.     Turn left (east) on to Route 85
3.     Turn left on to Route 224
4.     Turn right on to Route 16
5.     Turn left on to Route 33 and take it until it dead-ends
6.     Right on 37 and follow the road around to Route 10 (Henzajima Bridge/Causeway)
7.     Hang a left on to Route 10
8.     Follow Route 10 for a while through Henzajima Island and on to Miyagijima Island.
9.     Eventually you'll see a group of family tombs with a Coca-Cola machine right next to them (see image below). Make the turn right in front of the tombs.  This is where you will need to make your walk or 4×4 decision.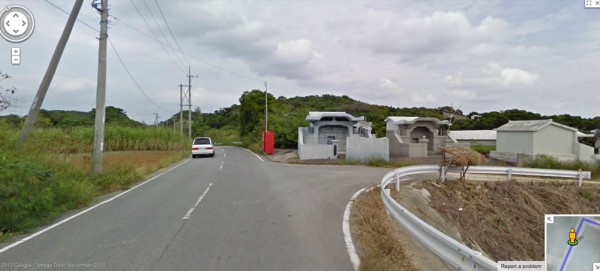 10.  You'll be immediately greeted by a fork in the road right in front of the tombs, take the left, then an immediate right (see below).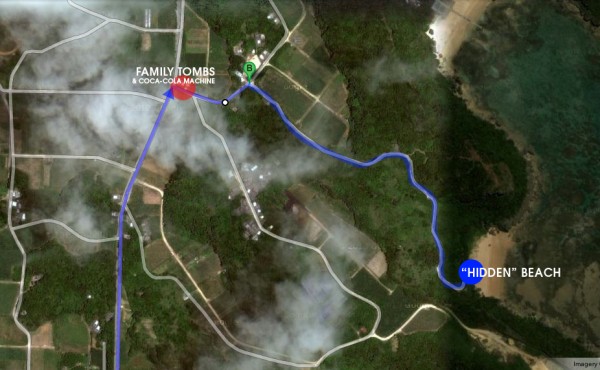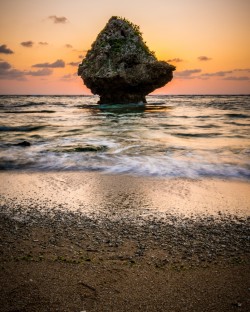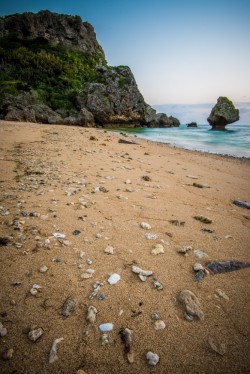 11.  Continue down the path about ¼ mile to the beach!
For those of us blessed with phones smarter than we are – I have an alternative mapping solution for you…GPS coordinates!  The following coordinates are to the tombs near the "trail head" leading back to Hidden Beach: 26.366255 and 127.988995
I've tested them out on my device on both Apple Maps and Google Maps. Coordinates for Hidden Beach itself (GPS navigation does not "see" the final few roads as valid options) are: 26.363443 and 127.993716