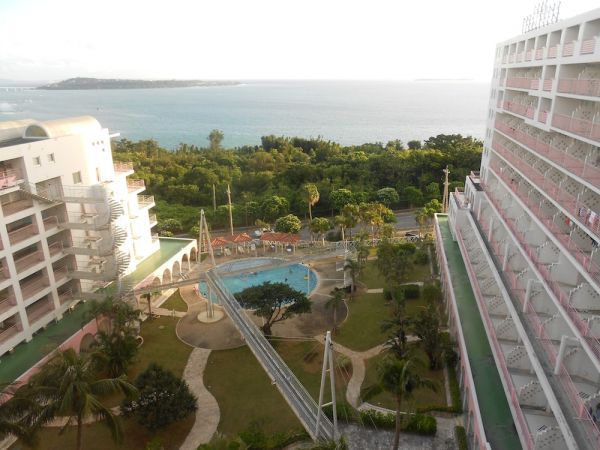 CONTRIBUTED LEEANN STEVENS

Mahaina Exterior
My husband and I wanted to take a break from work and home. We decided to take a 4 days trip up north to Nago. We booked 3 nights at the Hotel Mahaina Wellness Resort. I found this resort through www.agoda.com. They have some pretty cheap hotels. But we decided to spend a little more and treat ourselves.

Mahaina Room
Do not let the exterior fool you! Our room was really nice! We had a pretty large room on the ninth floor. The room had a kitchenette. It even had a little stove! Every room has a balcony and our view from the balcony was spectacular! We could see the ISLAND. It was gorgeous- the water was so pretty…

Mahaina Kitchenette
The resort staff was really nice and helpful. Check in time is at 3pm. We arrived an hour early- they let us use the pool. The pool is not too deep. Plus they have a kiddie pool. Along with the outdoor pool, they also have an indoor pool.

Mahaina View
Our breakfast was included in the price. It wasn't too bad. It was typically Okinawan. But they had some American foods as well. I am not too adventurous with eating rice and soup for breakfast so I decided to stick with the eggs, croissants and fruit!
They also have an indoor spa. Please note: you have to be completely naked in the spa! They wouldn't even let me wear a bikini in there; so I left. Men and women are separate.
The resort is very close to the aquarium. If you do not want to purchase tickets at the aquarium you can simply go hangout in the park! It is also close to the Butterfly garden.
Directions:  Head north on 58. Or use the expressway all the way up north and it will take you on the 58 as well. Once on route 58, turn left on 449 and then turn left on route 114. The resort will be on your right before the Aquarium.