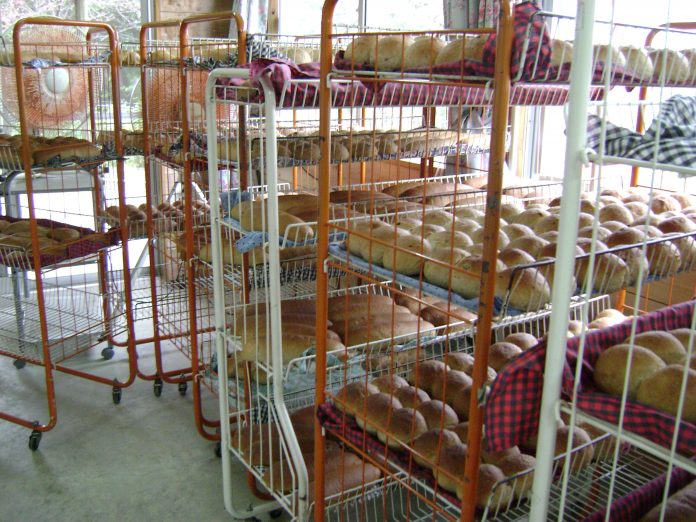 CONTRIBUTED BY DASHA GARIEPY
In case you've ever wondered what those cheerful store clerks are chirping at you when you walk in the door, it's "Irashaimase!" which translates to "Welcome!"
I've been practicing this phrase over and over, much to the amusement of my Japanese host family. It sounds deceptively simple: Ee-rah-shay-mah-say. However, the "rah" part is more of a "d'lah" sound with the tongue rolling from the roof of the mouth to the bottom… I haven't quite got it yet, but one night had Amiko-san rolling on the floor with my outrageous antics. Sweeping my arms wide, I rolled my r-r-r-r-rah like a bad opera singer, and shouted out the phrase dramatically. Holding her sides, she told me, "YES! YES! Do it just like that!"
You see, I need to have it down by this coming Sunday, when I'll be welcoming visitors to the Yaedake Bakery during the Cherry Blossom Festival.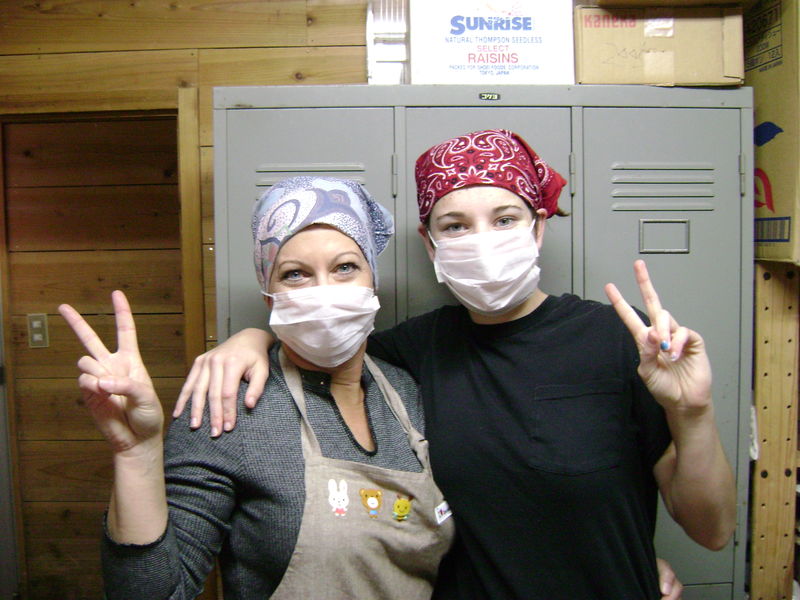 Heather and I have actually been working at the bakery three days a week for the last two weeks. As you can see by the photos above and below, everyone practices a germ-free baking environment.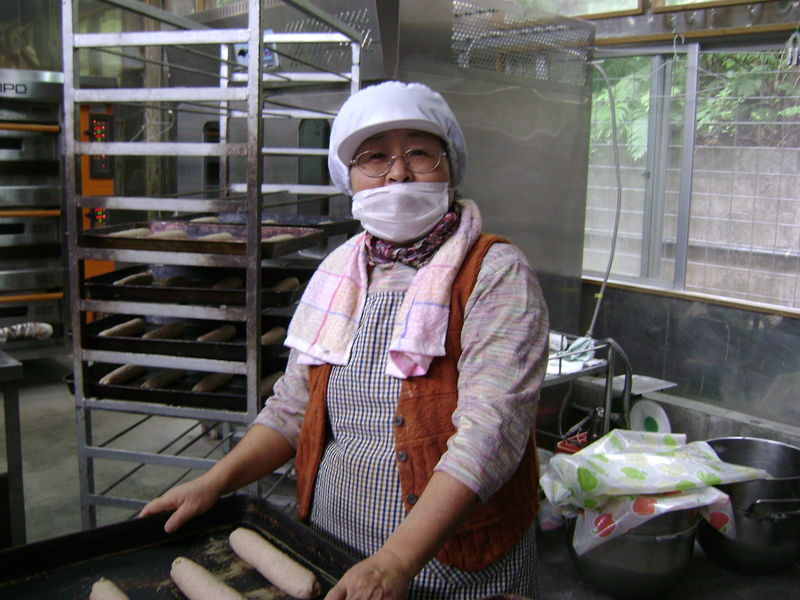 Nohara-san gives all the dough a last check before final baking.
What's so great about this particular bakery, you ask?
The answer is: everything! The regular workers are fabulously friendly, and eager to help volunteers learn the process of bread baking, even those without any baking experience. Which is another great thing about the bakery – volunteers and visitors are welcome. Over the last year more than 50 volunteers from all over the world have pitched in at Yaedake bakery! This is Wa-san, just such a volunteer from Hong-Kong.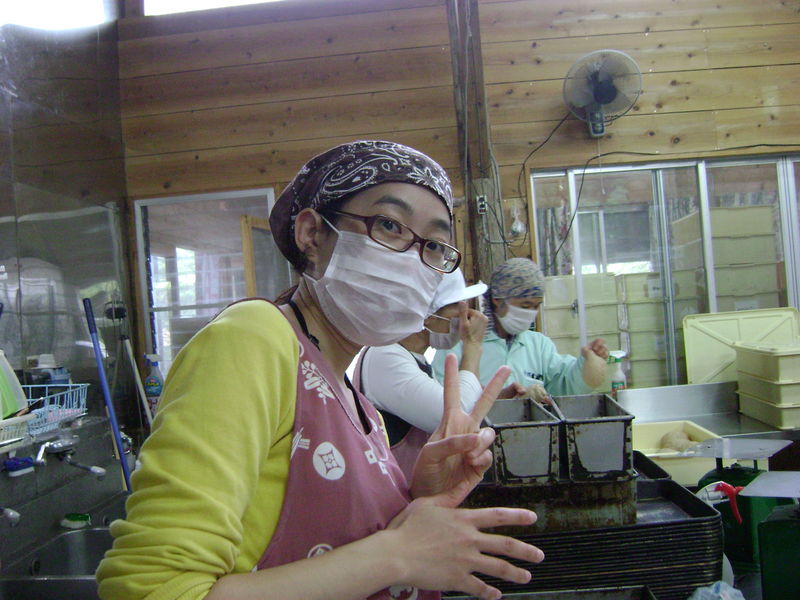 Actually, that's why I'm posting about a bakery. While it technically falls under the 'To Eat" category, between the drive to get there and the volunteering and/or tour, it's definitely something "To Do"! If none of that gets you up the mountain, maybe this will… undeniably the best thing about the bakery is it's absolutely delicious 100% whole wheat DAIRY FREE bread.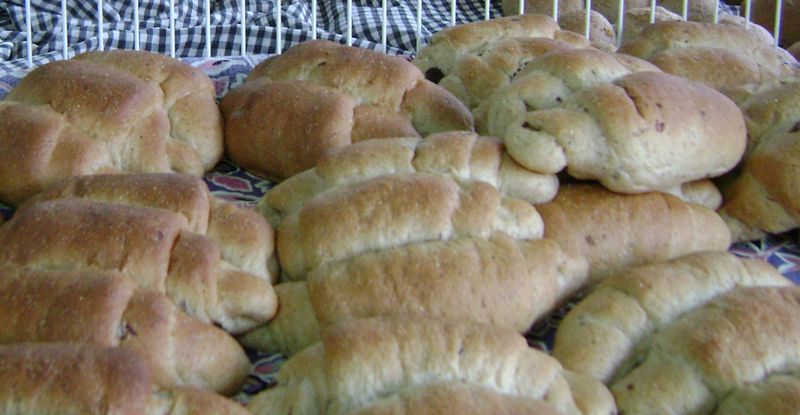 That's right. No milk, eggs or butter AND it's preservative free.  The recipe was developed originally in a home kitchen, to help hospital patients with strong allergies. It was such a success with the patients, others began to ask for it, and before long orders were pouring in.
The operation moved to a bakery, which operates Tuesdays, Thursdays, and Sundays, when literally hundreds of loaves, buns, twists and tarts are passed through the ovens. If you show up during the week on one of these days, between noon and 3:00 pm, the bread sells fresh-out-of-the-oven right off the cooling racks: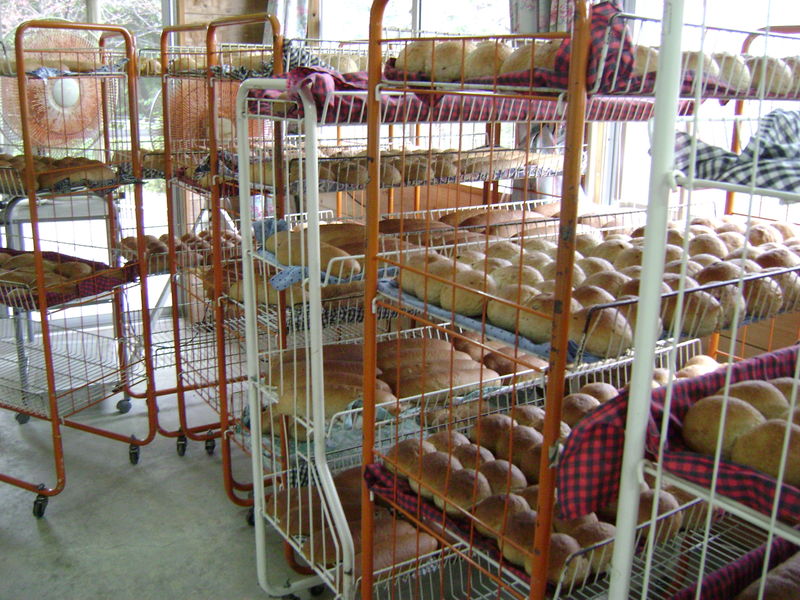 I can testify that it's delicious, and all made with the same dairy free whole wheat base. Got a hankering for fresh garlic buns? How about the local Okinawan favorite, ahn-pan? Or blueberry filled tarts? Maybe Raisin-Walnut twists, or apple turnovers? Then get yourself to the Yaedake Bakery! If you come this Sunday, you just might hear my operatic rendition of "Irashaimase!"
---
Yaedake Bakery
Website: https://www.yaedake.com/bakery/bakery.html
Address: Japan, 〒905-0221 Okinawa Prefecture, Kunigami District, 本部町伊豆味1254
GPS Coordinates: 26.6422627, 127.92882869999994
Directions: It's just like going to Ocean Expo Park. Take the Expressway north to its end just south of Nago. It merges/becomes 58. Stay on 58 to Prefectural Road 84 and turn left. (You may see an earlier turn for 84 that goes right – ignore it! Wrong 84. Stay on 58 winding through Nago.) From there follow the English language signs to Mount Yaedake. Go up the mountain 3.8K and take a left. About .2K you'll see the bakery on your right.