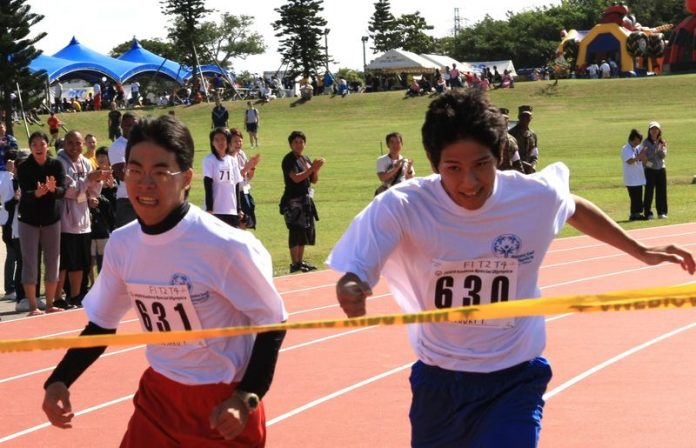 CONTRIBUTED BY CHIP STEITZ AND TARA HOWES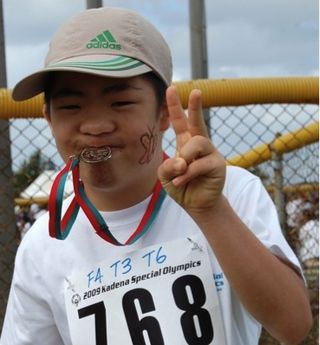 This summer I received an email from Chip Steitz regarding the Special Olympics held each year on Kadena Air Base.  He wanted to get the word out about how we can all be involved in this special volunteer opportunity.  He said:
Kadena Special Olympics transcends stereotypes, politics, nationalities and communities.  The Spirit of Special Olympics is foremost a spirit of joy, but also one of courage, integrity, pride and respect. It is a spirit of acceptance that also transcends geographic, social and political boundaries. It is a spirit that inspires us all.
To make a contribution or volunteer please visit our web site or contact Chip Steitz at 090-8290-2701.
I'm also lucky to be friends with the Marvelous Tara who has been a part of the Special Olympics for years.  Her family helps at the event on Kadena, and so I asked her to share…
I am passionate about the Special Olympics for a few reasons. My cousin, Dustin, has Down's syndrome and since he was born I have been waiting for the day when he could participate in the Special Olympics. Unfortunately, due to living overseas, I can't be there to support and cheer for him as he gets be an Olympian. I can't be there for him, but I can be here for the athletes participating in the Special Olympics on November 6, 2010. And so can you.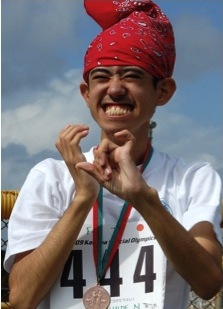 I am sure everyone has heard of the Special Olympics. What you may not know is that they hold a Special Olympics on Kadena AFB every year.  You may be thinking it is a small event since we are on this little island. Well last year there were 1,104 athletes who participated in either that day or the bowling event. An event of that size needs volunteers to make it happen. That is where we all come in. I got involved through my husband's unit. Our unit has run the soccer event for the last couple of years and it has been an amazing experience. You don't have to be a service member to volunteer, as a spouse I volunteer as do my teenagers.  You can work with your unit on an event or be a hugger.  Every athlete needs a hugger, all 1,104 athletes need someone to escort the athlete and their families to each event and encourage and cheer for them then when they pass the finish line or make that goal. You have the privilege of hugging, or high fiving your assigned athlete.  Just a warning — you will get caught up quickly in the excitement and hug many, many other athletes as they run though the finish lines with fists in the air so proud of their accomplishment.  It's contagious, I tell you.
Let's say you have never helped with the Special Olympics or you aren't trained to work with anyone with special needs. I understand, I was nervous, too. Great thing is the KSO has briefings and will get you the information you need to know. The most important thing is they need people willing to help. You can volunteer in a variety of ways; they need huggers and also volunteer interpreters. The majority of the athletes do not speak English so that is a real need. If you can't help on that day the fundraising events have already begun and you can help that way. There are "tip the cops", and fun-runs coming up.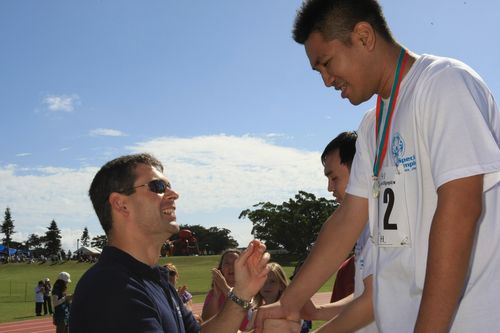 Check out the Kadena Special Olympics web site for more information — ways to donate money or your time and dates for the upcoming events. Also check with your unit for volunteer opportunities. This is the most rewarding and fun event I have participated in while being on Okinawa.
You do not want to miss out.