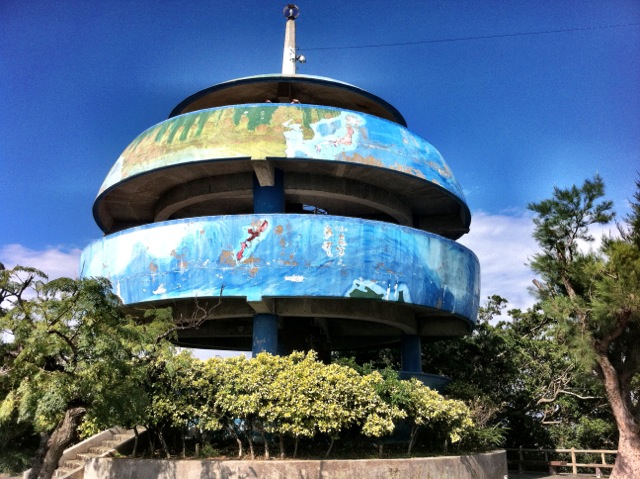 CONTRIBUTED BY QUENTIN RICHARDSON

Kakazutaka Panorama
Otherwise known as Kakazu Ridge, where a fierce battle took place during WWII. Bullet holes from the war can be seen at a small exhibit at the base of the observatory. At the top, a peace memorial and prayer site also look over both Ginowan and Urasoe cities.

Kakazutaka Stairs
Upon reaching the park, there a open fields where families picnic and rest, and where softball teams hold practice. Across the park and up the sets of stairs you will notice the split globe shaped observatory. After the hike up the stairs and the spiral staircase, you will see Futenma airstrip, Urasoe Castle Park, and other nearby landmarks. The view is spectacular!

Kakazutaka Observatory

Kakazutaka In Observ
Around the observatory, there are cherry blossoms growing around the memorial/prayer site and the remains of a bunker also used in the war.

Kakazutaka Park
There are two ways up to the observatory just in case you have to bring out the stroller, which I found out heading back down to the car. Parking gets a little congested on the weekends since there are few spaces and a lot of people at the park. Be careful heading down the narrow road to get there as well.

Kakazukata Road Sign
Directions:  This place is easy to find off of Highway 58 heading south from Foster or north from Kinser. There is the famous white signage just before the Ojana Intersection (Pref. Route 34) marking where you make your first turn; right if you are heading north on 58, left if you are heading south. At the Maehara Intersection (Pref. Route 241) turn right. After the bridge at the first light with the pedestrian overpass, turn right (follow the signs). At the next light shortly after, turn right down the narrow road and the park appears on your right side.