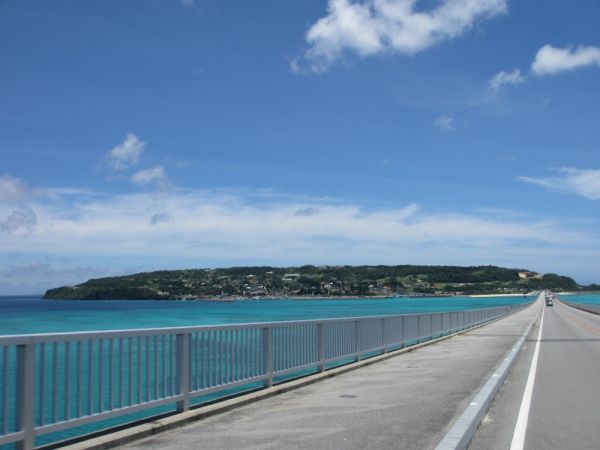 CONTRIBUTED BY MONETTE EAMES

Before I visited Kouri Island, I never really understood the idea of stay-cations. How can you have a vacation at home? So when I started feeling a little antsy I didn't think that a stay-cation would take care of my travel itch. I knew that I needed a little road trip that would take us to driving for hours while making gas and potty breaks along the way. I needed to see new towns, new places of interest, new anything.
Well, my husband and I decided to try to cure our travel itch with a visit to Kourijima, a beautiful island north of Nago. I was so happy when our family took what would end up being the perfect little day trip. In fact, we loved it so much the first time that we went again the next weekend. Okay, so there was no Target, Wal-Mart, in fact not even a San-A or Family Mart – but that was what made it even more awesome! It is an isolated island which has the ambiance of a lazy Hawaiian beach town.

You get to the island by crossing the longest bridge in Okinawa, which was just finished recently they say. While crossing the bridge, you can see the brilliant blue hues of the water surrounding the island which is truly a spectacular view on a sunny day. You can drive around the entire island in 10 or 15 minutes once you cross the bridge, but each little turn has interesting shops, cafes, beaches, or hidden treasures!

We drove through tiny paved streets of the old village, checked out every beach, followed the dirt roads, climbed parts of the mountains, ate away, shopped at the little stores they had, explored the center heights of the island, fed a donkey, did some geocaching (activity in which "treasure seekers" use a GPS and a set of location coordinates to search for a hidden cache), went snorkeling and swimming.

At certain times of the year, people can also pick grapes in the vineyards. And if you are into diving, it is interesting to note that the USS Emmons, a WWII ship, was sunk in April 1945 by kamikaze pilots just off the coast of Kouri. 60 American sailors went down with the ship and now it is one of the main wreck diving spots here in Okinawa.

One of our best highlights of the trip was going in and out, up and down of mazes of beautiful tidal pools, caves and rock formations by the beach on the north side of the island. There are hundreds of sea creatures living in the tidal pools, and our sons had a blast investigating starfish, sea slugs and other animals. We did this the first time we visited Kourijima during very low tide. We tried exploring the tidal pools again the next Saturday, but it was high tide, and all the caves were inaccessible. In fact, some were even under water!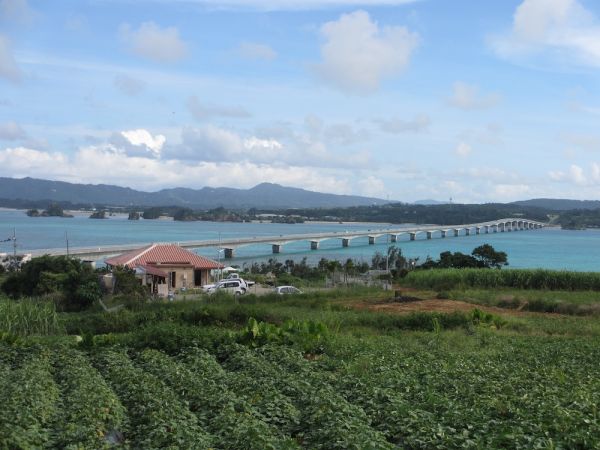 Go to Kourijima expecting to see the simple beauty of nature at its best. Travel the dirt roads and see where they lead. This adventure took the place of the need for a state-side road trip vacation, and we encourage you to try it too! So cross the longest bridge in Okinawa and try to get lost in Kourijima.
Check out this YouTube video by the Wandering Waffleheads to get another view of Kourijima:
---
Kourijima
GPS Coordinates: 26.7052778, 128.0186111
Directions:  To get to Kourijima from Kadena, take either 58 (the scenic route) or the expressway (the fast route) North headed to Nago. You can stay on 58 through the city, but be prepared for major traffic, especially on the weekend. If you want a quick shortcut, once you get just south of Nago along 58, take a right on 329 at Yofuki. Take the new tunnel on your left, and it will drop you out north of Nago back on 58. Once the ocean is again on your left, then take a left onto 110, toward Yagaji Island. Drive across Yagaji island, and take a left to stay on 110 mid-island (the intersection is not well marked, but all the traffic should be headed left, just follow the cars). Then take a right on 247 to Kouri, and you'll soon see the longest bridge in Okinawa leading right to the island.