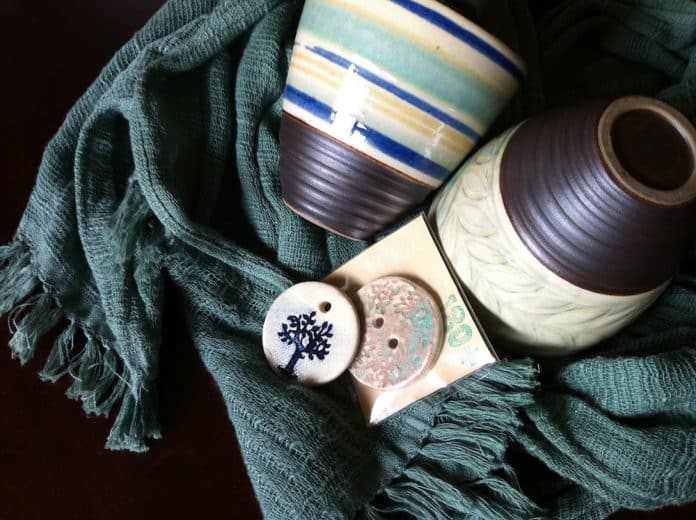 CONTRIBUTED BY ERIN SCHALK

Koza Gate Pottery
In my case, finding Koza Gate Apartment, a combined boutique and art gallery, could be best described as a happy accident. Earlier this summer, I had agreed to meet my friend and Japanese teacher there for a private lesson and good conversation. As with many storefronts in Okinawa, Koza Gate Apartment is a bit difficult to see from the road, so I spent the better part of a half hour frantically driving up and down 330, eventually spotting the store. By this time, I was so tired and confused, that I parked my car in the nearest parking lot, slapped a few hundred yen coins on the hood (because I wasn't exactly sure how to correctly pay my parking fine), and dashed across the street to the shop. I met my friend who was running with similar urgency in the opposite direction; she had been waylaid by congested traffic. At least we were equally late!
Winded from running and perspiring from the heat, we took some time to browse and catch our breath on Koza's first floor boutique before cracking into studying. With such an array of colors, fabrics, and textures on display, we found it difficult not to rifle through and touch just about every item in the store, as well as keep within our spending budget.
Perhaps the best way to describe Koza Gate Apartment is ever-changing. The first floor boutique rotates part of its inventory approximately every month, and the majority of its stock is handmade by local artisans. In my few visits there, I have found everything from fragrant, handcrafted soaps to woven cotton, UV resistant scarves, to a rainbow colored, nesting mixing bowl and measuring cup set.

Koza Gate Soap
Koza Gate Apartment chiefly carries items for women, specifically ladies' clothes, shoes, purses, and jewelry. However, the boutique also offers unique gifts for men and children. During a recent visit, I found packages of baby onesies with colorful animals printed on the front, toddler overall and t-shirt sets, and generously sized piñatas. In the mens' section were jeans, colorful caps and backpacks, handkerchiefs, and a diverse selection of graphic tees.

Koza Gate Gallery
An hour later (and a few yen lighter with our UV scarves in tow), we went up the stairs attaching the first and second floors. Koza Gate Apartment's upper level houses a small art gallery, featuring local artists' work. As with the boutique's inventory, the shows in this gallery rotate periodically. When my friend and I visited the gallery, it featured an amusing installation of toilet paper rolls covered in colorful, patterned paper, and a large sculpture made to look like a chocolate bar, casually placed on two orange chairs. A recent exhibit displayed photography of Okinawa City, including many scenes from Kadena's Gate 2 Street. A special feature of Koza Gate Apartment's gallery is that the south wall is a large glass window, so when artwork is mounted on it, it gives a slightly eerie impression that the images are floating in space.
Koza Gate Apartment is a great place to enjoy and support the work of local artists and artisans. For anyone in search of a special gift, the boutique carries vast stock of unique, handcrafted items tailored to almost anyone, even the fussiest of gift recipients. Take some time to enjoy the art exhibition on the second floor, as well. Perhaps the best thing about Koza Gate Apartment is that if nothing seems interesting now, come back in a month or two and discover an entirely new selection of merchandise and artwork!

Koza Gate Art
Parking near Koza Gate Apartment is challenging since the actual storefront coincides with a bus stop. There is a 24-hour parking lot located across the street from the store, which is the same lot that I used. A small orange kiosk explains in Japanese and English how to input your parking space number, it calculates your fine, and you insert the correct amount of yen. (I was very glad to be rid of my scorching-hot coins)! You then have five minutes to move your vehicle before it will be locked into the parking spot again.

Koza Gate Front
Hours: Open from 1 PM – 8 PM, closed on Wednesdays
Payment: Yen
Directions: To find Koza Gate Apartment, exit Kadena's Gate 2 and drive straight. The first major intersection you reach will connect you with 330. Take a left onto 330. Koza Gate Apartment will be on your left, and it is located shortly after your turn onto 330. Look for the bus stop. If you pass the 24-hour parking lot and bakery on your right, you have gone too far. There are two entrances: by the wooden doors facing the bus stop and street, and in the adjacent alley to the left of the store.