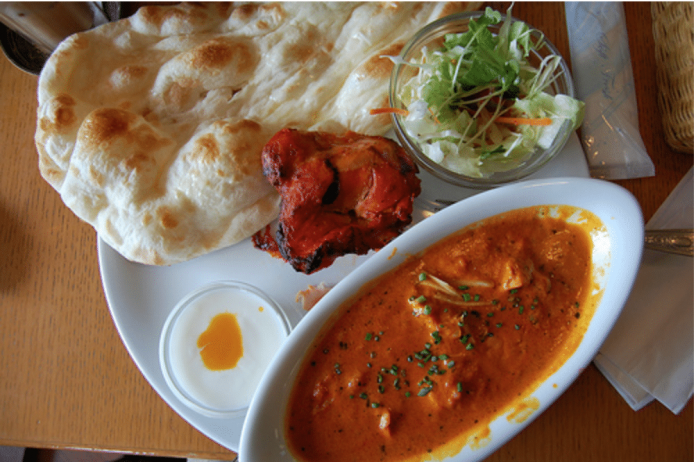 Krishna Indian Restaurant, originally uploaded by okinawa hai. (Click on the photo above for more pictures.)
CONTRIBUTED BY JULIA
It occurred to me today during lunch at Krishna that if I were on the Okinawan diet I would stop eating when I was just 80% full.  The lure of more good food dashed that thought quickly though.  Self-discipline was never one of my strong suits.
I wish I had known about Krishna earlier.  My family and I have been here for about two years now and it was only a couple of months ago that we tried it with a friend for Sunday brunch.  Since then we've been hooked and are constantly craving their food.
I usually get the Business Lunch set which runs about 1155 yen and includes a choice of curry or chicken tikka masala, naan or rice, tandoori chicken, salad, raita (yogurt salad), and a drink.  You can choose from 5 different curry dishes including chicken curry, mutton curry, vegetable curry, and dal curry.  My husband usually gets the regular lunch set for 893 yen which is basically the same except it doesn't come with the tandoori chicken and raita.  The food is delicious and we always leave more than satisfied.
Krishna is very kid-friendly with high chairs and kiddie bowls and utensils.  They also have a kid's set that includes some curry, dessert, a salad, and choice of naan or rice.  My youngest one just chomped down his whole lunch today.  I couldn't believe it but he just loves their chicken curry.
You can request your food anywhere from mild to very hot so it's a great place for everyone.  I've never been there for dinner but they get a good crowd for lunch and are quite popular with locals as well as Americans.
Hours:
Lunch  11:30 AM-3:00 PM  (last order at 2:30 PM)
Dinner  6:00 PM-11:00 PM  (last order at 10:00 PM)
Closed the 2nd and 4th Tuesday of every month.  Call to double-check their hours for all other Tuesdays.
Phone: 098-931-0885
Address: 3 Chome-1-12 Kubota
Google Maps Coordinates: 26.3197665, 127.7939653
Directions: (from Camp Foster) Take a LEFT from the Foster Exchange Gate onto 330. Pass the intersection for Awase Golf Course at route 22 and look out for Plaza House Shopping Center on your RIGHT side. Krishna is located on the 3rd floor of the shopping center.