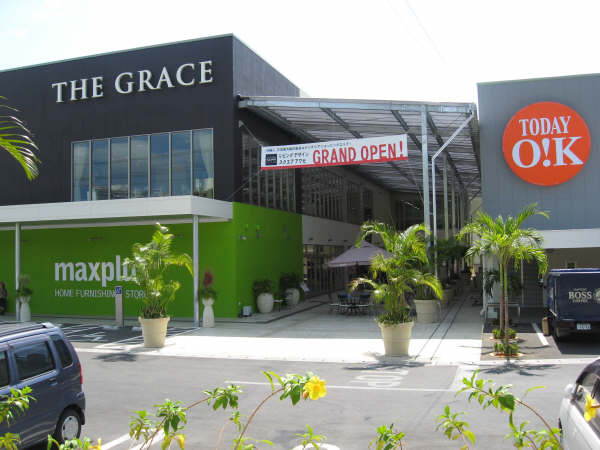 CONTRIBUTED BY AMY DECKER
Can't find a decent casual carpet for your living room? Bored with the monochromatic selections and limited styles offered at the base exchanges? Given up on making your Okinawa house functional and beautiful?
Don't throw in the towel just yet. Get yourself to easy-to-find Living Design Square Awase, a complex of 3 home design and furnishings stores located on Hwy 329.
A sprawling building by Okinawa standards, the LDS is identifiable by large, colorful signs, the refreshingly bright green paint of the anchor store MaxPlus Home Furnishings contrasting with the boldly cubist beige and black "The Grace" store on the upper level  Today O!K rounds out the offerings with 2 stories punctuated with a bright orange accents.
Prepare to spend at least 2 hours strolling through The Grace, filled with elegant, contemporary, sleek urban living designs. Cool, pricey white leather sofas ( in the $4000 range), ghost-like acrylic dining sets with interesting inlays, funky lamps, and large art pieces, as well as masculine steel blue and black fabrics make this a stomping ground for sexy, jet set, city-lovers who aren't ready to relinquish their style to island friendly wickers, rattans, and dyed cottons. There are a few traditional room sets featuring a heavier upholstered look ( think old-school Ethan Allen), but overall The Grace is upscale & modern. While dining sets were found in the $6k range, you can also walk out of The Grace with an edgy wall mirror for under $300, a lovely bedside lamp for $60 or an interesting modern art canvas for under $40.
The Grace is arranged in room groupings, so you get to envision yourself living a much hipper existence in fully coordinated living rooms, dining rooms, and bedrooms. It's a place to dream, to get ideas, and to eat soup.
Yes, Soup Soup is a bright, sunny restaurant on the second level where you can sip 8 kinds of soups and a large selection of herbal teas if you need to fortify yourself after seeing the prices at The Grace or if you just want to linger a while longer in the rarified atmosphere of fine living.
White cauliflower, hot spring chili con carne, and crimson potato potage are temptingly gourmet treats on a rainy day or for a quiet lunch date in a sunny space. There is an English menu which reveals soup prices starting at 380yen with options to add bread, salad, and a drink for upwards of 750yen for the full set. Ice cream offerings include crimson potato for 390 yen, and you can sip teas arranged by remedy: Amura Thyme Lavender for anti-aging ( and bad breath), German Chamomile and Spearmint for stomache stress, and Raspberry Leaf and Sage for menstrual relief ( let me know if this works!).  For a unique experience, try one of 3 Chinese blooming teas ( rose, chrysanthemum, or globe amaranth) for 500 yen.
Downstairs, you'll find Today O!K, an Ikea-like warehouse of reasonably priced basic furniture, from beds, to chairs, sofas, and tables. The cavernous expanse offers a seemingly endless supply of simple, affordable, Okinawa-sized items perfect for those living in off-base apartments or just wanting an option beyond base furniture that won't break the bank. Small sofas were found at about $150, though some were as high as $700. Cute bookshelves with pastel painted backs were less than $20.
A sign at the entryway explains that all the furniture offered is meant to be enjoyed TODAY. So please help yourself to a free delivery truck and take it home yourself! Or you may enlist the aid of a professional onsite delivery service.
MaxPlus Home Furnishings Store is my favorite, and a real gem for the island. Think Target's home section times 10.  Walking through the automatic doors, I breathed deeply as if I were Julie Andrews on top of the Alps getting ready to belt out a tune. Your senses are greeted by color, light, and all the things you didn't know you simply must have. From colorful Le Creuset kitchenware; boldly designed Italian frying pans in fiery pink, red, or orange; dazzlingly patterned shower curtains( about $30); cool bath mats; fruit shaped cutting boards; glamorous leopard print trimmed rubber gloves; interesting wall art options ( yes, the triptychs are priced as a whole unit- about $45 for all 3 pieces); neat clocks; fun lamps; colorful office supplies and desk chairs; an AMAZING variety of curtains from island casual flower motifs to mod circular prints and more elegant scroll designs grouped by color; and rugs large and small….you won't walk out of MaxPlus empty handed. Celebrate your purchase with a bite at the MaxPlus Café, where you'll find the usual coffee drinks and smoothies and some tempting desserts. Also, while seated at the café, you can watch your kids via flat screen tv playing in the Kids House…more to follow on that!
Rugs and curtains are measured in centimeters, so bring your own tape measure or conversions. I was able to enlist a friendly employee to show me with her tape measure the actual size/length of various items, but you'll feel less foolish if you come armed with your own dimensions.
And yes, they take Visa (as well as yen).
For those shoppers with little ones ages 3-9, drop them off for up to 2 hours in the first floor Kids House while you shop stress free.  Check out the inside cover of September's Okinawa Living for a full page ad with pictures and a map! The complex is closest to Foster's Legion or SgtMaj's gate, getting on 81 then turning left onto 329,  but when you turn onto 329, the stores will be on the other side of the street. Not hard to turn into them, though.  From Kadena or Awase, the trek is a tiny bit longer, but you'll be on the correct side of the street and there are 2 entrances in case you blow right by the first one.
There is ample parking- 600 spaces in a large lot with underground parking as well. Delivery options are available for large purchases, including borrowing one of their cars(!). The stores are open every day (365 days a year!) from 10am-8pm.
With LDS Awase, there is no reason to compromise your style. There's something for nearly every taste and price range at a refreshingly spacious, easy to locate and simple to navigate shopping space that offers a splash of color, a hint of elegance or just simple design solutions to make your Okinawa house a home. With soup.