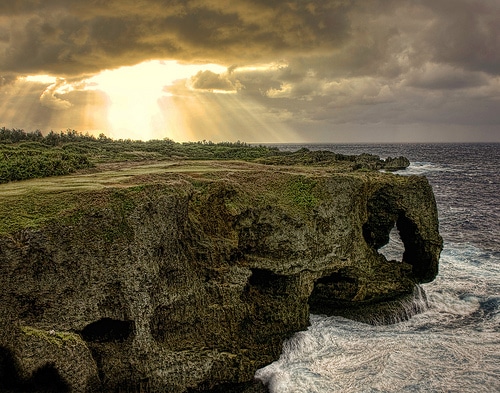 CONTRIBUTED BY DASHA GARIEPY
A big shout out to  Karen Walzer for this stunning photo of Manzamo Point.

If a picture is worth a thousand words, you can bet I'm a wishin' I had taken my camera along the day we discovered a cool beach that goes by the inauspicious name of Toilet Bowl, right off of Manzamo Point.
Like Cape Hedo and various other Capes and Points on the island, Manzamo is a scenic cliff that offers spectacular views of the East China Sea. I'd tell you all about it but I see no need to reinvent the wheel.
You have to go to Manzamo to access Toilet Bowl. It's popular among divers (check out JAPAN UPDATE), but we love it for the deep and numerous tide pools.
The tide comes in pretty high, so I wouldn't recommend going to explore until low tide. The tide pools come in all shapes and sizes. Small and shallow for little hands and feet; others so deep you can snorkel in them! It's like swimming in your own private aquarium. You'll see schools of neon colored fish and scores of bright blue sea stars all trapped in rug-sized pools with crystal clear water. I even saw an octopus!
At low tide, there is something at Toilet Bowl for the whole family. The Tom Sawyers in your group will love the entrance – first a short Indiana Jones-esque hike through the jungle which leads to a spooky-ish cave. The way to the beach is through the cave.
A warning here, you'll have to do a bit of climbing over sharp, waist high lava rocks. Don't let that discourage you, though. It's well worth the effort.
Once you're out of the woods, through the cave and over the rocks (no, you won't be at Grandmother's house) you can either hit the tide pools, or head around the rocks to your right to discover a deep beach. It's not very long, but deep enough to set up a camp site, and sandy enough for little ones to build a sand castle.
Bring some snacks and drinks, you just might be here all day!
---
Manzamo Point
GPS Coordinates: 26.5047000, 127.8502333
Address:  Japan, 〒904-0411 Okinawa Prefecture, Kunigami District, 恩納村恩納2871
Directions: North on Highway 58, through Kadena circle. Just north of Onna Village, start looking for signs to Manzamo Point. Turn left at the stop light by the fire station and follow the signs. You'll end up in a big parking lot with lots of shops. Park here if you want to explore Manzamo.
To get to Toilet Bowl, look to the left of the shops: you'll see a little black top road that looks more like a driveway than a road. This road gets backed up with divers and fishermen – don't worry that you're missing your stop. Follow the road to it's ultimate end.  You'll know you're "there" when the road dead ends into a chain link fence. Look for the paths on the right!