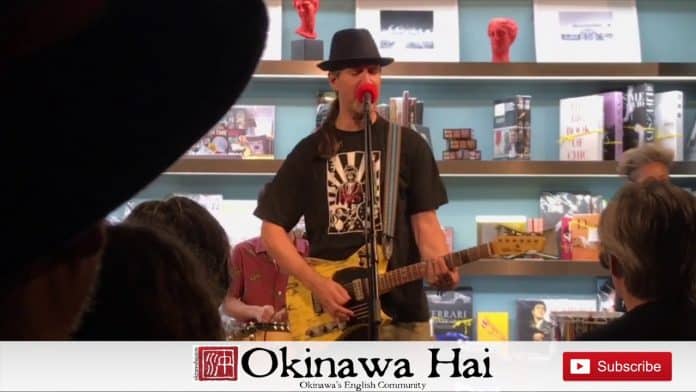 April 29th – May 7th
All of Japan – Golden Week
This week is marked with holidays to be celebrated across all japan. It is a time when many Japanese people get a much-needed vacation for several days in a row. Expect congestion on the roads and busier-than-usual flights/ferries/public transportation during this time as well as more crowds in tourist attractions and stores.
May 1st – May 7th
Ie Island – 22nd Annual Lily Festival (Yuri Matsuri)
Visit scenic Ie Island (just a short 30-minute ferry ride away from Motobu Port) for the 22nd Annual Lily Festival and enjoy the beauty of thousands of white Easter lilies (and many other special varieties of lilies) to one side and sweeping views of the blue sea to the other. Bring yen for purchases because vendors will be selling tasty festival fare and even lily bulbs to grow your own lilies at home. Visit the web page for more information about visiting period and see the flyer for information about the bus fares (on Ie Island from the port to the festival grounds) as well as information about the ferry line running from Motobu to Ie. https://www.iejima.org.e.qz.hp.transer.com/document/2016012200015/
住所:伊江村字川平519-3 TEL: 098-049-2906
May 3rd
Yamazato Gate Ball Field, Motobu Town – 5th Annual Motobu Karst Lily Festival (Opening Ceremony)
If you can't make it to the Ie Island Lily Festival (or just don't want to go that far), you can still see 150,000 Easter lilies blooming in Motobu. The opening ceremony takes place on May 3rd starting at 3 p.m. The lilies should be in bloom through the middle of the month (depending on weather and the condition of the lilies). https://www.japanupdate.com/2017/04/motobu-karst-lily-festival-to-start-from-may-3rd/
26.664619, 127.906165
May 3rd – May 5th
Oku-Yanbaru-No-Sato River Park – Oku-Yanbaru Koinobori Festival
Enjoy hundreds of colorful carp streamers swimming in the air above, you in the scenic Oku-Yanbaru area. This fun free event has music, dancing, karaoke, and other fun festivities. This is a great outing for kids and adults alike.
1280-1 Oku, Kunigamison, Okinawa TEL: 0980-50-4141 (Oku Yanbaru no Sato / Oku Yanbaru Koinobori Festival Executive Committee)
Naha Port – Naha Haarii Dragon Boat Race
Take part in a fun, free, competitive Spring-Summer event between 10 a.m. and 9 p.m. May 3rd through 5th as you watch U.S. and local dragon boat teams compete against each other to see who is the fastest. Aside from enjoying cheering on your favorite teams as they race, you can also enjoy festivities around the pier area, with lots of food, game stalls, and entertainment.
1-16-10, Minatomachi, Naha-shi, Okinawa
May 3rd – May 7th
Itoman Peace Memorial Park – Koinobori Festival
Free, family-friendly event. See thousands of carp streamers (including the largest one in Okinawa) flying over this extraordinary historical site in Itoman.
〒901-0333 Okinawa Prefecture, Itoman, Mabuni, 614−1 TEL: 098-997-3844
May 6th – May 7th
Haneji Dam – Haneji Dam Koinobori Festival
Between 10 a.m. and 5 p.m., both days enjoy a fun, free festival showcasing the colorful Children's Day carp streamers known as koinobori. Along with the koinobori, you can also enjoy other festivities like eisa performances and games. Refer to this article (about a previous year's festival) for guidance on how to get to the festival: https://www.mapitokinawa.com/2013/04/haneji-dam-koinobori-festival-nago-city.html
TEL: 098-053-7530
May 16th -May 31st
Izumi, Motobu Town – Yohena Ajisai (Hydrangea) Gardens
Every year, from mid-may till late June, the Yohena ajisai gardens are abloom with hundreds of beautiful hydrangeas. The gardens are usually open from 9 a.m. to 6 p.m. with the usual entrance fee of 400 yen (which goes towards the upkeep of the gardens). It's a natural wonder not to be missed this time of the year! Visit the following blog for information about the gardens, updates on it, and the flowers blooming schedule (the opening dates may change from what's listed above depending on how early or late the flowers bloom): https://www.geocities.jp/tomotakayo/
1312 Izumi, Motobu, Kunigami District, Okinawa Prefecture 905-0221 TEL: 098-047-2183
May 29th
Itoman Fishing Port – Itoman Haarii (Dragon Boat Races)
This free event, like the Naha Haarii, is a fun cultural experience with exciting dragon boat races, festivities and festival foods around the port. The entry is free and the festivities start around 9 a.m. to 15:30 (with the races starting at 10 a.m.).
Itoman Fishing Port (603-1 Itoman, Itoman City) TEL: 098-992-2011