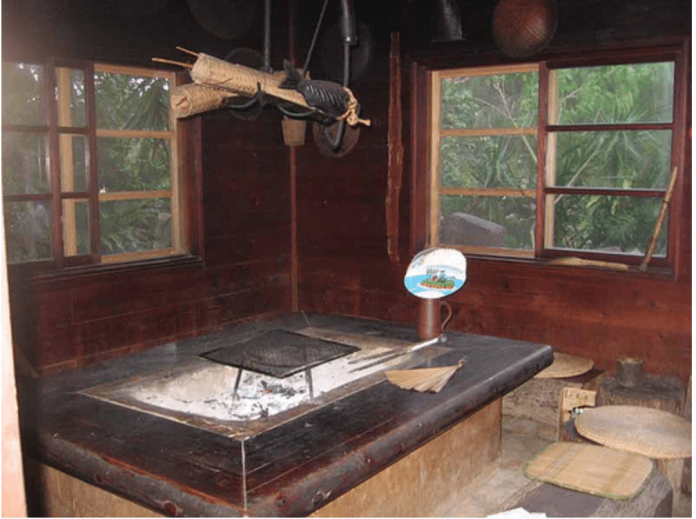 Miyagi Minshuku rainy day dining room, originally uploaded by okinawa hai.
CONTRIBUTED BY ICHIYO IWATA
If you are up for an adventure, I highly recommend THIS Minshuku. A Minshuku is a Japanese Bed & Breakfast. It is located in Kunigami Village in the northern tip of Okinawa island, about 65 km from the Kyoda highway exit. The name of this Minshuku is MI YA GI- it uses the Chinese characters for Ocean, Mountain and Tree. They have been in business for about 15 years. One of the buildings has a thatched roof, which was used in traditional Okinawan houses. Nowadays you see these roofs  only at special theme parks such as Okinawa Worldand Okinawa Kyoudo Village at the Ocean Expo park. The B&B owner told me that the roof was built by old men in the village as they were the only ones who knew how to make this type of roof. Miyagi only has 4 or 5 guest rooms. Although I saw one room with beds, most rooms are tatami mats and you will sleep on futon.
The cost of this Minshuku (5,000 yen/person) includes dinner and breakfast. What we enjoyed most was the dinner that we had together with all the guests and the  conversation at the dinner table. It was such a warm environment which made it easy for strangers to get to know each other over a meal. It was interesting to find out people come from all over Japan . Even without much Japanese, my mother-in-law from Minnesota had a great time at dinner. The dinner served had many natural ingredients including some organic vegetables the owners grew in their GARDENS and seafood caught from the nearby ocean.
Another nice feature of this B&B was the bath. The TUB is made with rocks and they boil the bath water with firewood. Being one of the most  technologically advanced nations, you will never see this type of bath in Japanese houses today. Not too long ago, this was the way people used to warm up bath water in Japan . This brought back the memories of stories I heard from my grandparents when they were young. Because they use firewood to warm up the bath water at night, the water will not be hot in the morning. I highly suggest taking a bath at night (Japanese way) rather than in the morning. There is a shower as well, which you use to clean yourself before entering the bath. Remember to bring your own towel as they do not have one.  They have soap and shampoo.
The easiest direction to this Minshuku Miyagi is to drive Rt 58 all the way up to its origin. There's a monument of the Rt. 58 Origin. From this monument, you can see the thatch roof on your left. There is a sign written in Japanese (Chinese characters)  海山木where you should turn to get to the Minshuku.
Since they have limited rooms, I suggest you make reservations. Their number is 0980-41-8383. Check in is 4:00 p.m. and check out is 10:00 a.m.  They do not take credit cards.
Enjoy experiencing Okinawa !