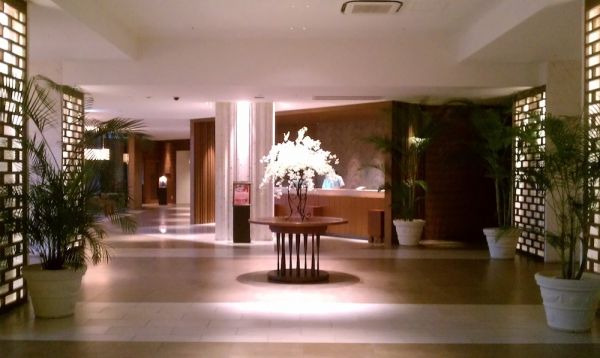 CONTRIBUTED BY TINA FONACIER-FLORES

Moon Lobby
Having spent the last few weeks exploring the island and driving to faraway beaches and resorts, my husband and I decided to stay "local" last weekend. By " local" we meant a place that was not more than half an hour away from Kadena. The perfect choice was the Moon Ocean Hotel and Residences located next to the Convention Center by 58. It's close enough to where we live yet when you arrive, you feel you just entered some brand new resort. As we walked in, we were impressed by the lobby entrance that not only blew a nice breeze during this Okinawan summer, but we were surrounded by lush grass, trees, flowers and coconut trees.
We checked in and immediately noticed that the hotel is brand new — only 2 years old. The furniture and décor is modern and free of nicks and scratches.
The Reception staff spoke English and was very courteous. Check-in was easy and painless. We walked up to our room where we were pleasantly surprised that the Executive suite we booked was much bigger than any of the other standard Japanese hotel rooms. Granted it was a suite, it was a fairly big suite even for American standards. The room was exceptionally clean and well decorated. The suite featured a small kitchen, living room with a day bed, separate toilet, a spacious bathroom with a view of the ocean and a fairly large bedroom. In fact, we were so used to staying in small rooms here in Okinawa I thought that the day bed in the living room was the bed to sleep in until the staff who guided us our room had to point out that there was actually a separate bedroom with the beds. I told him that I would have been fine with the day bed! All guest rooms overlook the Marina and have deep-soaking tubs and a kitchen.

Moon Room
Dinner is served at the Ocean Grill Restaurant that also serves all day. As you walk in this modern restaurant, the first thing you see is a sleek bar but with no bartender. I was not sure if it was for display only. Our contemporary American dinner consisted of steak and prawns with roasted potatoes and asparagus. The steak was perfectly cooked to medium, glazed with a delicate mushroom sauce. The two prawns were big and juicy and perfectly grilled. We enjoyed the steak and prawns, however the wine was just ok.
After dinner, we headed to the free "Hawaiian Hula Summer evening" show for the month of July and August on the weekends. This was a Hawaiian dance performance for half an hour.
After the show, we headed back to our room and requested a shiatsu massage. The therapist was courteous and professional and the massage was typical of shiatsu where pressure is applied to different points in your body. The massage cost Yen 6,300 for an hour.
The next morning, we had breakfast at the Ocean Grill restaurant again. The breakfast buffet consisted a variety of Japanese and Continental dishes, pastries and a variety of fresh juices, tea, coffee and fresh fruits and yoghurt. It was a good selection that will please guests of all ages. I particularly liked the small Japanese hotdogs and sausage patties.

Moon View
After breakfast, we took a dip in their big, blue pool. The pool was clean and there were not a lot of people at that time so we were actually able to do laps. There is also a Jacuzzi and a kiddie pool. Next to the pool was the gym. There was also a small refreshment corner where you can buy food and drinks. If kids get bored with swimming, there is also a crafts section by the front of the lobby.
Overall, our experience at the Moon Ocean was very relaxing and we felt that we went somewhere "far enough" because of the resort feel that the hotel provided. After you check out, you and your family can also explore the Round 1 Sports complex or shop at the newly opened Tokyu Hands store. If it's a nice day out, take a stroll by the Marina and enjoy Okinawa's fine blue sea.
Phone: 098-890-1110
Website:  www.moonoceanginowan.jp
Payment: US Dollars, cash and credit card accepted.

Directions: Coming from Kadena Gate 1, go on 58 towards Naha. Take the right lane on 58 that says "Okinawa Convention Center" which is the stoplight after the Camp Foster Commissary gate. The road will lead to the Ginowan bypass. Stay on this road for about 3.5 km until you see the Moon Ocean Hotel and Residences on your left, just past Round 1 sports complex and the Convention Center.