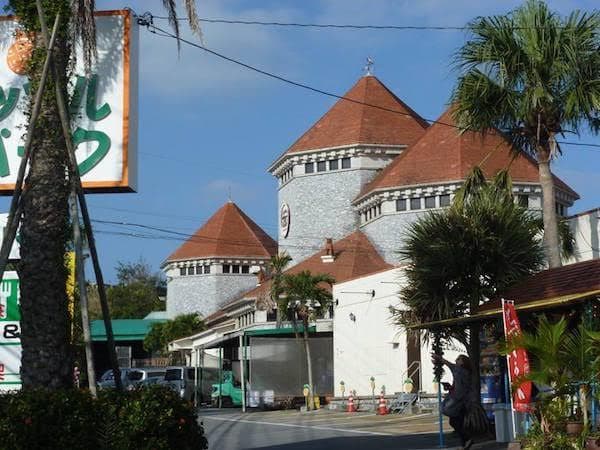 CONTRIBUTED BY LOUISE DUPUY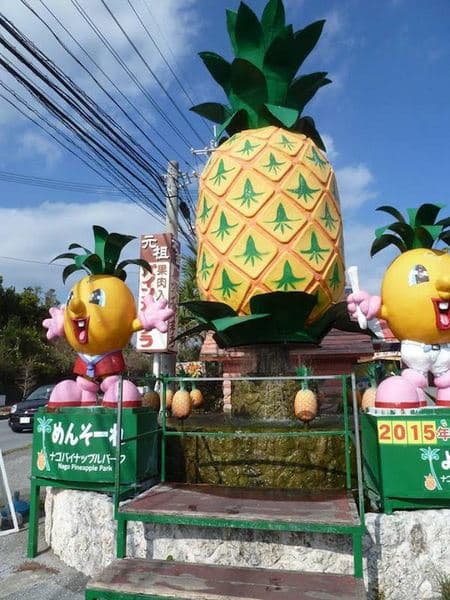 You may be wondering "What's so good about a pineapple park?" Well, my friends, let me tell you. This is one of the weirdest, most fun days out I've had here. Let me impart some pineapple infused wisdom to you all.
Where Is It?
Well, the name (sort of) gives it away. It's close to Nago. Not quite in the town, but only a short drive away.
Why Visit?
Why wouldn't you? Pineapples! That was enough to convince me anyway (that, and pineapple flavored food… more on that later), but if you still need some convincing allow me to proceed. For starters, you can't miss it; there are a large pineapple and a couple of smaller cheerful pineapple characters to greet you at the entrance (as well as a huge sign), which you can actually take pictures with on a little platform, so the adventure begins before you even part with your money. The walk up to the entrance is lined with little food stands to tempt you into stuffing your face before you even get in, and believe me, it's hard to walk past the ice cream stall on a warm day.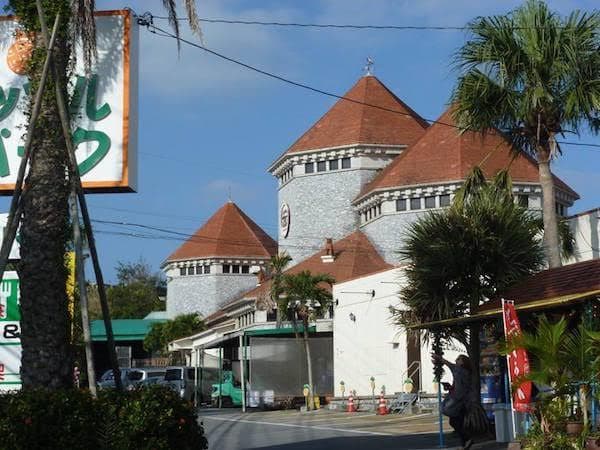 Go on…
At only 600 yen per person (less for children, seniors, and students), including the Jeep ride, it's a snip. Purchase your tickets, head in and take a right so you can experience the Jeep ride first. After having your photo taken with some colorful decor, it's time to hop into a pineapple shaped Jeep. It's self-driven (sadly) on tracks, but there is a steering wheel so you could always pretend to steer and make race car noises, just don't touch the other controls!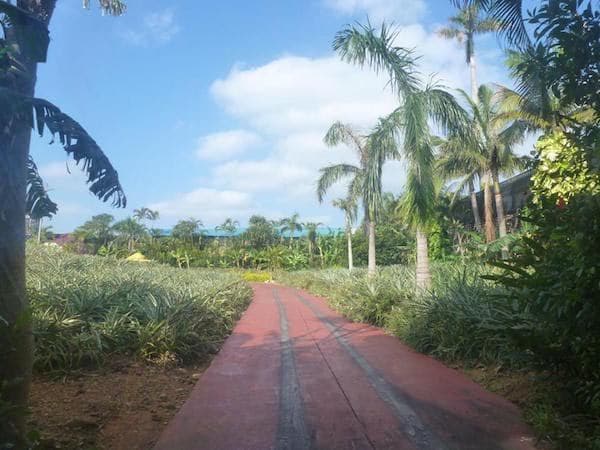 Handily, the automated guide comes in four languages: Japanese, English, Korean and Chinese. The person who sees you to your vehicle normally sets it automatically, but if you want any of the languages offered you just have to ask. Considering it's on tracks, it's a surprisingly smooth ride!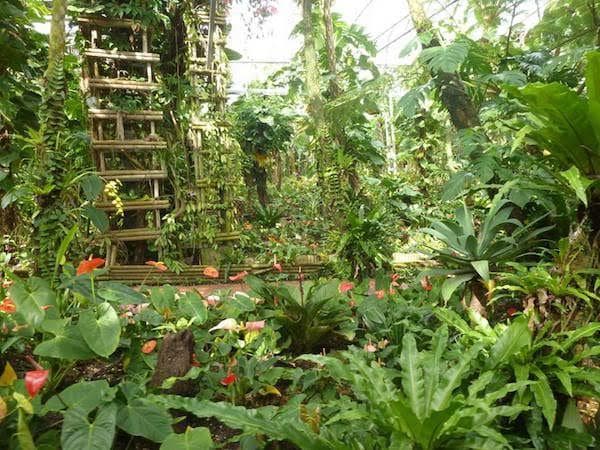 And it's entertaining. You learn all about the park itself and how pineapples are grown, all the while taking a leisurely drive through the active growing fields. The first part of the ride takes you through a pretty tropical garden, so if you love flowers this is going to be right up your street. You'll also spot the odd pineapple character hiding out (this would be a great spotting game to play with kids/ childish adults!). Grin for the first of two more photos (you get plenty of warning, just remember to look up when it tells you to), before snaking around and out to where the star of the show is born: the growing fields.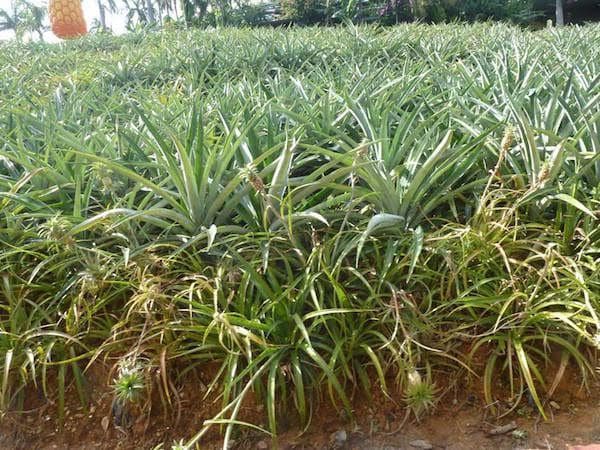 Another big pineapple lets you know you're still in the pineapple park, and if you have no clue how pineapples grow, prepare to be surprised. They grow out of little bushes from the ground (not trees)! I know! Some of them were teeny tiny; you'll see them easily as they grow close to the tracks (get a good shot of them to amaze/bore family and friends with, since the Jeep goes slowly enough to allow this).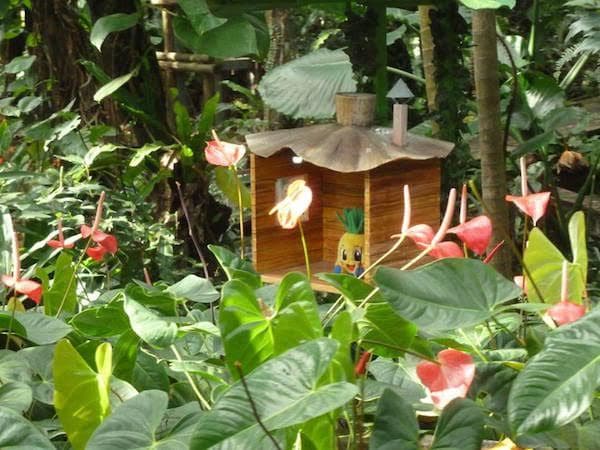 After you make your way around to the exit point, cheese it up for another photo, this time with the Jeep in a frame too, then exit and continue with your day. You have to go past the little photo gift shop at this point. They aren't very cheap, but they have a few fun options for you to immortalize the day. We went with the Jeep shot, which was 1000 yen and came in a cute little cardboard frame (which sits in our living room now).
And Now For Something, You Might Not Expect:
The next part of the park gives you a small break from pineapples and instead shows you something you wouldn't expect to see in a park about tropical fruit: fossils and seashells. Whilst it's a real juxtaposition compared to the rest of the place, it's actually really interesting. The building it's housed in is fair sized and has a fascinating cross section of fossils, seashells, and coral. I found the horseshoe crabs particularly interesting, mostly because they are one of the oldest, most resilient species on the planet.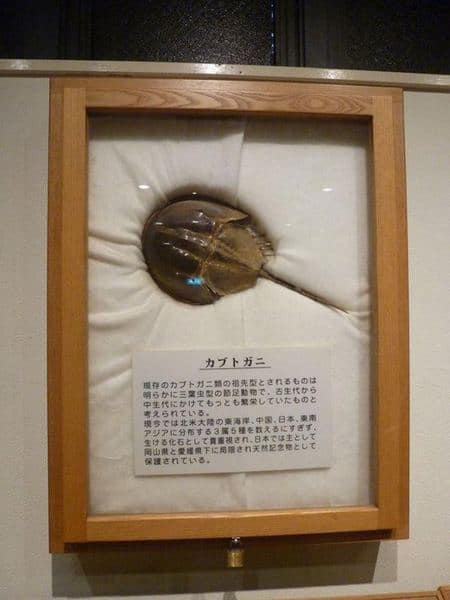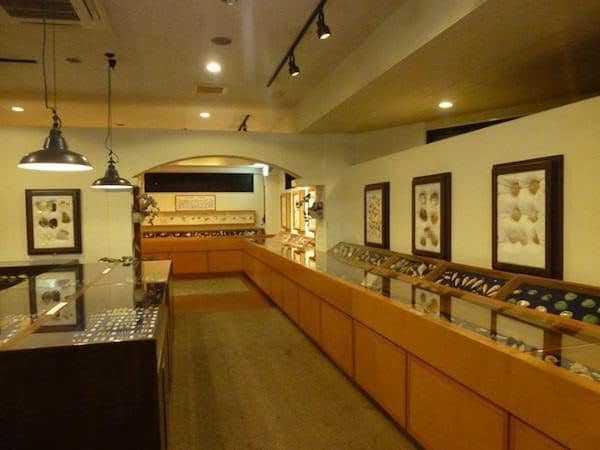 Become A Taste Tester!
Once you've perused this area, move on to probably the best part: Pineapple wine and food. You walk past a display on your left of lots and lots of wine bottles, and a display of brewing and manufacturing techniques on your right. Up ahead is wine tasting central. Just make sure you are legal age and not driving. The staffs are out to sell sell sell! So expect lots of over enthusiastic greetings and tempting offers to try different wines.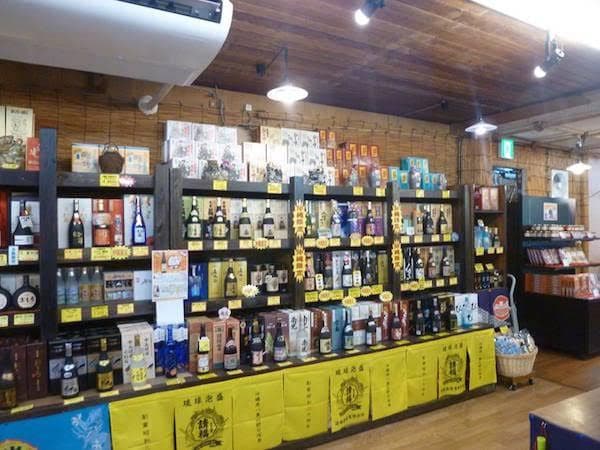 This is far from bad. There are a lot of different varieties (I sadly didn't get to taste on my visit, I wish I could say it's because I'm too young, but it's because I was driving, so my husband had all the fun. He assures me it was delectable), and the staff are very knowledgeable about the products. Sadly you can only buy for consumption, you can't ship it home (I asked, my dad and sister, are big wine lovers).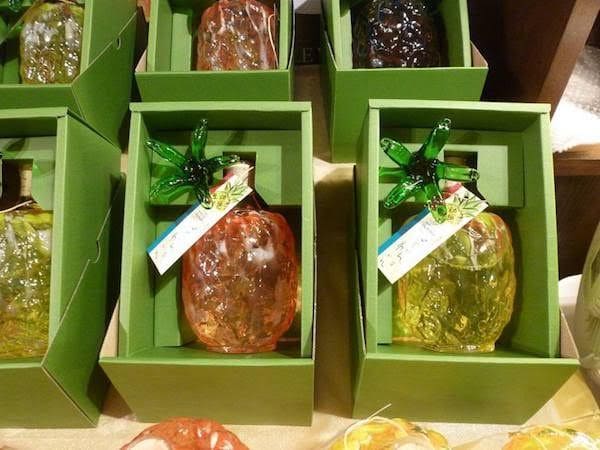 Moving on from wine to something everyone can enjoy: juices and food. Again, with the juice, there's quite a few. Happily, I could partake and found them to be sweet and delicious. However, this was just the pre-game for the main event: food!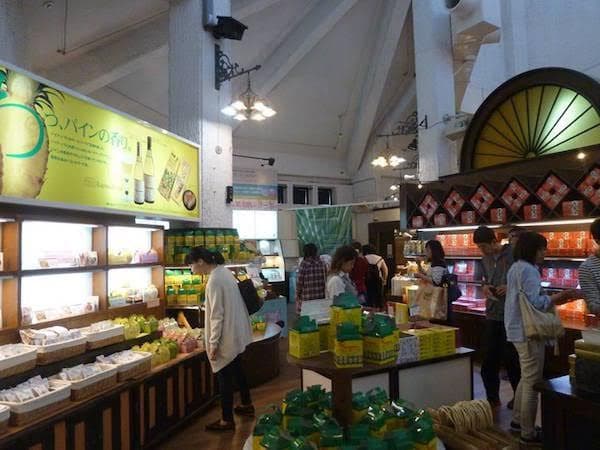 If I listed everything they offered, Okinawa Hai would need to set up another website. But it included jams, curry mixes, chocolates, candies, cakes, condiments, and of course, actual pineapples. More cheerful staff greet you with tasty samples (the cake especially is amazing) and great product knowledge, as well as a clever sales pitch. Wall to wall merchandise make it very hard to choose, so good luck.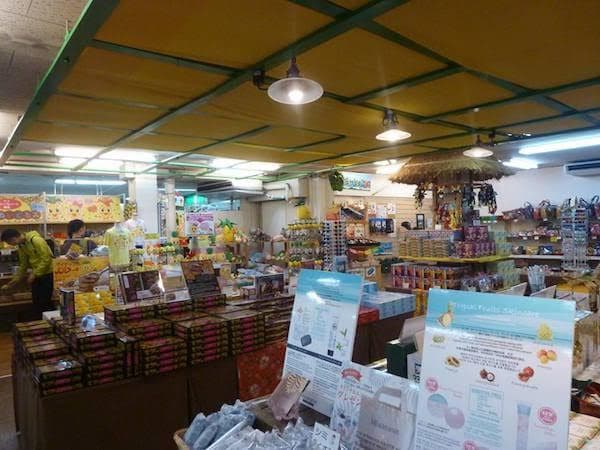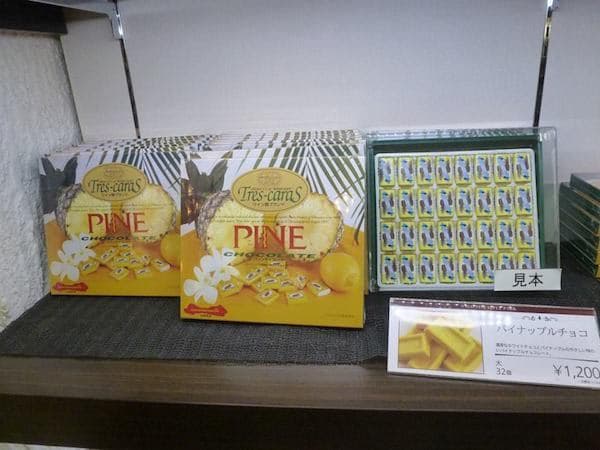 I'd recommend getting whatever you desire for yourselves, then if you have family back home you wish to share the joy with, grab something with a long shelf life, like the cookies or chocolates.
The body beautiful.
Another surprise around the corner is beauty products! This I wasn't expecting, but they have a wide selection. It's mostly facial skin care products, but they also have bath and body, and hand care items, amongst other things. A mini market just beyond this allows you to buy a small range of fresh produce (mostly spices, pickles, fruit, and fresh pineapples) before you hit the last part; the gift shop.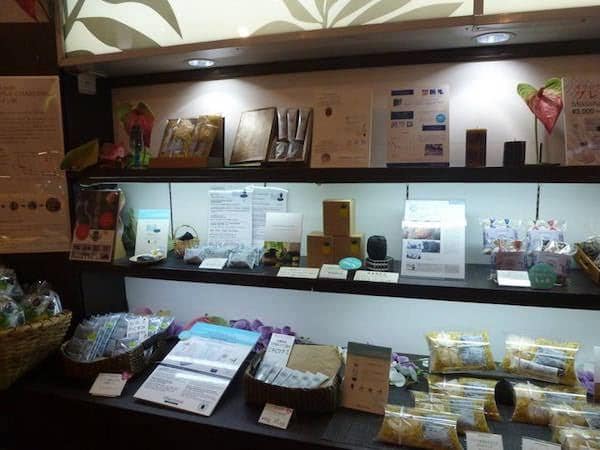 Prepare to spend the rest of your money.
The gift shop is pretty big and caters to everyone. There's a wall of sake, stationery, fashion, kids stuff, plush toys, and the usual Okinawa- themed gifts (Shisa dogs, fake hibiscus flowers, and stuff with I love Okinawa written on it). We spent quite some time here, it's colorful and pleasing if a bit tacky in places. They do have some cool gift ideas though. We came home with a mini pineapple in a pot. He (yes I named him: Pedro the pineapple, and I may have drawn a little face his pot) currently resides on a step outside our house.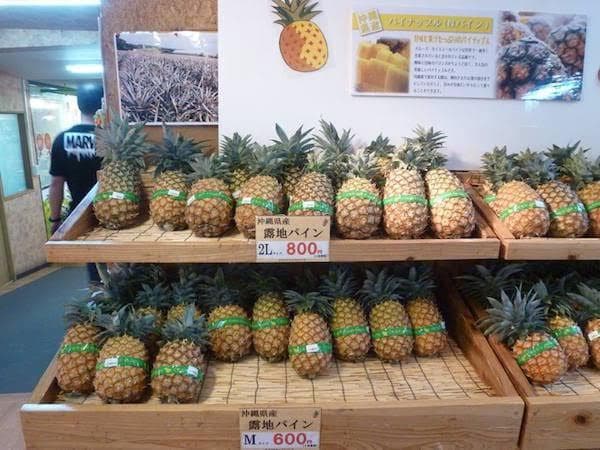 Summary:
Overall I'd say you could spend a good 3 hours or so here. If you plan to eat at the restaurant too (we didn't but there is one on site), you could spend closer to 5 hours. It's cheap, easily accessible, suitable for all ages, and it's really entertaining. Also, because a large part of it's indoors, it's a viable option for rainy/ colder days. Enjoy!
Extra options:  For a full day of activities also consider lunch at Ufuya or Pizza in the Sky, and Mikan Picking, the Butterfly Park, Neo Park and/or the Aquarium.
---
Nago Pineapple Park
Hours: 9:00 to 18:00, daily
Admission Fees:
Adult (Junior High Students and above): ¥600
Children (approximately ages 5 to 10): ¥300
Kids under 5 are free
Website: nagopineapplepark.com
Phone: 098 053 3659
Address: 1195 Biimata, Nago, Okinawa Prefecture, Japan
GPS Coordinates: 26.616497, 127.96957429999998
Directions:  Take the expressway all the way north till it ends.  Continue driving north on 58. Turn left on 84 heading through Motubo peninsula.  Look for the giant pineapple little ways up on your right.  And it's open 9am-6pm daily.
Parking: Parking is widely available on site
Note: Wheelchairs are available free of charge
---
Editor's Note: This post was originally written by Joelle Yamada, published on December 28, 2007, in Okinawa Hai's first year. We're excited to bring you this update!