CONTRIBUTED BY JOELLE YAMADA
Willingness to try new things.  Openness to the unknown.  Adventurous spirit. Just a few character traits that make an overseas experience that much more of a kick in the pants!
During my time on Okinawa, one of my favorite ways to experience new things has been by visiting some of the local farmers markets.  My favorite is
Onna no Eki
(Onna Station)– but there are many markets scattered about the island.  I love seeing the farmers arrive with their pallets or baskets of freshly picked produce.  And I love the pride with which they speak about their goods.
When I first arrived, I recognized about 75% of the produce available, but there always seemed to be a couple of fruits or vegetables I was unfamiliar with. Slowly, I've worked my way through much of the "unusual."  I wanted to share with you a few of my favorites that may be new to you as well.
Fuyu Persimmons: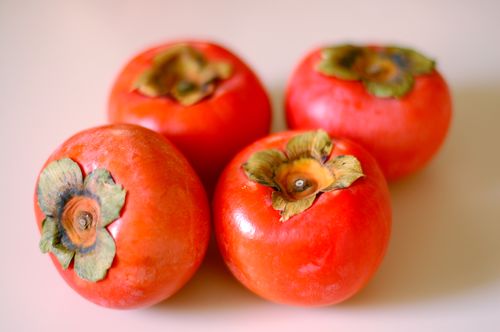 I had heard of persimmon cookies.  But before moving to Okinawa, I'd never eaten one of the fruits and had no idea what they looked like.  I've since learned that the most common US grown persimmon is called a Hachiya Persimmon and is more heart-shaped and must be very soft/mushy before ripe and edible.
Not so with our friend the Fuyu.  These guys are a beautiful orange color and look a bit like a squaty tomato.  They are available during the fall and winter time on Okinawa and (if I have understood correctly) are brought down from the mainland where the temperatures are cooler for growing.
These persimmons are to be eaten when still firm — I never wait for any ripening after I buy them (but I do eat the softest first).  They do better stored out on the counter than in the frig.  They are a great source of betacarotene, Vitamin C and potassium.  They don't discolor when you cut them so can be lovely in a fruit salad or as an addition to a lettuce salad.  And they disappear VERY quickly in my house.
The skin can be eaten, but for some reason I always peel them (probably because my kiddos were very young when we started eating them and it's just a habit).  So let me demonstrate: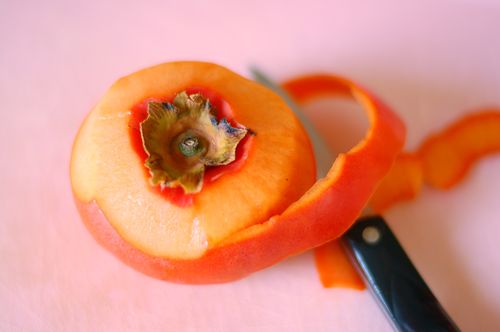 The stem part is quite hard (doesn't pop off easily like a tomato), so I just cut around it.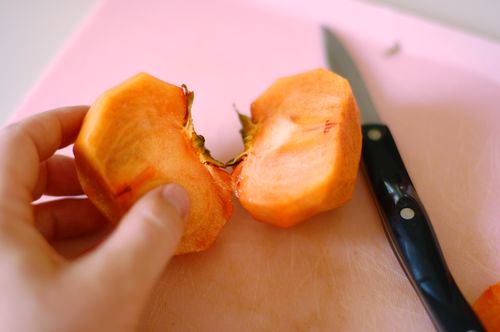 And then split it open.  This persimmon doesn't have seeds — so it's incredibly easy to eat.  But some do.  I don't know how to tell the difference — does anyone?  Here's one with seeds that takes a bit more work to cut out (both came from the same bag from the market):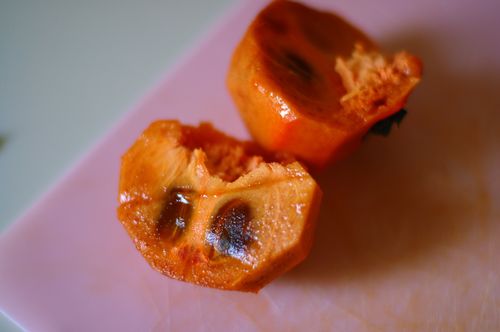 I cut out the stem, then slice and feed to the hungry wolves…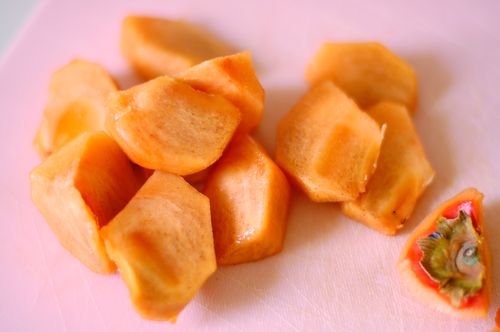 Jake enjoying…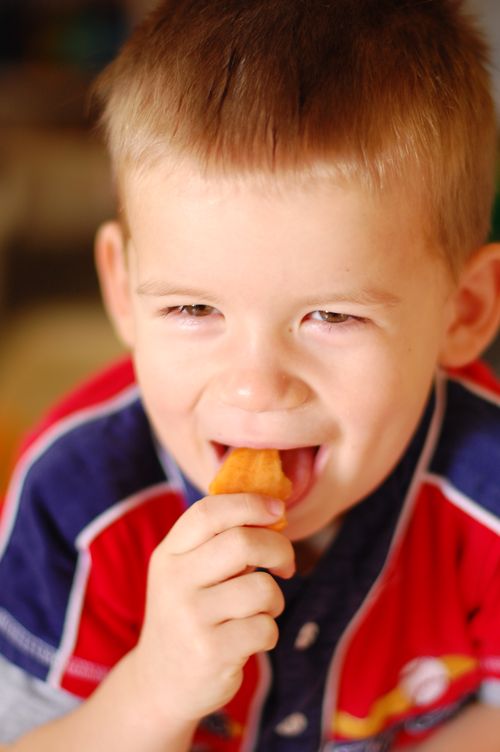 And enjoying…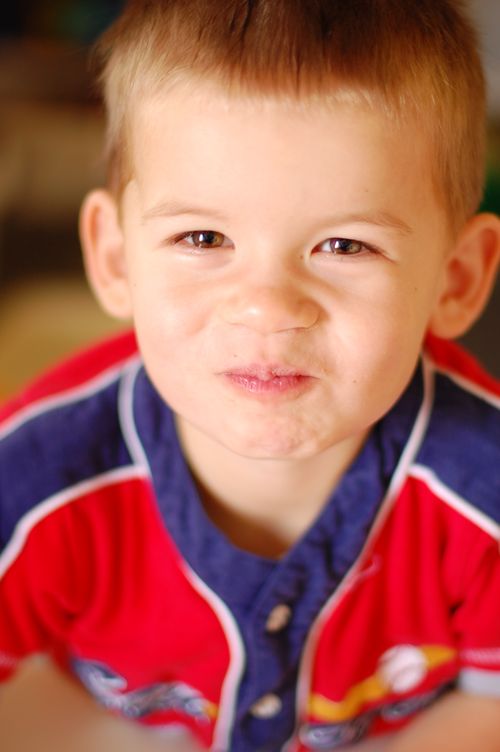 And now for the Ground Cherries!
This favorite will start showing up in the markets in the late winter/early spring.  They grow and look like tomatillos — with cute little husks around them.  They are known by many names (Cape gooseberry, Chinese lantern, or husk tomatoes) but the most common name seems to be ground cherry.
They have a tart, slightly sweet flavor and are grown here on Okinawa (truly local & fresh).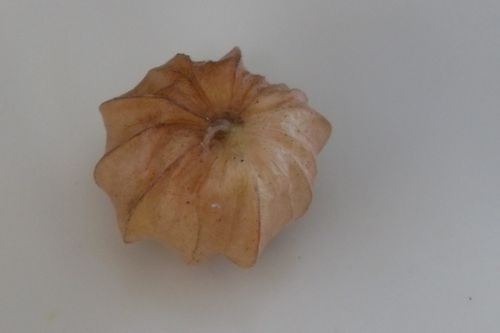 To eat, tear off and remove the husk (SUPER fun for little kids) and pop whole into your mouth.  You'll be met with an explosion of yumminess!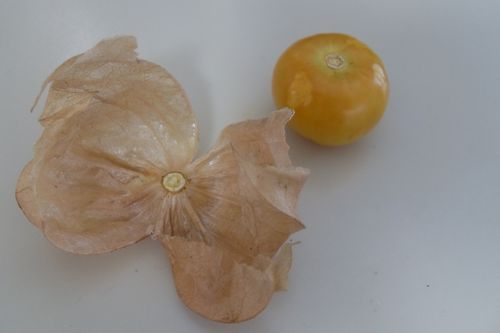 If you are saving them for something special, be sure not to leave them where little hands can reach or you may find only a trail of husks…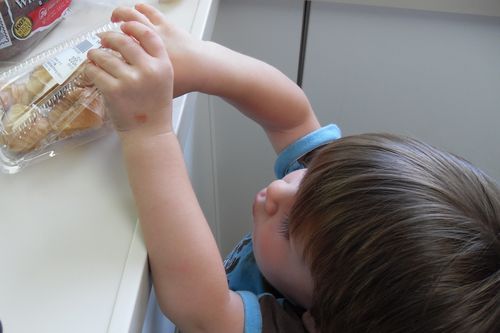 Meet my Ground Cherry Destroying Machine (please excuse the homeless-child-my-mom-never-cuts-my-hair-or-wipes-my-face-or-puts-me-in-clean-clothes-for-pictures look):