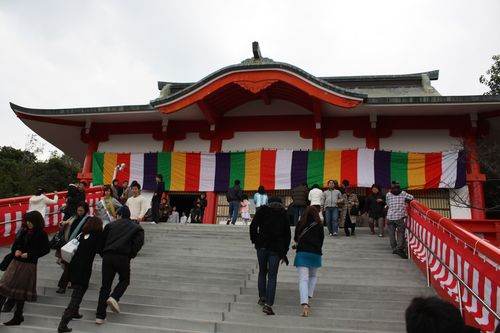 CONTRIBUTED BY MARY RICHARDSON
I wish you will have a good new year!
Yoi otoshi o omukae kudasai!
よいお年をお迎えください。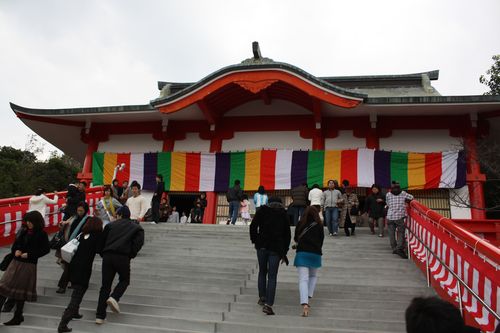 One of my most memorable events of 2009 was visiting the Naritasan Temple on New Year's Day. My husband and I participated in the Japanese tradition called Hatsumode, which refers to the first shrine or Buddhist temple visit of the year. It should be noted, however, that you don't have to go on New Year's Day. Many Japanese visit for several days or even a week or two after Jan 1st even.
Last year, despite being groggy from the party we attended the night before, we easily made our way to the temple and found ourselves among a lively crowd of people paying homage, socializing, wearing kimono and traditional dress, buying o-mamori (amulets and charms), and chowing down on yakisoba and yakitori. The temple has a festive carnival-like atmosphere this time of year.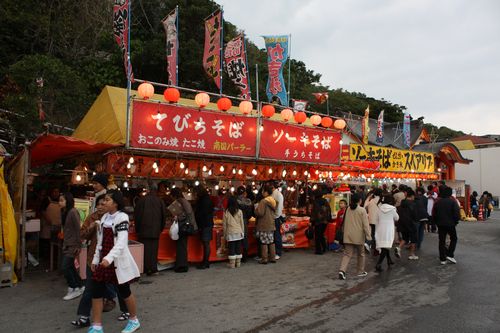 I was even approached by a local news station and interviewed about my New Year's wishes. I stammered with my very poor foreign language skills, and vowed that this year I'd be ready with a perfectly prepared sound bite in Japanese just in case I get approached again.  You just might want to be ready yourself if they happen to hone in on you!
In any case, visiting a temple near the beginning of January is a great way to start off the year. It's fun to be out interacting with Okinawans, observing the rituals, and feeling connected to the cultural surroundings here. It's also great for people watching and taking photographs!
While you're there, I also recommend buying an omikuji, which is a written oracle of personalized "predictions" for the year. Omikuji usually cost about 100 yen and lucky for us, they are also printed in English!  Look for the designated English ones to select from.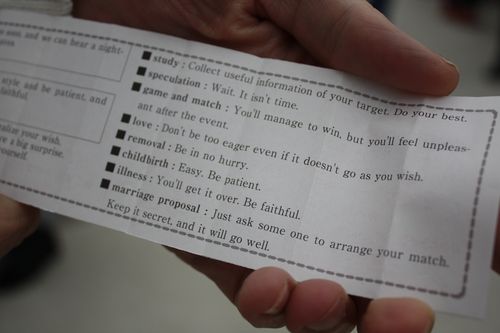 If you don't like your fortune for the year, do as the locals and tie your slip of paper to a tree branch or fence. Then you don't have to worry about that secret marriage proposal or disappointing sports victory. (See fortune above)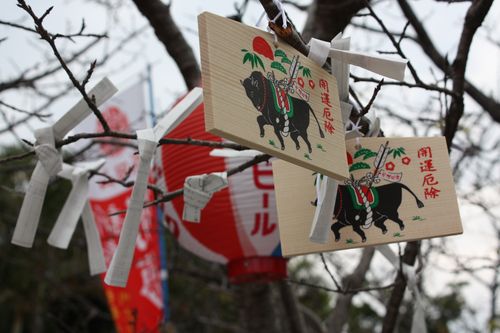 Several temples around Okinawa are popular on New Year's Day, and you'd do well to visit any of them. However, I recommend
Naritasan Temple
due to its size, location on the side of a mountain, and proximity. There are also several parking lots and a garage, though depending on the time of day, you may have to park on the street and walk up steps to the temple.
On a side note, my Okinawan friend told me that Naritasan Temple is also lucky for couples who would like a new bundle of joy that year. I don't normally believe in those kinds of things, but you know what? I unexpectedly ran into my friend, Kanae there last year, and you guessed it- she gave birth in September! So, who am I to question? Just keep that in mind in case you really want a visit from the stork, or on the flip-side, feel perfectly satisfied with your family size.