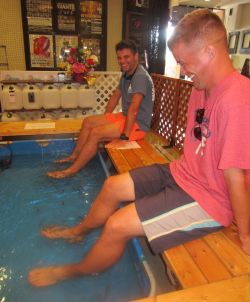 For those of you planning a move to Okinawa soon, we hope Marie's descriptions of the process of their travel and first months of settling in can help you with a few of the "unknowns."  To read more of their story see links at the bottom of the post.
CONTRIBUTED BY MARIE LEWIS
It's been a few weeks since my last post, and that's partly because we've had a jam-packed schedule this summer. Most recently, my little brother flew here from New York for a three-week visit. Neither Kenny or I could take any time off from work so we tried to schedule all of our activities on the weekends and evenings.
We tried to show John, my brother, some of our favorite places and work in time to explore new destinations. Most of the places I'll talk about here already have separate posts devoted to them on Okinawa Hai. My hope is that our itinerary might give you some ideas about how to plan your time when you have visitors of your own on this magnificent island.

Newlywed Dr Fish
American Village – We spent only about an hour here, showing John the myriad of shops and restaurants surrounding the iconic ferris wheel. You can probably spend as much or as little time as you want here, depending on how much shopping you plan to do. Kenny and I prefer to venture off the beaten path; we find we have the most fun when we feel we've found something that seems undiscovered. It gives us a sense of accomplishment and makes us feel less like tourists. American Village is definitely touristy, but if you're looking for a ton of variety all within walking distance – not to mention a stone's throw from Sunset Beach – this is a good place to bring visitors. I particularly enjoyed my brother's reaction to Doctor Fish Therapy, the process by which tiny fresh water fish called Garra Rufa nibble away old skin cells to "reveal beautiful skin," according to the shop's advertisement. I personally am much to ticklish to enjoy this, but John and Kenny got a kick out of it.

Newlywed Nakagasuku
Nakagasuku Castle Ruins – I couldn't believe we almost missed this place during our first three months here. This National Historic Site is close enough to Camp Foster for me to jog here in the mornings and its views are mind-blowing. We read that of the 300 castle ruins on the prefecture, this is one of the best preserved in its original state. The main parts of the castle are believed to have been built in the late 14th century. From the top of the stonewalls we could see panoramic views of the Pacific Ocean and the East China Sea. It took us about 30-40 minutes to view the entire site, and we enjoyed refreshing mango frozen yogurt at a little stand outside the entrance. I highly recommend this visit for any history buffs like myself.

Newlywed Nakamura
Nakamura House – Just a few blocks from the Nakagasuku Castle Ruins, we stopped here on the way home from the castle site. This is a recreation of a typical style of a rich farmer's residence around the 16th century. The main house consists of eight rooms designed to to illustrate the lifestyle of the Nakamura family. We were all fascinated by the items on display and by the handouts that described the cultural and spiritual significance of the structure's details. This is another stop that lasted less than an hour for us.

Newlywed Sunset
Sushi and sunset – Quality sushi restaurants are one of the easiest places to come by. There are too many to name here. My brother ordered sake (it was tops on his list of things to do.) He and Kenny talked me into trying some, and I immediately regretted it. It's not that the sake was bad, it's just that I'm a lightweight when it comes to shots. I did my best not to choke. The boys had their laugh and I enjoyed the rest of my green tea. John made the comment that he might never be able to enjoy sushi again back in the states after tasting the unbelievable sushi in Okinawa. After dinner we walked along the Sunabe sea wall and stared at a sunset that lit up the sky a shade of brilliant orange. I was so thankful my brother was able to share in this view; it's a sight you can't quite describe to anyone who hasn't seen it themselves.

Newlywed John Sushi
Urushima Dinner Theater – We went to this show in Naha through MCCS Tours+ and although it was a little pricey at $68 per person, we felt it was worth it. The dances were entertaining and the costumes elaborate. We enjoyed a 10-course traditional Japanese dinner. Yes, 10 courses is a LOT of food. However, the portions were small enough that I could eat most of what I was served. I ended up eating some of John's sashimi, as he wasn't quite up to eating that much raw fish. The theater also offered an American and vegetarian dinner for those who didn't want to go the traditional Japanese route. It was nice to be able to ride the bus home; we could all enjoy a drink or two without having to worry about driving.

Newlywed Urushima

Newlywed Churaumi
Chumari Aquarium and Tropical Dream Center – We also booked this tour through MCCS. This visit was awesome, although if I had it to do over again I would not have taken a tour bus. The reason is the bus didn't arrive at the aquarium until 11 a.m. and we had to leave at 3 p.m. In retrospect I wish we'd driven ourselves so we could have arrived earlier and taken our time at the aquarium; we felt a little rushed getting through the place so we could see everything before we had to catch the bus. You have to see this place to believe it. It's the second largest aquarium in the world and has several other attractions I didn't even know about, such as the Tropical Dream Center. The enormous greenhouses filled with exotic flowers and plants made me think of my mother and how much she would love to be surrounded by so much beauty.

Newlywed Tropical
Shuri Castle – My brother really enjoyed seeing this castle replica, but I have to say I was a bit disappointed. I think my expectations were extremely high after seeing the Nakagasuku Castle Ruins. By comparison, Shuri Castle was much more crowded. I felt somewhat herded from one display to the next in the middle of a large group, rather than being able to take my time and go at my own pace. The structures and rooms were impressive and made for wonderful pictures. One drawback was that some of the displays did not have an English translation, so I wasn't sure of the significance of what I was looking at. I know this is to be expected as we are guests in a Japanese-speaking country. I am trying to speak as much as possible but I haven't picked up the reading yet. Nevertheless, we still enjoyed ourselves. We had to cut our visit a bit short because of the extreme heat and humidity that day; it was simply too hot to tour the rest of the grounds outside. I would like to go back on a cooler day.
Beach Bumming – We roughed it on a desolate beach with no shower amenities or even a bathroom for one night. Remember that beach Kenny and I hiked down to on a rope tied to a tree? (If not, see my previous post on Getting Lost.) Well, we took John there with a tent and some bare necessities for a short camping trip. We were the only people in sight for the next 24 hours. The setup was a bit strenuous and not something I would try to with our grandparents, but for the three of us it worked out well. We found small logs scattered on the beach and made a fire that night. Away from all forms of electricity, it was infinitely relaxing to unplug for the weekend. However, I was more than ready for a shower when we returned home.
I hope you'll share some of your own experiences in the comments section; we can all benefit from the shared information!
Read all the posts in this series: Parts 1, 2, 3, 4, 5, 6, 7, 8, 9, 10, 11, 13, 14