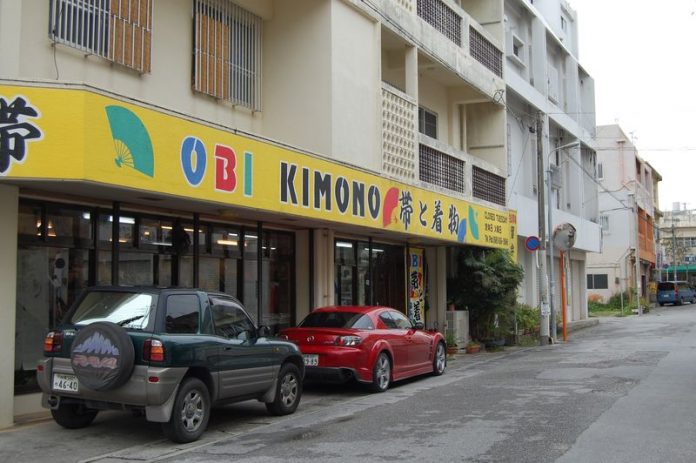 Editor's Note: Gakiya's Obi & Kimono Shop was originally reviewed on Okinawa Hai on march 19, 2010; you can read a PDF copy of that original review HERE. The post below is an updated take on this attraction, published April 20, 2016.
CONTRIBUTED BY KACEY A.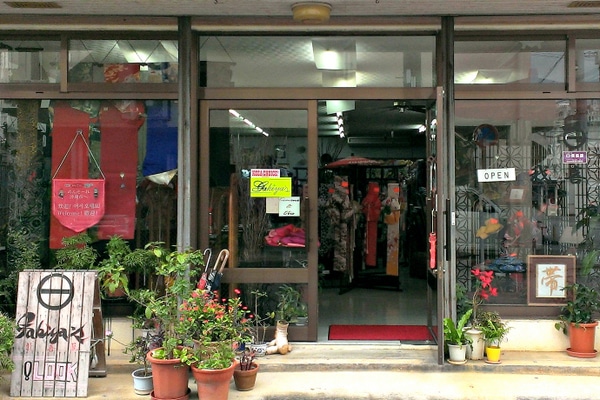 I recently had a friend introduce me to Rieko Gakiya – owner of Gakiya's Kimono's & Obi's. I remembered seeing a post on Okinawa Hai on this, but I had never been to the shop. The article is great, but since it was written back in 2010, I thought it would be nice to post some updated information and share my experience.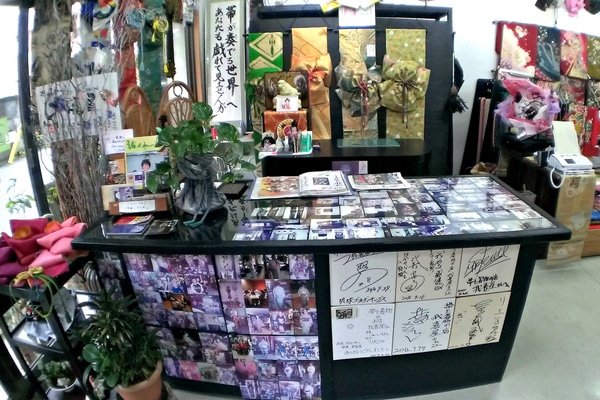 I loved meeting Gakiya-san. She's a lovely woman with great style, taste, and skill. She has good reason too, as a licensed and certified kimono dresser, she can fit, design, and outsource kimonos. While she doesn't speak much English, she is more than willing to work with English speakers – it's amazing how much you are able to communicate without words! There are so many textiles and designs to choose from, and it's not hard to express what you'd like. Of course, you can always bring along a bi-lingual friend to help the process go a little quicker.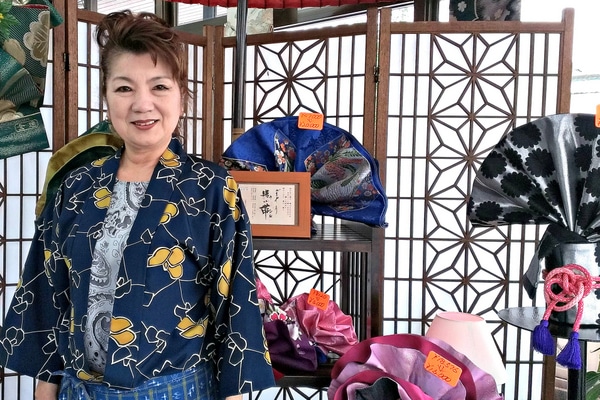 Her shop has been open since 2010 and has grown since then, even winning the Koza Choice Award – presented to shops and restaurants for exemplary service and products.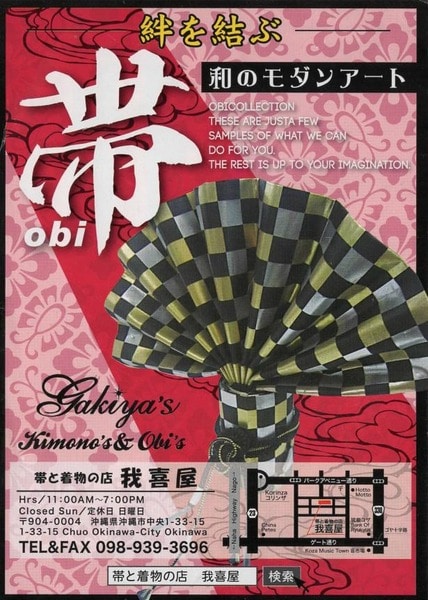 Not only was Gakiya shop written about on Okinawa Hai years ago, she's been featured in dozens of local publications and even has sold Kimonos on the military bases in the past (no future dates known).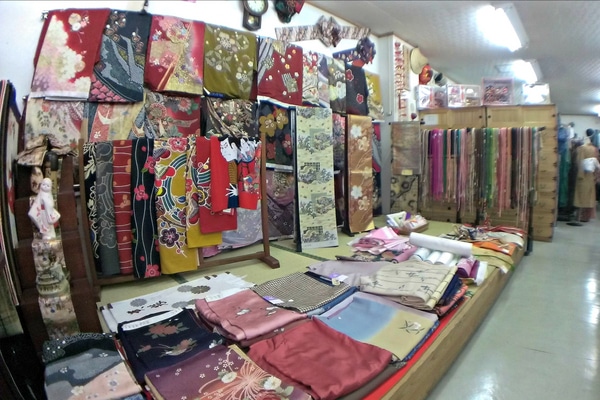 Her kimonos range in style from a rayon-blend material – which is much lighter weight and perfect for Okinawa summers, and also much more affordable; she also has more traditional style 100% silk kimonos for sale. Some kimonos are ready to sell, but she regularly does custom fits and designs. The most formal kimonos in her collection usually start at around ¥300,000 – however, for the foreseeable future, she's selling them at ¥150,000. This could be why many people rent formal kimonos.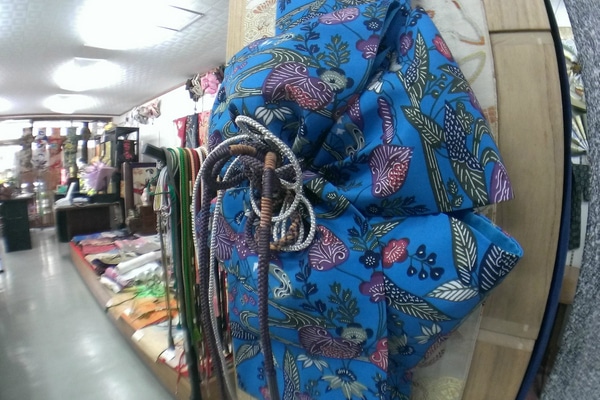 Her big sellers though, and the ones I wanted to share with you, are her decorative Obis! Obis are the thick sash/belt worn over a kimono… but can be used as so much more. She makes them herself out of new Obis or even antique ones (she'll be clear with you on which are which).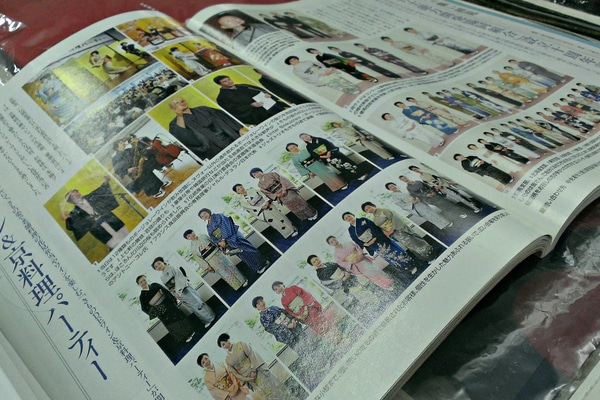 Cotton Obi decorations start out at about ¥10,000. There are lots on display, but if you want something specific, she'll custom make it for you in just a few days. Pick out your 'bow' design from the samples, pick out your fabric, and obijime (cord). Gakiya will help you every step of the way.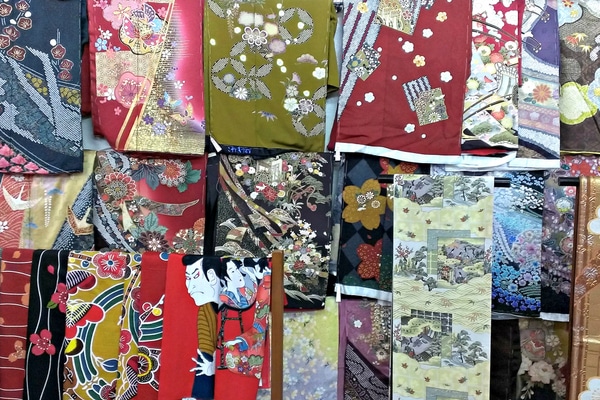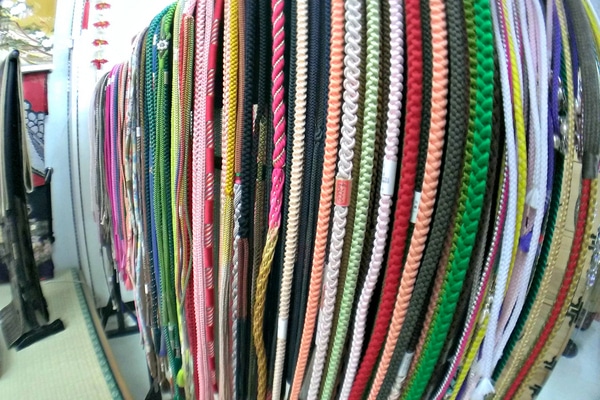 Obis can be used as a wall decoration or even a table or mantle decoration! You could even just buy an Obi to layout as a table runner! In addition to these kimono materials, she has lots of accessories such as socks and hair pins. She does have a small website, but you'll find much better options and pricing if you visit in person.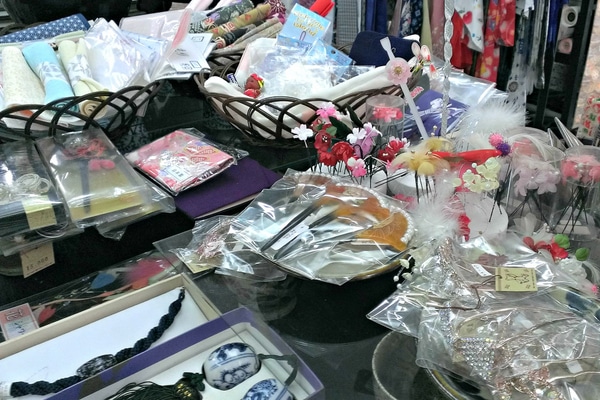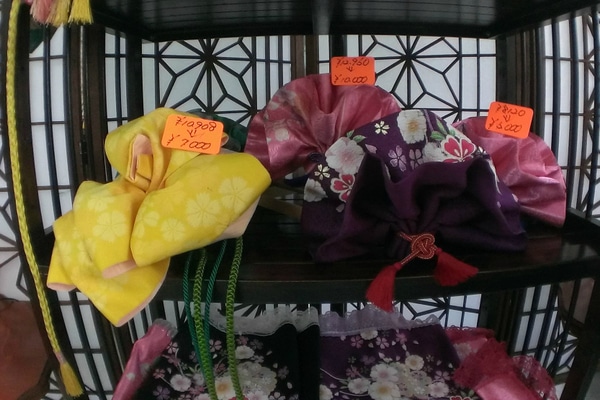 Gakiya has just started a special as well for expats! With any purchase, you can try on an Okinawa style Kimono with accessories and take pictures (with your own camera). I did it, and it was totally fun!
---
Gakiya's Obi & Kimono Shop
Phone: 098-939-3696
Website: https://www.geocities.jp/gakiyaobi/
Hours: Monday – Saturday 11:00 – 19:00 (closed Sundays)
Payment: yen, dollars and credit card
Address: 〒904-0004 Okinawa-ken, Okinawa-shi, Chūō, 1 Chome−33−15
GPS Coordinates: 26.338053952036834, 127.80048432066269
Directions:  Leaving Kadena Gate 2 stay straight.  Before the Koza intersection, turn left at the big eyeball sign (Mayco), and go down several blocks.  You'll turn left again just before the parking lot/Hotto Motto that is before the stoplight at BC street.  The shop is ahead on your left.  I parked in that parking lot and walked the first time, but when I returned Kimmie invited me to park directly in front of the store instead.