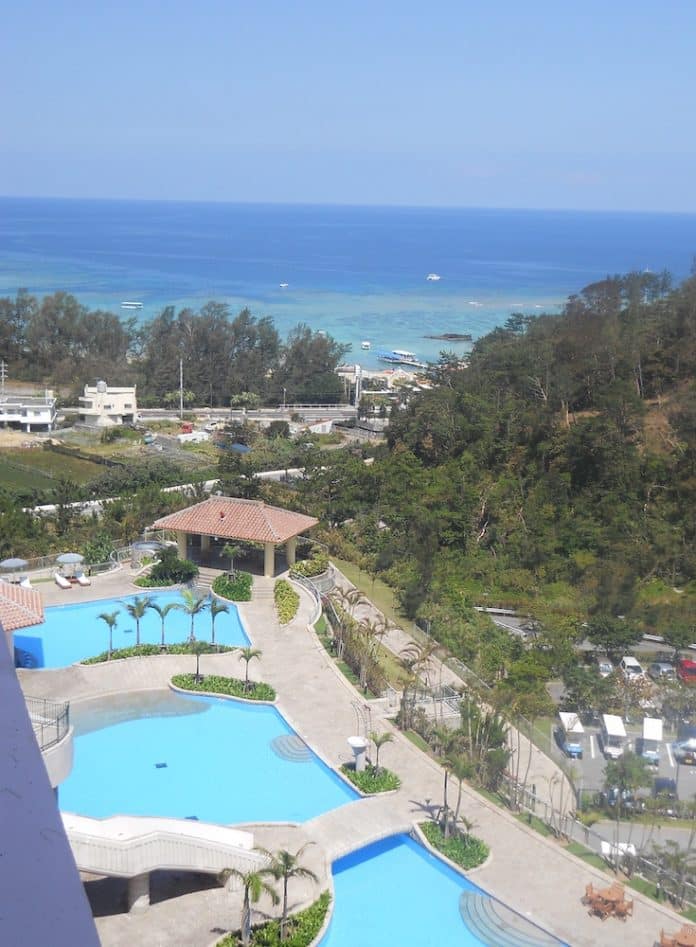 Oki Marriot View to Pool
CONTRIBUTED BY MEGAN PARKER
Feeling the familiar itch of needing a break from the daily routine, I knew I was getting antsy to get off this rock. Unfortunately, getting out of dodge just wasn't possible at this particular time so I began looking for an on-island escape – and one that wasn't even remotely associated with a military installation, please!
We happened upon a steal of a deal at the Okinawa Marriott Resort and Spa and had a fabulous time living the lifestyle of the rich and famous. From the minute we arrived, they treated us like royalty. We got out of the car and never lifted a finger from there on! They unloaded our baggage, whisked our car away, and had us checked into our room in less than five minutes flat!
We were only there for 48 hours, but let me tell you how wonderful those 48 hours were! I left feeling refreshed and rejuvenated after having thoroughly made use of the Marriott's elaborate "garden pool," which includes three swimming pools and their own private beach. Our little ones loved the kiddie slides in the wading pool and the hubs enjoyed the lazy, winding river slide. I, however, was perfectly content sitting in one of their three bubbling hot tubs, conveniently elevated to allow for an amazing view of the Bay of Nago!

Oki Marriot Beach
In the interest of full disclosure, I should point out that the Marriott here isn't waterfront, but we didn't find that concerning in the least. We simply hopped on their little minibus, which runs on demand, and they drove us the two minutes down the hill to their private beach that is shared with the Okinawa Kariyushi Beach Resort. There are a variety of water activities offered, from glass bottom boat tours to underwater sea excursions. We were content to park our toes in the water and butt in the sand, but there is plenty to do here if that's not your style.

Oki Marriot Pool
If the weather isn't cooperating, there is also an indoor pool and hot tub you can make use of. And for a small fee (500-1000 Yen/day, depending), you can make use of their indoor recreations facilities as well, which include a sauna, gym, etc. (There is a free sauna as well.) They also have a salon and spa that provide nail and massage services for a fee.

Oki Marriott Restaurant
The hotel boasts five different restaurants, including ones that served Japanese food, Chinese food, barbecue fare, yakinuku food, and a Japanese/American buffet. On our first evening, we dined at the Japanese restaurant and it was very good, albeit on the expensive side…but we are living the lifestyle of the rich and famous here, so we expected that! On our second evening, we decided to go for the buffet and it was excellent! I am a tough critic of food, but considering the combination of quality and quantity, this buffet had it all. We dined on prime rib, lamb, pork, steak, and the most amazing clams I've ever tasted. And that was just the first plate. I ate a whole other plate of sides, a separate plate just for salad, and a sampling of at least three desserts (maybe more…) that were all to die for.
The rooms were large even by American standards and had American-style beds (can I get a Woohoo?!?). The bathroom had a separate bathtub and heavenly shower, and was approximately the size of my bedroom in Historic Old Lester. My kids played in the shower scrubbed themselves clean for at least a full hour before we made them get out. The staff was helpful, attentive, and spoke excellent English. After we checked out, they happily took our picture at three different locations with my camera, brought our car to us, packed it with our bags, and hand washed it with Marriott towels. Amazing. We'll be back!

Oki Marriott Foyer
Phone: 0980-51-1000
Directions: Drive north on Hwy. 58 toward Nago. You'll go through Onna Village and see the sign for Okinawa Marriott Resort & Spa on the right hand side before you get to Nago City. Turn right onto a small access road to get to the Marriott – the 15-story pink building on the hill.
Special Notes: There is free wireless internet (bonus!). Tattoos must be concealed at the Okinawa Marriott. Rates vary greatly; occasionally I've seen specials run in Okinawa Living and special prices and packages can be booked by the on-base travel agencies.