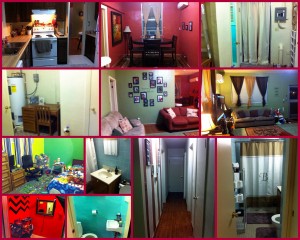 Living overseas has its challenges, and a commonly agreed upon one is finding that perfect place to live. To help those of us who are curious about the different options for living on Okinawa, readers have answered some of the most frequently asked questions about on-base housing. If you live in an on-base house that has not yet been featured on this site, please contact our Submissions Manager for the template.

Here's a great link to access, too, if you're on the fence as to whether to live on-base or off-base.
CONTRIBUTED BY MILD CRUNCH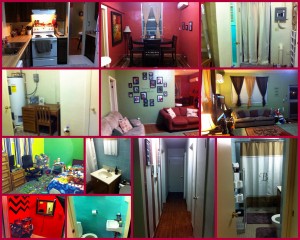 What military base is your home located on? Foster

What area of the island is your home located on (i.e. North Island, Central Island, South Island)? Central Island

What is the name of your neighborhood in which your home is located? Old Chatan Housing
Generally speaking, most on-base homes are approved for occupancy based on military or government rank.  If you would like, please provide the range of ranks that your home is approved for?  E-1 to E-6.
What DODDS school district is your home attached to?  Is there a schoolbus system available?

Elementary: Zukeran Elementary (no bus service available)

Middle: Lester Middle School (bus service available)

High: Kubasaski (no bus service available)

Please describe the "feel" of your neighborhood (i.e. pet-friendly, child-friendly, level of safety, friendly neighbors, spacious, etc.) Our neighborhood is relatively quiet, with lots of children whom are all around the same age and play together.  We've got large yards, it's very safe because few people actually live in our neighborhood so our street is never busy.  The neighbors are friendly and often get together for parties, etc.  The only "dangers" would be the critters, however that exacerbated by the jungle within 10 feet of my front door (not all houses have this issue, however it's something to consider).  
Please describe the style of your home (i.e. detached home, duplex, apartment, age of the home, etc.)  A detached concrete home from the late 1940's (that was up for being demolished but…)
Please provide general information about your home such as square footage, number of bedrooms and baths, number of stories/levels, special amenities, etc.
One story, 1 ¼ bath (I say ¼ because one of the bathrooms is literally a closet in the laundry room).  3 bedrooms.  Brand new hardwood laminate floors, appliances.  No central air unfortunately, but we do control our own AC.  We have a HUGE laundry room, and tons of cabinets in our kitchen.  There are 13 doors in our house, 4 in the living room/dining room, not including closets.  I'm unsure about square footage.
What places of services are available near your home such as restaurants, shops, commissary, playgrounds, parks, etc.? We are within walking distance to everywhere on Foster.  The closest park is about a 5-10 minute walk and located in New Chatan housing.

How is parking provided for your home? You have shared driveways, but in many cases the house next you is not occupied, so you can use both sides.
Is there any yard space or outdoor spaces provided for your home? Yes, lots of yard!
What do you feel is special about your home or neighborhood – what makes it feel like "home" here on Okinawa?  Our community is very small and I think the neighbors make it what it is.  It's an actual house with a yard which is really nice.  My husband works on Hansen, however I would rather live on Foster in my house, near my neighbors, rather than move somewhere else.

What housing expenses are included with on-base housing (i.e. utilities, rent, appliances, etc.) We had to buy a lawnmower, weed whacker and other lawn gear.  My house required a fence which we had to pay for (there's a big concrete drop in our backyard, however the drop for my house is the largest so no one else has to deal with this).  
Are there any expenses or fees associated with on-base housing? Are you satisfied with the maintenance services provided by your on-base housing organization?  No. I was taught if I don't have anything nice to say, not to say it at all, so I won't talk about maintenance.  
Finally, what advantages and disadvantages do you feel have been your experience living on a military base here on Okinawa?  I love living near other military families with children.  I enjoy being very close to "American" stores that take cash and cards.  I do feel though that we are missing out on some of the Okinawan culture because we live on base, however our BAH would not pay for a house the size of our current home.  We can see the ocean and are about a 5 minute drive away from Araha beach.
Please provide any COMMENTS that you feel would be helpful for others about living on-base.  I really enjoy living on base for the most part.  When my husband worked on the base we lived on, he could stop in for lunch, to grab stuff he forgot (or I could drop it off), come home to shower after PT etc.  Now that his work is so far away, he cannot do these things anymore, and he has to wake up earlier and comes home later.  
If someone has a choice between living in Old Chatan Housing and another place, I think a big thing would be to check your phone signal before deciding.  I cannot use my cell phone in my house, however most of my neighbors can use theirs in their homes.  Old Chatan is definitely not for you if you can't handle creepy crawlies. There are issues (mold, the way the house was built) that will not get fixed. However we have TON of butterflies, nice yards, sheds, and control our own AC.  We're in the middle of Foster so we can walk anywhere pretty easily.
---
If you live in on-base housing OR off-base housing that has not been featured on Okinawa Hai, or in housing that has been renovated since its last post, please contact our Content Manager for the on-base housing template and instructions on how to share your little slice of Okinawa with the rest of us.