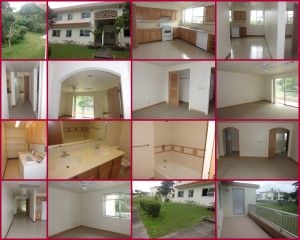 Living overseas has its challenges, and a commonly agreed upon one is finding that perfect place to live. To help those of us who are curious about the different options for living on Okinawa, readers have answered some of the most frequently asked questions about on-base housing. If you live in an on-base house that has not yet been featured on this site, please contact our Submissions Manager for the template.

Here's a great link to access, too, if you're on the fence as to whether to live on-base or off-base.
CONTRIBUTED BY ELISA
If you're interested in seeing more information on this housing area you you can read another perspective here.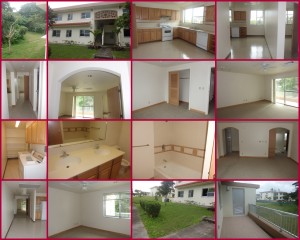 What military base is your home located on? Kadena AFB, Okinawa Japan

What area of the island is your home located on (i.e. North Island, Central Island, South Island)?  Central Island

What is the name of your neighborhood in which your home is located?  Marek Park

Generally speaking, most on-base homes are approved for occupancy based on military or government rank.  If you would like, please provide the range of ranks that your home is approved for?  Not sure of the range, but we were E-5 when we moved in; two adults with no kids
What DODDS school district is your home attached to?  Is there a schoolbus system available?  
Elementary: Bob Hope (grades K-2), Amelia Earhart (grades 3-5)  – bus service available
Middle: Kadena Middle School  – no bus service available
High: Kadena High School  – no bus service available
Please describe the "feel" of your neighborhood (i.e. pet-friendly, child-friendly, level of safety, friendly neighbors, spacious, etc.)  Pet-friendly, quiet, low-traffic, safe, spacious
Please describe the style of your home (i.e. detached home, duplex, apartment, age of the home, etc.)  4-plex, newly renovated in 2012. Two upstairs apartments, two downstairs. No stairs inside the home.
Please provide general information about your home such as square footage, number of bedrooms and baths, number of stories/levels, special amenities, etc. 3 bedrooms; 1 bath; very large kitchen/dining area; no stairs inside the home; includes a balcony and outside storage closet; includes utility room with washer/dryer; central air conditioning; ceiling fans; double-pane storm windows. Lots of closets for storage. A maximum of two pets are allowed. You have your own yard space.
What places of services are available near your home such as restaurants, shops, commissary, playgrounds, parks, etc.?  Commissary/BX are a 5 minute drive up the hill; The gym is a couple minutes away; Multiple playgrounds are nearby; Marek Park is nearby and has pavilions, grills and picnic tables for public use; Close to gate 1 on Kadena; Olympic Mall shopette/Popeyes/Pizza Hut is a 2 minute drive away.

How is parking provided for your home?  One assigned space per unit, and additional guest spaces are available.
Is there any yard space or outdoor spaces provided for your home?  Each unit has use of/is responsible for their yard space. Lower apartments get the backyards, upper apartments get the front yard. The yards are pretty big.
What do you feel is special about your home or neighborhood – what makes it feel like "home" here on Okinawa?   I love the peace and tranquility of this neighborhood. It does not have much traffic, so you can feel safe when walking your dog or jogging. Some of the apartment buildings have one side facing the "forest", so it feels very private and provides a beautiful natural view. Other buildings are on a slight hill and have a nice view of the city with the ocean in the distance. The buildings in this neighborhood are spaced farther apart than some of the other neighborhoods, so it doesn't feel too cramped. My kitchen is HUGE, and I love to cook, so that is a major plus for me.

What housing expenses are included with on-base housing (i.e. utilities, rent, appliances, etc.)  Utilities, rent are included. All major appliances including refrigerator, oven, dishwasher, washer/dryer are included.
Are there any expenses or fees associated with on-base housing?
Are you satisfied with the maintenance services provided by your on-base housing organization? You are responsible for yard maintenance, so you will either need to buy or borrow a lawnmower, or pay for someone else to do it. You are also responsible for trimming hedges, edging grass along the sidewalk, gutters, etc. There is a hardware store on base called Eagle Hardware, that provides various items for free to those living in on-base housing. Items include certain types of light bulbs, a/c filters, plumbing supply, and grass seed. These are available to you so that you can do simple maintenance yourself. They also allow you to borrow yard tools such as weed-eaters and hedge clippers for free.
If you need maintenance of a more complicated nature, it is easy to make an appointment. In my experience, the maintenance workers have been friendly and fast and do a good job. Housing provides maintenance services and insect control for free.
If you or your pets damage the property in your apartment, such as the carpet or doors, you are responsible for the cost of replacing it. This is disclosed to you in your housing contract which you will sign before you move in.
Finally, what advantages and disadvantages do you feel have been your experience living on a military base here on Okinawa?
Advantages:
Convenience; cheap; easy maintenance; safe; elevated; American TV; American-sized appliances; lots of storage space; good amount of living space; adequate parking; less neighborhood traffic; pets allowed; DOD schools are on base; Don't have to deal with going through the gates if you live/work on the same base.
Disadvantages:
No "total immersion"; lawn maintenance responsibility; internet connection speed
I love the convenience of living on-base, where everything I need is close by. It's also nice not to have to worry about paying for utilities and rent, and maintenance is just a phone call away. I feel safer living on base, and Kadena has the added benefit of being on elevated land, so I don't have to worry about flooding or tsunamis. The television channels available on base are all American channels in English, which are not available off base. You are allowed two pets. The living space is comparable to apartments Stateside. The storage closets inside the home are plentiful and the appliances are American-sized. Your neighbors understand exactly what you're going through and it can be an advantage toward making friends while you're here.
There are a few downsides in my opinion. You don't get to experience having neighbors who are locals. The apartments are American-style, so if you wanted to experience living in a Japanese-style home, you will miss that. The biggest con is that you have to mow the lawn yourself (or pay someone to do it), which can be a hassle. Internet connection speed also seems to be slower on base than off.
Please provide any COMMENTS that you feel would be helpful for others about living on-base.
Be sure to get off base as often as possible to explore the island. There is so much more to Okinawa than just what you see within 20 minutes of the base. 🙂
---
If you live in on-base housing OR off-base housing that has not been featured on Okinawa Hai, or in housing that has been renovated since its last post, please contact our Content Manager for the on-base housing template and instructions on how to share your little slice of Okinawa with the rest of us.