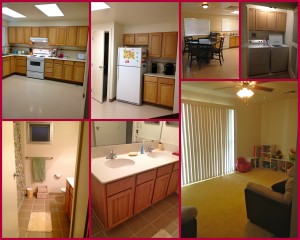 Living overseas has its challenges, and a commonly agreed upon one is finding that perfect place to live. To help those of us who are curious about the different options for living on Okinawa, readers have answered some of the most frequently asked questions about on-base housing. If you live in an on-base house that has not yet been featured on this site, please contact our Submissions Manager for the template.

Here's a great link to access, too, if you're on the fence as to whether to live on-base or off-base.
CONTRIBUTED BY JULIA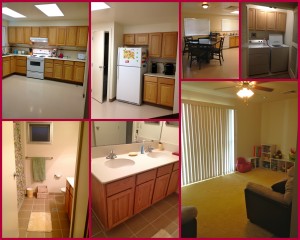 What military base is your home located on? Kadena AB

What area of the island is your home located on (i.e. North Island, Central Island, South Island)? Central

What is the name of your neighborhood in which your home is located?  Washington Heights

Generally speaking, most on-base homes are approved for occupancy based on military or government rank.  If you would like, please provide the range of ranks that your home is approved for?  Most residents appear to be E1-E5.
What DODDS school district is your home attached to?  Is there a schoolbus system available?
Elementary: Bob Hope (grades K-2), Amelia Earhart (grades 3-5) – bus service available
Kadena Middle School – bus service available
Kadena High School – bus service available
Please describe the "feel" of your neighborhood (i.e. pet-friendly, child-friendly, level of safety, friendly neighbors, spacious, etc.) Washington Heights is very child-friendly with several play areas throughout the neighborhood. The neighborhood is also pet friendly, however, if you live in one of the many quad-style homes you may not get the most ideal yard space for a larger dog. Our area of the neighborhood is very quiet and clean. We haven't experienced any problems with neighbors, thank goodness!
Please describe the style of your home (i.e. detached home, duplex, apartment, age of the home, etc.) My home is quad-style meaning there are two apartments upstairs and two apartments downstairs. The two sets of apartments are separated by stairs so I don't share a wall with the people across from me. Noise hasn't been an issue. I rarely even hear my upstairs neighbor! I would say that the concrete walls are to thank for that.
Please provide general information about your home such as square footage, number of bedrooms and baths, number of stories/levels, special amenities, etc. Our house is one level with 2 bedrooms and 1 bath. Like several in our neighborhood, our home is newly renovated. When we moved in everything was brand new! Our floorplan offers a huge kitchen. It's actually the largest kitchen I've seen on base so far! The kitchen has a large pantry area, lots of cabinets and drawers, and plenty of counter space. I'm guessing since we have such an amazing kitchen that is why our living room is pretty small. Even though it is small, it works for our family of three. The living room would probably be too small for large pieces of furniture or sectional couches. We also have a nice sized bathroom. Our bathroom features his and her sinks and plenty of cabinet space. The bedrooms are a decent size each with a large closet. In our master bedroom we have a queen size bed, two nightstands and a long dresser. Even with our furniture we still have plenty of room! The second bedroom is just a bit smaller than the master bedroom. We have a mixture of both concrete and "regular" walls in our home. I'm not certain of the exact square footage, but I remember housing telling us a ballpark figure of 900-950sqft.
What places of services are available near your home such as restaurants, shops, commissary, playgrounds, parks, etc.?  Washington Heights is located near Kadena Gate 1. Just down the street from our home is one of the nicer parks on base, Kenney Park. The BX/Commissary is just a short 5 minute or so drive away. Our neighborhood is just minutes away from the housing office, the you-fix-it store, the Airman and Family Readiness Center, and much more! The golf course is right across the street from some of the homes in Washington Heights!
How is parking provided for your home?  Each home has one assigned parking space. There is also plenty of additional parking. We've never had trouble parking our second vehicle.
Is there any yard space or outdoor spaces provided for your home?  The bottom level residents are assigned the backyard (which is typically larger) and the upstairs residents get the front yard. The side yard is split down the middle between the two families. The downstairs residents are allowed to install chain link fences but only upon approval. The downstairs apartment has a patio area and the upstairs apartment has a balcony. There is also a large outdoor storage closet located next to the front door.
What do you feel is special about your home or neighborhood – what makes it feel like "home" here on Okinawa?  I really like how most of our neighborhood is away from busy areas. We are close to Douglas but we don't have to see or hear all of the traffic. If you live on top of one of the large hills you'll have an amazing view of the ocean! Honestly, when we first arrived to Kadena I was most nervous about where we were going to live. We wanted to live on base but we had heard so many horror stories about the housing. I was beyond relieved when we moved into Washington Heights! It took a little bit of downsizing to get all of our household goods to fit but it now feels just like home.
What housing expenses are included with on-base housing (i.e. utilities, rent, appliances, etc.) As far as rent, utilities, and appliances go living on-base is easy! All of those things are included in our BAH.
Are there any expenses or fees associated with on-base housing?  Cable, internet, and phone services are not included.
Are you satisfied with the maintenance services provided by your on-base housing organization? I am! I've had to call maintenance a few times and each time they have either sent someone out the same day or the following day. I've never had to wait long for a repair.
Finally, what advantages and disadvantages do you feel have been your experience living on a military base here on Okinawa?  For my family living on Kadena has had several advantages. Most of all we really enjoy being around other military families, having easy access to parks and playgrounds, and we love that it just takes minutes to get to the BX, Commissary, and my husband's work. We were able to move into our home without dealing with the fees associated with living off-base (security deposits, first/last month's rent, and utilities). We are happy with our decision to live on base!
---
If you live in on-base housing OR off-base housing that has not been featured on Okinawa Hai, or in housing that has been renovated since its last post, please contact our Content Manager for the on-base housing template and instructions on how to share your little slice of Okinawa with the rest of us.