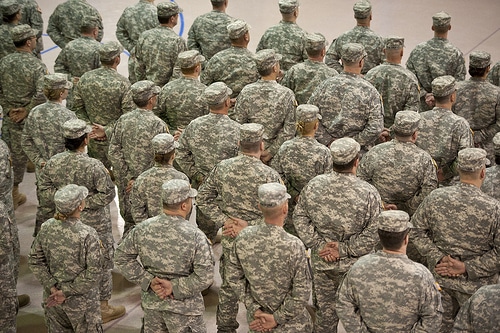 In June 2014 we published a post by an anonymous writer about her experience with military retention boards, and waiting to hear about her family's future with the military. Today we offer you a follow-up piece by another anonymous writer.
CONTRIBUTED BY "JENNIFER"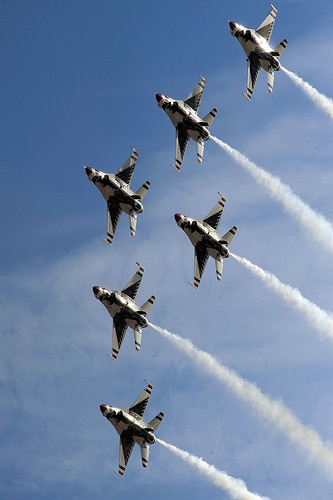 click photo for source
It was a Tuesday in the middle of the summer. It was our thirteenth wedding anniversary, to be precise, but I hadn't planned to see my husband for another two days; his extended shift work would have us celebrating belatedly. We'd been a military couple for every single one of those thirteen years, so this was nothing we hadn't experienced before.
I saw his car pull into our driveway and he entered the house; my heart skipped a few beats when he handed me a bouquet of flowers. "Did they let you off for a few hours to come see me?" I asked, incredulous. His current unit is a really great one; though it remains mission-focused at every moment the command is also very family-friendly; a few hours' furlough was not outside the realm of possibility.
"No," he said quietly, as our children hung from his limbs like monkeys. "They let me off for the rest of the week. I had a meeting with the general today…" As his voice trailed off and his eyes glistened, I knew.
He'd been cut.
I had thought I would be prepared for this moment. I'd thought I would be okay, that I could take it easily and with a sense of acceptance. I'd thought I could be the rock in the relationship if this moment came to pass, but as usual I crumbled. I always do. Eventually the children let go of their daddy and went back to the activities they'd been working on, and he came to find me.
We sat and talked… and talked, and talked, and talked. Five months later we are STILL talking about it.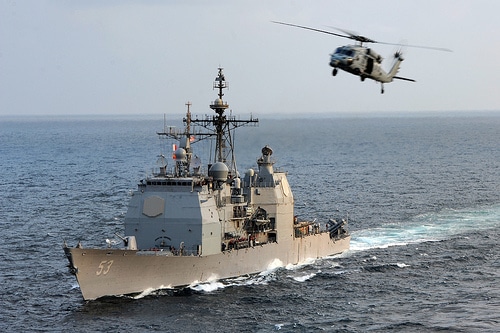 click photo for source
Late in 2013 we received word that my husband – along with thousands of his peers – would have their profiles go up in front of retention boards. Cuts would be made; careers would be ending prematurely. He was instructed to go over his records with a fine-toothed comb, gather up all his performance evaluations, and make sure his new official photo was perfect – all awards in the correct order and aligned just so, shoes shined, and the appropriate expression on his face. He submitted his packet in the spring, and then we waited.
Rumors flew everywhere: online, in his office, among my own friends. "They're telling people this week", "This is how long he'll have to outprocess if it's him", and whispers of other various odds and ends. I read every article that came across my path, and with each new discovery I made my stomach rolled again. He knew the number of others he was directly up against; he was among a small pool with not great odds. Still, when word came down, it was like a punch to the gut.
I'm a military spouse, and though I don't participate in public online military spouse forums, I do follow quite a few blogs and websites geared at others like me. One that I follow has a pop-up when opening the site; a picture of a pair of desert boots and ACUs fills the screen with the words, "It's transition, not termination." I'm calling their bluff: No matter how tinted those rose colored glasses might be, my husband has been terminated.
It's not about me – it's about him. This is his career that's ending, not mine. I have tried to keep this in mind all these months, because he needs my support. He needs to know that I still find value in him, even when a panel of people has apparently decided he's no longer worthy of serving.
But this affects me, too.
We married two months after he joined the military and before I graduated college; two weeks after I walked across the stage to collect my diploma we moved to Germany. I have been by my husband's side for every milestone in his career: when he made the decision to join, when he took that oath for the first time and then again at each of his promotions, at his graduations from all the various schools he's attended over the years. I've made six moves – two for OCONUS tours – in the past thirteen years. I've supported him long distance through long deployments and shorter TDY trips that total about a third of our marriage. I'm one of those spouses who say "We're military", because he may be the one serving but I've been with him the entire way. The military has been a part of MY entire adult life, too.
I've made a lot of friends in the military community over the years; some have been older and acted as mentors to me; some have been peers who are at the same stage in their (husbands') careers; others are newer and have looked to me for advice. I've learned that transitioning out of military life and into the civilian world is tricky no matter the circumstances.
But my friends whose spouses had retired or made the decision to get out on their own all seemed to handle it better than I was taking this news. I couldn't figure out why. And then I realized that, once again, the military had made a decision for us.
In the beginning, my husband told me he wanted to try it out. He'd work for a few years, see if he enjoyed what he was doing, and if he found that he liked it he'd stay for a few more years. If not, he'd get out. We reached the four-year mark and we were happy. By the time he had seven years under his belt he'd stopped being happy, but the military made us a deal we just couldn't refuse. Accepting it meant by the time his obligation was up he'd be over halfway there; for us, the ten-year mark was the point of no return, so to speak. If we could get that far, we'd go all the way. We'd planned to reevaluate once again at the twenty-year mark. If he was still happy and finding fulfillment, we'd keep going. If not, he'd retire.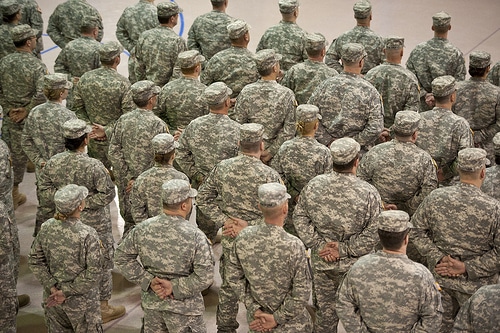 click photo for source
I'd always assumed that the getting out would be on our terms. That it would be our decision. That throughout a career's worth of being told where to go and what to do, we'd have this one thing that was up to us. And suddenly that, too, has been stripped from us. Worse, we don't even know why. Those handed down this edict have been given no guidance as to why some will be leaving at this almost three-quarters-of-the-way-there point, and others get to stay. We don't know what the deciding criteria were or how they judged everyone in these various groups against one another. All we know is from the date of our thirteenth anniversary we had nine months to figure out what was next.
We have four months to go before we surrender our IDs. Four months to figure out where to move. Four months left for him to decide what he wants to do next. We had thought we'd have seven more years before we needed to think about these things, and all of a sudden we had nine months; we're now more than halfway through it and we are no closer to knowing what the next step is for us than we were on that summer Tuesday.
But as quickly as it's passing, nine months is a long time. Ask any expecting mother and she'll tell you it feels like it takes forever. Ask a transitioning servicemember and they'll tell you it's enough time to get their affairs in order – to start getting the paperwork ready, gathering their gear to turn back over, squeezing in those last few medical and dental appointments for their family members while they still have full coverage.
(Ironically, my husband already has the paperwork in hand to get his DD 214. He's had six different assignments and even with two overseas moves to coordinate we've never had orders this far in advance; our last set came through just a week before we PCSd! Yet here we are with discharge papers in hand while he still goes to work each day, even with over a month left before he goes on terminal leave.)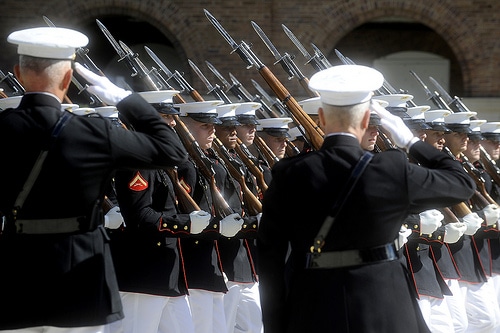 click photo for source
We're coping as best we can.
My husband and I have attended the week-long federally mandated TAP class, and as the only spouse present at our session I feel others missed out. Two sets of ears are always better than one, and what I learned from the Veterans Administration and Department of Labor representatives was no small amount of valuable information. The days were long and the coffee was lukewarm, but it was worth every moment of my time. My advice: if you can, go with your transitioning spouse.
He's applying for jobs within the military sector, in the world of federal GS jobs and at public and private civilian companies. He is leaving the military with a full resume and options for future employment, and with family still living in our hometowns (and friends that we've left behind in various parts of the country) we are not without cheerleaders pulling for us to move closer to them. We're not worried if there will be a satisfactory next stage of life for us; we just want to know what that will look like.
For my part, I'm working my way through the stages of grief. I've been sad, angry, in denial that this is our reality, and I've come up with alternate (yet implausible) solutions. I vacillate between sadness and anger on an almost daily basis, and my right eye twitches uncontrollably whenever I think ahead to the unknown. I cope by compulsively cleaning my house during the day and drinking a single glass of wine with dinner each night.
And I work. I've thrown myself into my own job, which I do from home and have transported with me from duty station to duty station. It doesn't pay the bills and won't provide for our family, but it gives me an outlet to put my particular set of skills to use in a way that makes me happy and feel useful while also allowing me to be present for our kids when my husband travels for work, as he does frequently. I'll bring this job with me when we move again this spring, and am prepared to take on a full-time position outside the house if that's what my family needs.
We'll adjust our budget, tighten up our personal spending and postpone vacation plans for another few years. We'll cut back on our retirement contributions until we can continue funding our IRAs and other investment accounts without needing those dollars to buy groceries and pay the electric bill. In hindsight, we're thankful we received advice to take our retirement into our own hands; we'll have fourteen years of our own retirement savings to help fill in the gap left behind from losing his anticipated military pension. (He'll separate at thirteen years, eleven months and ten days. One more year and he'd have been eligible for early retirement.)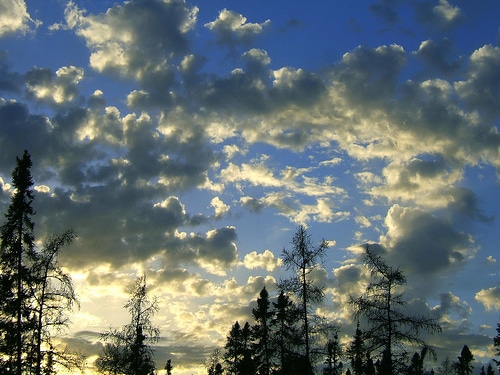 click photo for source
I have just one friend who has been through this exact same process. I've been leaning on her heavily: for advice, for logistical support, and just to have at least one person who gets it. Our other friends are supportive, too, but mostly I see in my fellow military spouses' eyes a sense of relief that this isn't their own reality, with an underlying fear that it could be in the years ahead.
I'm not angry that cuts are being made. As we've said over and over these past thirteen years – and as we continue to say as a means of explanation – "It all depends on the needs of the military". I'm just sad that after all these years of dedicated service from our entire family, we're among those who are no longer needed.
Our situation is not unique; I am certain there are others out there facing this same situation, whether a retention board has told you to leave, your request to reenlist was denied, or you've found yourself staring down the barrel of early retirement years before you'd planned. My goal in sharing this story is not to incite negative feelings towards those who make decisions about our military's future, but to reach out to let those of you in this same situation know: you're not alone.