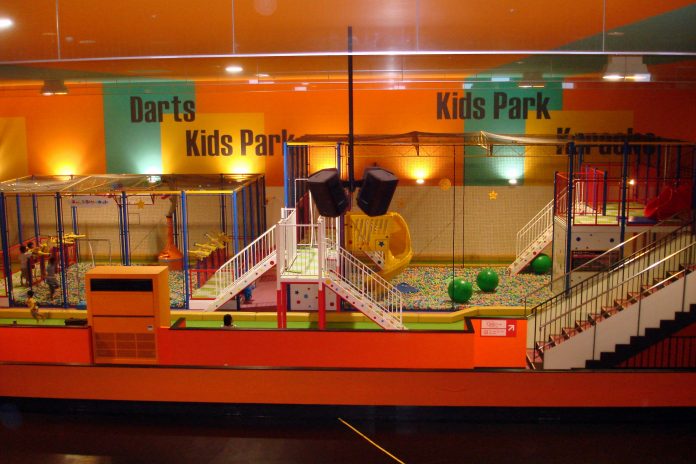 CONTRIBUTED BY HEATHER GELORMINE
Mary wrote a review about Round 1 back in June, and she did a great job letting us in on all the fun activities for adults and teens.
But maybe you didn't know that there are good times to be had by our little ones, too.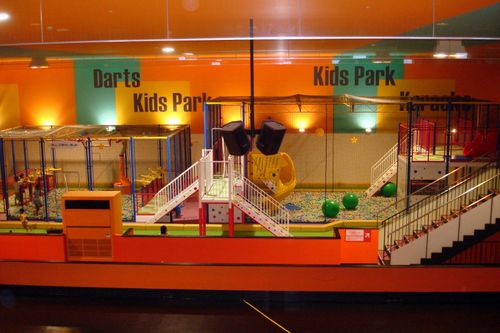 On the fifth level of Round 1 is a large kid's area.  Around the perimeter is a small track with tricycles and even a little motorized car for kids to race each other.  Within that track are three separate play areas.
One with a slide (and lots of soft, small balls all over the floor):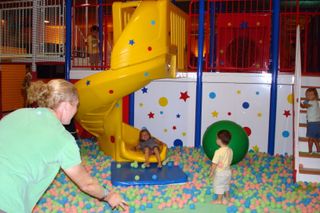 And another with blasting guns to shoot those soft, small balls at your opponents on the other side, or at the ceiling, or at small, unsuspecting children…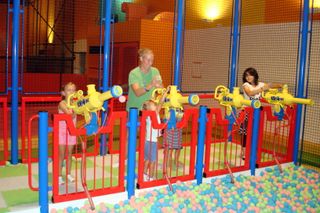 In this room was also my two-year-old's favorite plaything: a space where you can feed balls into a vacuum, which then tosses them into an overhead bin.  Every five minutes or so, an alarm goes off and the balls cascade down onto whomever might be below.  He must have played with that for twenty minutes.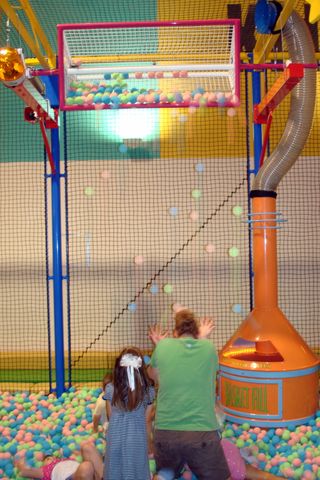 My five-year-old discovered that there were also ropes to climb and mazes to navigate in the upper levels of the play area, though my little guy wasn't brave enough to explore those.  My friends – whose children are a little older and can play without as much hands-on guidance – were able to relax in the set of massage chairs right there in front of this play area.
When the natives got restless, we wandered around the rest of the floor, turning to ping pong tables, soccer ball nets, golf swing cage, and a shooting range.  Roller skates and roller blades were available, along with helmets and knee/elbow pads.  every so often, there are mini-motorcycle races held in the roller rink; kids and adults over 130 cm can join in for a small fee to try for the win. Also on this level are tons of free video and arcade games: Duckpin bowling, Dance Dance Revolution, Whack-A-Mole, bongo drum games, and many others that I didn't get a chance to try out.
On the recommendation of others we opted to bring our own lunches with us, rather than buying some at the food court.  You can't bring food onto the entertainment floors themselves, but there are outdoor terraces, as well as a few indoor tables where we sat to eat after our time was up.  We just stashed our bags in a locker near the entrance hall while we played, and picked them up as we left. (Locker rental there: ¥100 per unit.  Locker rentals in the kids' area were free with a refunded ¥100 per unit deposit.)
This was a really fun place for my kiddos, though I don't know that I'd come here just with my two-year-old.  It was still a little big for him (read: I didn't get to sit in one of those massage chairs because my assistance was required in playing), though he certainly enjoyed his time.  This is a great place to bring the whole family though.  There's something for everyone.
---
Round 1 Stadium
Admission Fees (written in 90 minute/3 hour format):
General: ¥1300/1700
Student: ¥1100/1500
Elementary: ¥1000/1400
Child (ages 2-5): ¥900/1000
Babies (0-2): free
Also note that one child (age 2-5) will be admitted free of charge with each accompanying adult.
You can buy a membership card (good for six months; one per person) at the time of admission, which will reduce your admission fees in the future by ¥200 each visit.  Plus they'll give you a slew of coupons to use for future visits.  The membership card is normally ¥500, but they're running a special now where if you go in to buy it during the first weekend of each month, the cost of the card is reduced to ¥350.  Might be worth fighting the crowds if you plan on buying one for each member of your family.
Hours
M-F 10 am to 6 am
Sat    9 am to 6 am
Sun   8 am to 6 am
Phone: 81 98-870-2110
Website: https://www.round1.co.jp/shop/tenpo/okinawa-ginowan.html
Address: 3 Chome-28-8 Mashiki, Ginowan-shi, Okinawa-ken 901-2224, Japan
GPS Coordinates: 26.2759889, 127.7308213
Directions: 58 South towards Naha. Take the Convention Center access road that veers to the right past Foster. Pass Tropical Beach and Convention Center on your right. Continue straight and ahead on the left, you'll see Round 1.