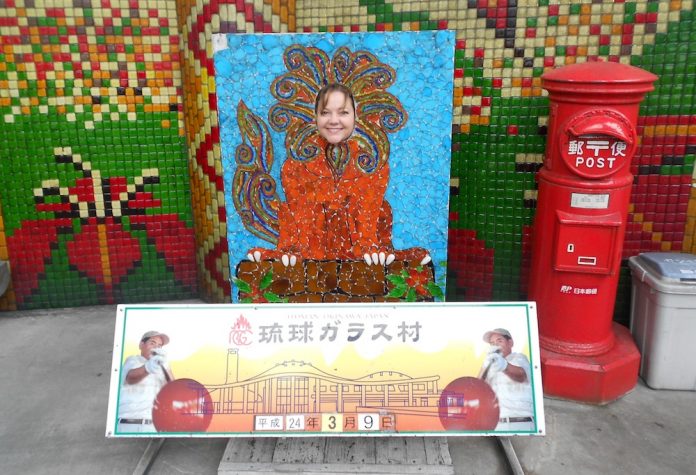 CONTRIBUTED BY AMY MADDOCKS

Ryukyu Glass Photo Op
Beautiful, vibrant, enjoyable, eye-pleasing, engaging fun, are just a few words to describe the experiences awaiting you at the largest glass factory in Okinawa, otherwise known as Ryukyu Glass Craft Village. I have been to a few glass factories on the island, and as much as I love each one, this one—by far—has the most to offer. It's a place where glassworks are manufactured, exhibited, sold, and the process can be closely watched or even participated in. There is also an art museum, studios, and a restaurant. It's a little out of the way compared to the other facilities on Okinawa, but the drive is well worth your time. So plan a day when you can spend a few hours and head south—your family will thank you!

Ryukyu Glass Artists
I first read about the village in the magazine "Okinawa: Japan's Tropical Side Travel Guide." A friend had mailed me the guide before I came to the island so I could orient myself with all the island had to offer. The magazine only had a small paragraph about the village, but piqued my interest nonetheless. My family and I spend a lot of time up north exploring and I felt like I was neglecting the south—so I started investigating what there was to see and I was pleasantly surprised at the many places there are to see south of Kadena! We had seen the usual spots, like Okinawa World, the Peace Museum, and Shurijo Castle, but to really experience Okinawa, you've got to get out and find the places where the locals go. Ryukyu Glass Village is one of those places!

Ryukyu Glass Main Shop
When you first arrive, I suggest you start at the building called the "Glass Gallery," which is actually a museum showcasing the most beautiful and unique works of art I have seen yet. They don't allow photos of this area, for obvious reasons, so just enjoy your time walking around taking in the beauty. You will want to watch your children closely here, as many items are reachable for little hands. You can purchase some of the pricey art here (mainly in the middle). However, the real treasures are the items along the edges that are not for sale. There were a few signs in English describing the pieces and why they are treasured. For example, several pieces of glass art were made in postwar times around the 1950's. Punch bowls, fly traps, Captain's bottles, etc., were commissioned by the military to be made for their use. The fact that they survived this long is a feat all on their own! Before you leave the gallery, grab a brochure by the entrance in English that describes all the village has to offer.

Ryukyu Glass Crafts
Another nice thing about this place is the fact that all of the buildings are connected in some way, so if it's a rainy day (which it was when we went) then you can still enjoy everything without getting soaking wet! So, next to the gallery is the Outlet Shop. This is where we spent a lot of our time. Many of the pieces here are so cheap I was shocked. They supposedly have imperfections in them, but we could only find some once in a while. They are very critical about their work, so you can find true gems in here at a fraction of the cost. Also in this building are crafts and fun stuff for all ages. You can make your own necklaces, bracelets, trinkets, and for those who are too young to work with the flames there are cute picture frames you can glue glass to and make your own piece of art. A group of Japanese kids were making frames and let me take their picture—they were having a blast! There are also the traditional set-ups of picture cut-outs for you to pose in, but the ones here are extra special because they are decorated with glass. One of the first things you'll notice about this entire area is that they use glass to decorate everything—and I mean everything. In fact, some of the buildings are completely covered in glass mosaic art-striking and gorgeous. It makes the whole place very beautiful and unique.

Ryukyu Glass Restaurant
Next to the Outlet Shop is the largest building, which has the biggest selection of glass art for sale I have ever encountered. It also sells the traditional Okinawa souvenirs and such, but take your time here—it may be overwhelming (think Wal-Mart meets Glass-ware) but it's worth your time to explore. I found some treasures here I have found nowhere else. Okay, the Wal-Mart comparison may be a slight exaggeration, but it is huge! At the other end of this store is the restaurant. We didn't actually eat there, as we weren't hungry, but looking at the menu showed a variety of items at very reasonable prices. The stained glass entryway is enough to get you up there (it is up a spiral staircase) and according to the brochure it is decorated inside with beautiful glass art.

Ryukyu Glass Frames
The next building you'll see is the actual Glass Factory. The glass artisans there are amazing. You can watch them work their magic from many different viewpoints, and even sign up to make some creations of your own with them. I made my own drinking glass at their sister store up north and it is well worth the time. Even with the language barrier they help you understand the process and learn their techniques (some do speak English). Attached to this area is a separate building where you can try your hand at pottery making or paint different crafts like your own Shisa. Prices are very reasonable, too.

Ryukyu Glass Ping Pong
Our other favorite event of the day was playing a game to win glass pieces. In the Outlet Shop and outside the Glass Factory are areas set up where you can pay 300 yen for five ping pong balls. If you throw a ball and get it inside one of the pieces—you get to keep it! My husband and I both played and won five pieces of our own—we had a crowd of Japanese people around us hooting, clapping, and hooraying us each time we got one in. It was a blast! On a side note, if you throw and don't get anything, they give you two beautiful postcards. So no matter what—everyone is a winner!
You can view all they have to offer at their website here.  They also have a couple of coupons you can print from that website to use on your purchases & at the restaurant.
Payment: Admission is free; just bring Yen to purchase anything.
Hours: They are open year-round from 9:00 until 6:00 p.m.


Ryukyu Glass Sign at Road

Ryukyu Glass Sign
Directions: It's really easy to get there—they have a map on their website, but all you do is travel south on Route 58 and continue south when it changes to Route 331. Continue towards Himeyuri Peace Museum (you'll see signs for this) and past Nanbu Hospital. The Glass Village is on your right side of Route 331 toward the south tip of the island. The turn for the parking lot is immediately after a stop light. From Kadena it took us just over an hour during the middle of the day (when there wasn't much traffic).
Food Menu and Craft Prices:  Click for larger view.

Ryukyu Glass Menu

Ryukyu Glass Project Prices