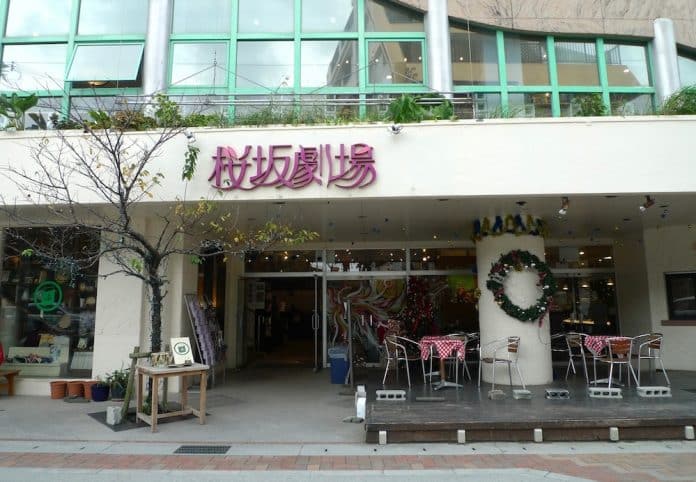 CONTRIBUTED BY ANGI BRZYCKI

Sakura Zaka Exterior
The Sakura Zaka 桜坂劇場 is one of my favorite places to go to in Naha. The movie theater shows mainly independent Japanese, American, and foreign films. The screening rooms are fairly small, similar to an old theater house. Most of the films are hard to find at the big theaters; the one draw back of watching a foreign film here is the subtitles are in Japanese. Luckily, all of the films in English are NOT dubbed Japanese but have Japanese subtitles.

Sakura Zaka Snack Bar

Sakura Zaka Flyers
To find out what movies are showing and the timetable click on the 映画情報 (movie information). If you are unsure about a movie, click on the film poster icon and you will have access to the trailer and the viewing times. Seeing a film at the Sakura-Zaka is a bit pricey, 1,600円. But if you're female there is a discounted rate of 1, 100円 on Tuesdays.

Sakura Zaka Coffee
If you're not in the mood to see a movie inside the theater there is a cute cafe, Cha-gwa to the right of the theater entrance and a book store/gift shop to the left. Upstairs there is a small gift shop of Okinawan ceramics.

Sakura Zaka Bookstore

Sakura zaka Walk This Way
Directions: Getting to the Sakura Zaka is easy from Kokusai Dori. From the main square (see picture) Tenbusu on Kokusai St. head straight up the street. There is a Lawsons and a main square on your right. Continue walking up the street and you will see a park and scooter parking. On the left you will see a building that has 'Sakura' written on it. Don't let that confuse you. It's a music venue. Make a right at the end of the street and the Sakura Zaka theater will be on the left hand side.
Address: 桜坂劇場Sakura Zaka, 3-6-10 Makishi Naha, Okinawa 〒 900-0013
Phone:  098 -860 -9555
Hours: 10:00-22:00 (Depends on movie time)
Website:  www.sakura-zaka.com/
E-mail:  Info@Sakura-Zaka.com