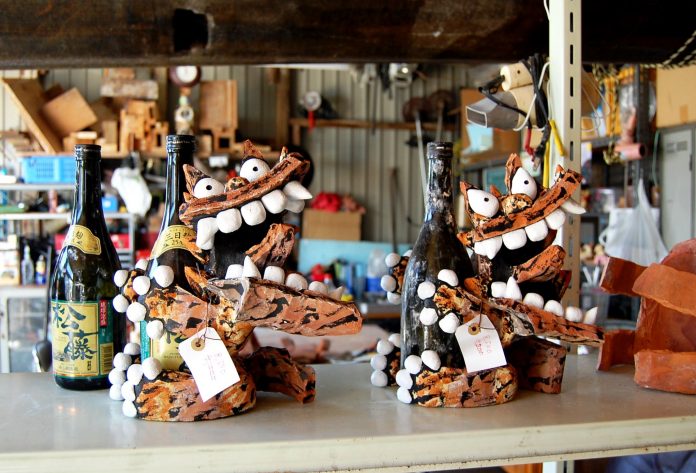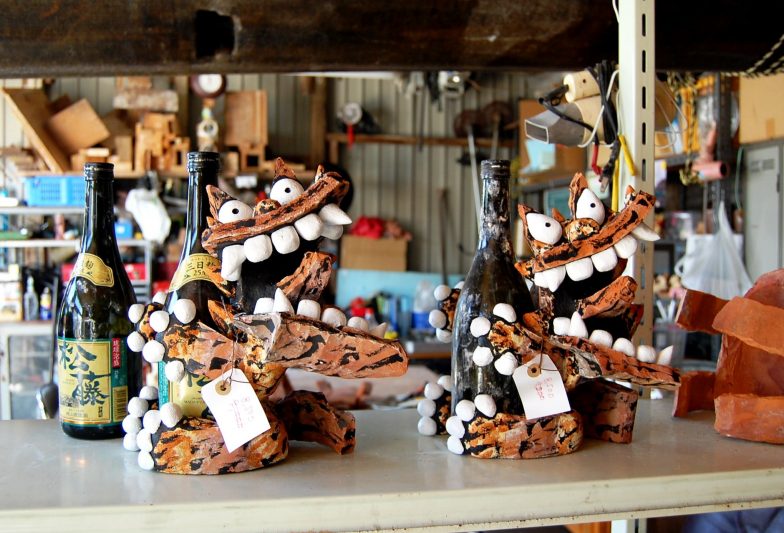 CONTRIBUTED BY ANTHONY CAMINA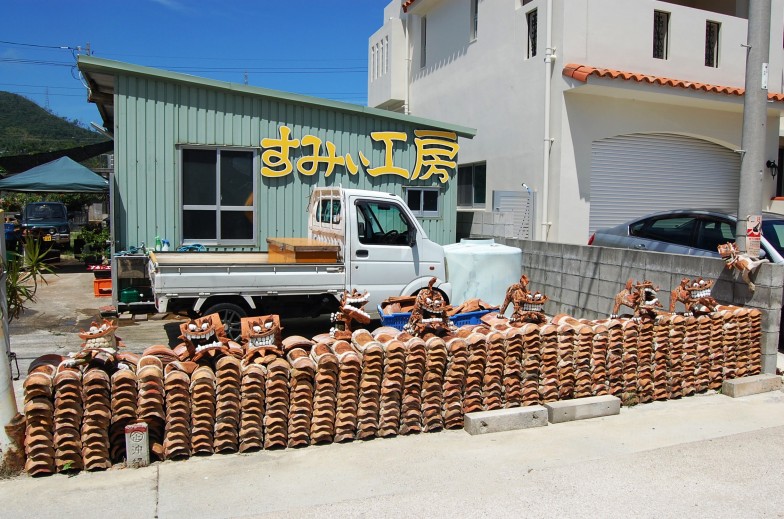 For those in the market for unique Okinawan souvenirs, there is new pottery shop along Highway 329 in Yaka that is worth checking out. The studio is called Shikui-Shisa and is defined by the kooky and funny styled shisa that stand guard atop a low makeshift terracotta wall.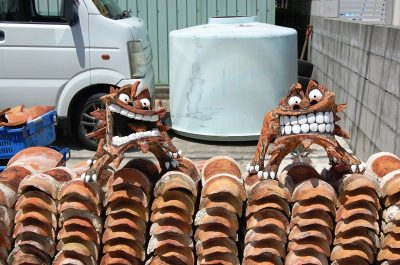 As amusing as these shisa look, they are only a small array of the Okinawan shikui-style pottery found inside the workshop.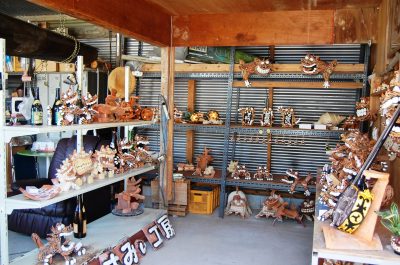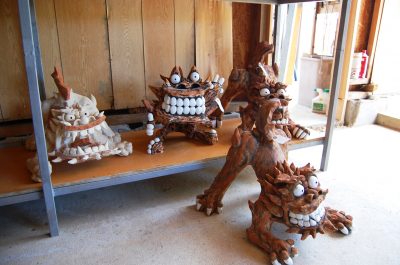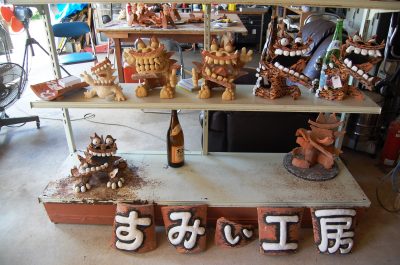 Traditional Okinawan shisa tend to be from the older Yachimun style of pottery and represent most of the red clay guardians at entrances and rooftops found abundantly on island. A few artists have started expanding beyond tradition in the past few years to create drastically different shisa creations. The shikui style in particular uses a proprietary blend of crushed limestone and rice hay which is fermented and used in place of clay or cement.
The owner of this workshop is one such visionary who has decided to reuse recycled roofing tiles to breathe life into his boisterous-looking creations. This artist is Oshiro Sumimitu, and his skills with masonry in the shikui style are only matched by his welcoming charm upon visiting his business. Sumimitu-san does speak a decent amount of English and has the right balance of attentiveness without coming across as pushy.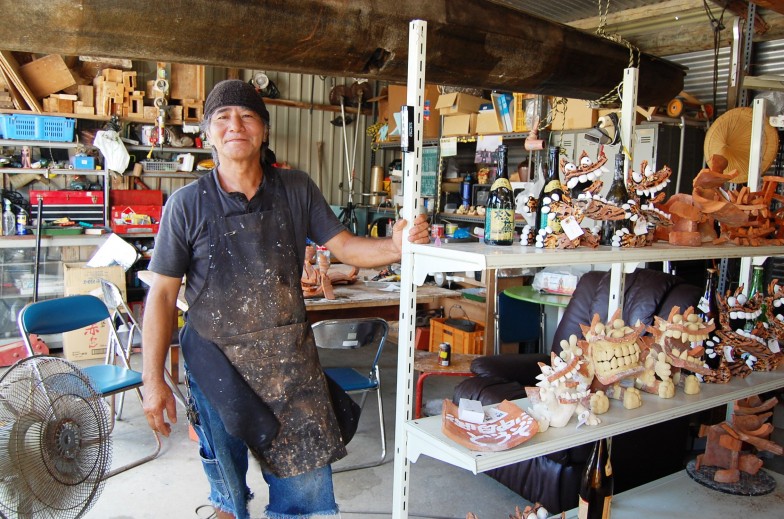 When my wife and I stopped by to investigate this shop, Sumimitu-san immediately stopped working on one of his projects to greet us at his driveway. He also turned on several shop fans to ensure we were comfortable while perusing his wares. The Shisa he makes are all packed with character. Since he does use recycled materials, some may be in similar poses, but no two are exactly alike.  There were jovial shisa made to hold alchohol bottles, shisa made to look like they were climbing walls, and even shisa which looked all too happy to pose for the camera. In Sumimitu-san's workshop even the most rigid of souls cannot help but smile when looking around.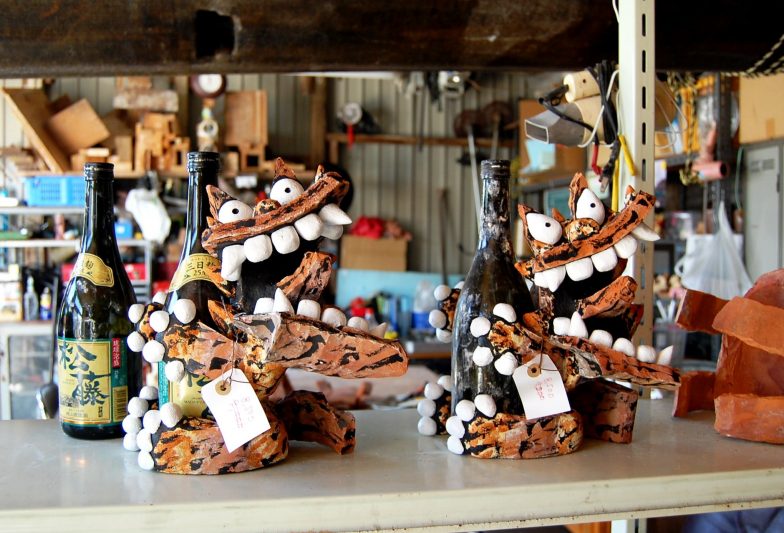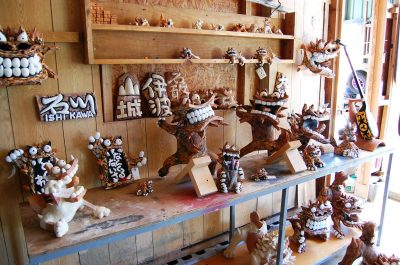 Hours: 10:00 a.m. – 6:30 p.m. daily
Payment: At the time of this review the workshop only accepted yen.
Phone: 090-3796-6206
Directions: From the 5 exit in Ishikawa, head north up highway 329 toward Yaka. Once in Yaka look for a large Family Mart on the left hand side. This particular Family Mart stands out due to its large parking lot. Shikui Shisa is a few meters past this Family Mart on the left hand side, across from Ocean Mist Apartments.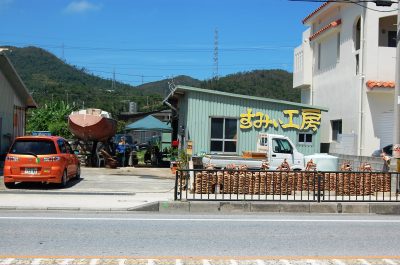 Address: Japan, 〒904-1203 Okinawa, Kunigami District, Kin, Yaka 国道329号線
Map Coordinates: 26.449575203379812, 127.85016640213007