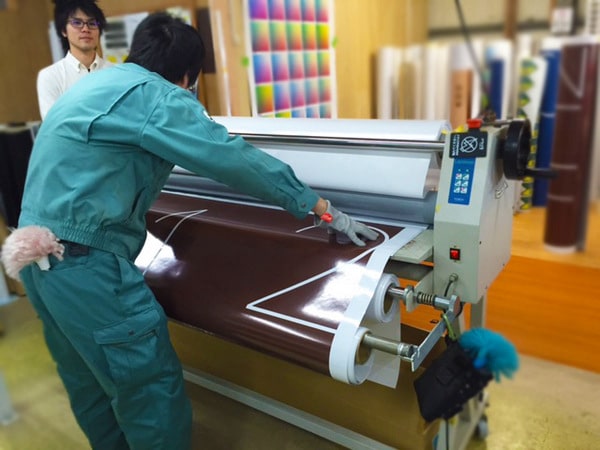 CONTRIBUTED BY KACEY A.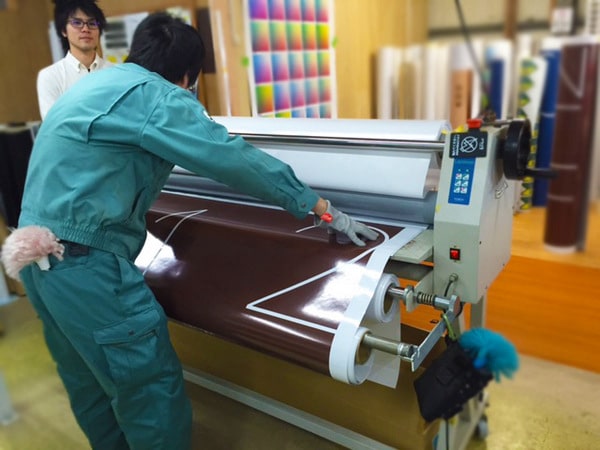 Photo Provided by Showa
I love learning how things are made. I am constantly amazed how ideas can form in someone's head which they become so passionate about, they share with others and are able to translate those ideas into a real life product that other people enjoy. A few weeks ago I had the opportunity to meet with the president of Showa Production Co., Ltd., learn about the history of his company, and watch first hand how his products are made from conception all the way up to the product ready for delivery. Showa Production creates products that are important to every single one of us. It's a product that the general public sees every day, numerous times a day. We use this product all the time without ever giving it a thought. What is it you wonder? They produce signs.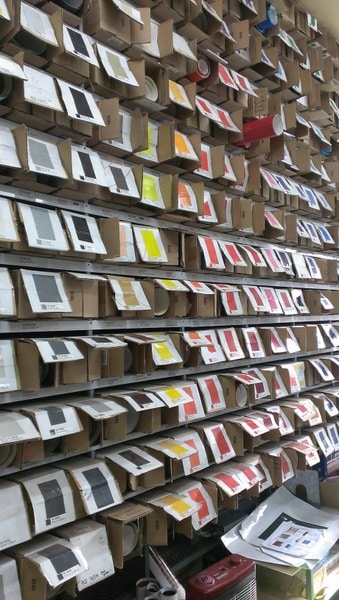 Signs, you ask? Yup, signs. Well, they create signs and about anything else that you can think of. Those giant 3D letters on the sides of businesses, hospitals and hotels? That's Showa. The giant monkey and letters on Makeman? That's them. Nitori signs, Dragon Palace sign, pachinko parlor neon signs. The create murals on the sides of buildings, those beautiful signs that describe the displays at museums, signs in the shape of pillars outside of the post offices and banks. The airport. Decals of all sizes on the sides of busses and cars. They created the giant Blue Seal ice cream cone. Billboards. Shopping arcades. They can seriously do it all.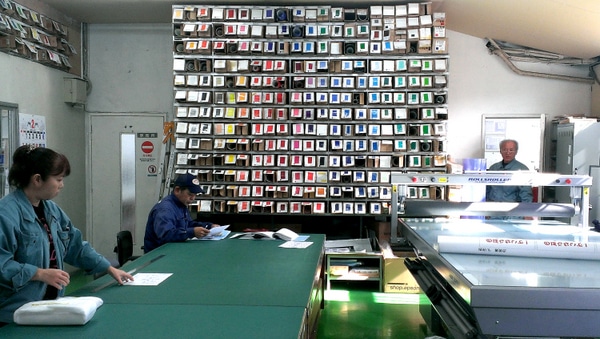 Thanks to a mutual friend, I met with President and Direction Ryuji Akamine, who was kind enough to take time out of his day to show me around. It was then I learned that the company has been in business in Okinawa for 45 years, created by his father. They've called their current location in Naha home for the past 12 years. With only 30 employees, they pride themselves on learning new creative techniques and technologies which allow them to turn a customer's vision into reality.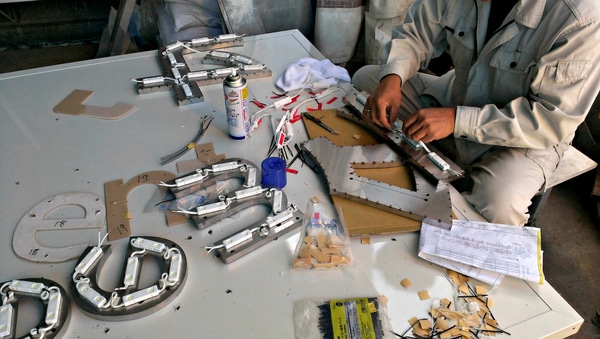 They have some really cool equipment I was able to see in action. They have 3 large vinyl cutters, 2 large format printers and the biggest router I've ever seen. They are able to cut plastics, woods, glass and even granite.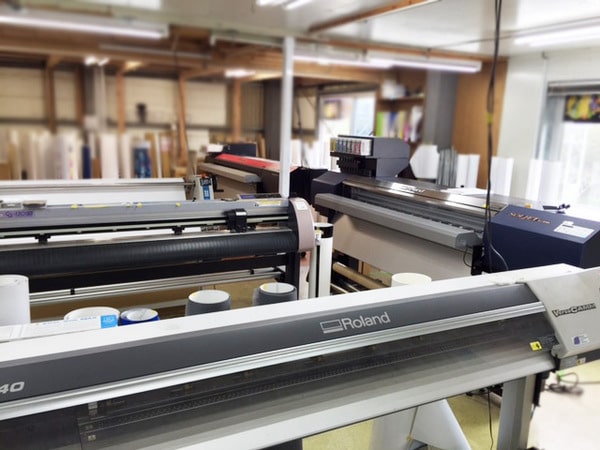 Photo Provided by Showa
Watching the engineers put together the pieces to a large hospital sign was really impressive. It's one of those things you don't even think about, that someone (or in this case, many people), have to wire, glue, bend, and grind these things by hand.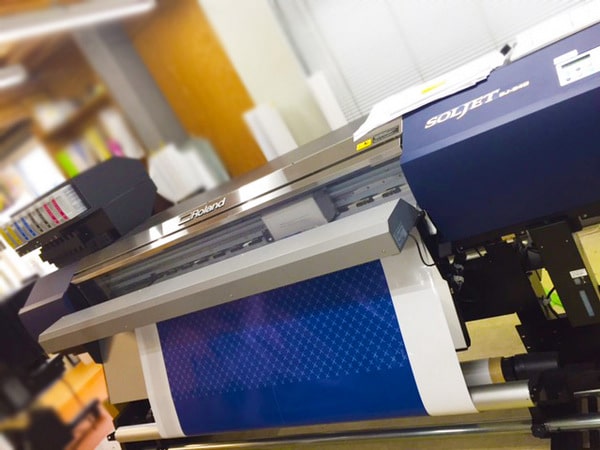 Photo Provided by Showa
Something that was really exciting to me, and I think you might be interested in as well, is the wall decals that they produce. They look and feel just like the wall they are put onto. I was amazed. When I first saw it, I thought it was a painting, until Ryuji-san started telling me about this newest product. The quality is amazing and I immediately thought of how popular this would be for families living in military housing. With our big bare white walls, this could be a total game changer! He explained that it's a similar application as wallpaper, and does not damage the wall upon removal, so it's perfect for rentals.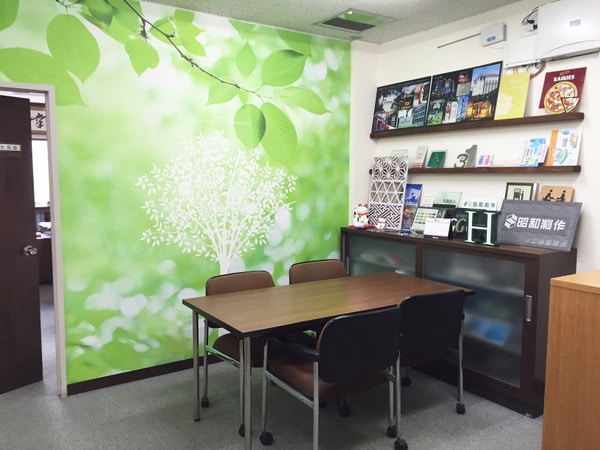 Photo Provided by Showa
Depending on the size of the product, you might need 1-2 friends to help you do it, but it shouldn't take more than a couple hours start to finish for a large piece. And remember, every single thing about what they do is customizable. You send them a photo you took on vacation and have it floor to ceiling, wall to wall in your home. They have a whole design team to help you perfect your order. It's amazing! And did I say something about the quality? It's top notch. Depending on the size of the image, there might be seams, but don't worry, it was hard for me to find them, and I was looking! Man, I only wish I knew about this a few years ago when I first moved here. It might seem silly to post a picture of a bathroom, but look how cute this is!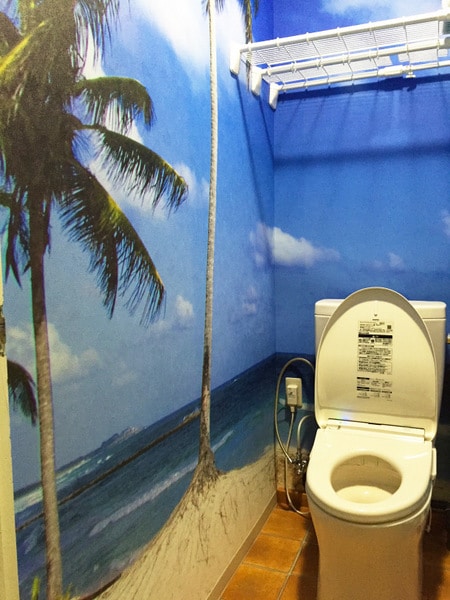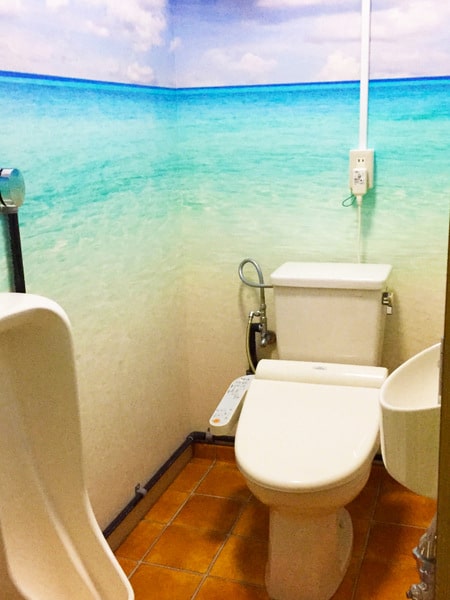 Photos Provided by Showa
While they mostly cater to other businesses, these wall decals are perfect for people like you or me. Signs, banners, and more might be a great idea for squadrons, units or clubs. Or even if you own your own business and need some really creative car decals or signage. They have a few staff members that speak English well, but using their contact form for the initial communication might be the easiest. From then on, they'll be able to communication in person, on the phone, or email, whatever is easiest for you and your representative. Because each order is completely custom, you'll be provided a quote for free.
Showa doesn't typically provide tours like above, so hopefully, I covered enough for you. If you have any questions about production or creating your own product, they will be able to help you understand the process and work with you!
---
Showa Production Co., Ltd.
Phone: 098-857-0941
Fax: 098-858-7630
Website: https://www.showa-sign.jp/ (In Japanese, but Google Chrome browser translation works really well on this site)
Address: 3-12-25 Takara, Naha, Okinawa Prefecture
GPS Coordinates: 26.1881669, 127.65726810000001
---
The banner created for our Okinawa Hai & Roy's Hawaiian event on February 27, 2016, was provided to us at no charge in exchange for this article. All opinions are those of the writer and were not influenced by this exchange.