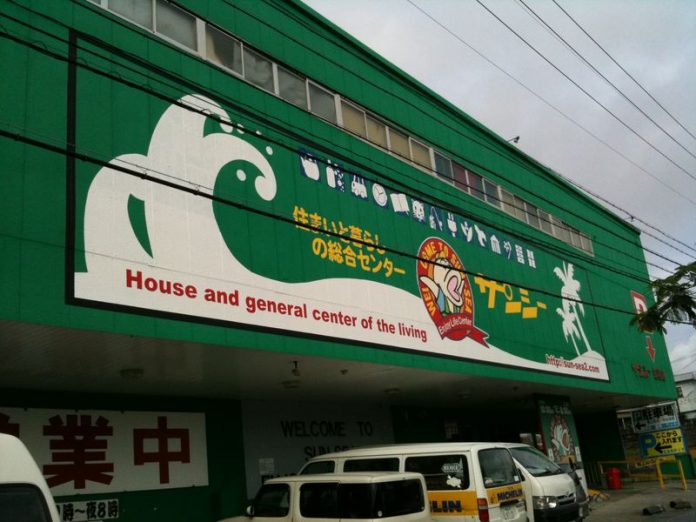 CONTRIBUTED BY KATHERINE MOORE
If you live by Kadena Gate 3 or use that gate frequently, you have probably seen this large green building with a wave and some kind of fish on it.  I drive by this building everyday for the last 5 months and I finally thought, "It's time to find out what it is."
It is called Sun Sea.  They are basically a Wal-mart (without clothing and food) and an Ace Hardware store in one place.  As the sign on the building states, it is a "House and general center of the living," meaning they sell everything you need for your house and other living necessities.  The place is actually a 3-story building and has many departments such as gardening, pets, hardware, tools, kitchen supplies and appliances, furniture, sporting goods, stationery, electronics, car supplies including tires and even some snacks.  Click on pix to see more detail…
The store is a little tight, but is very convenient if you live close to Kadena Gate 3.  I have been going to San-A or Jusco when I need something that the BX does not have, but since I found out about Sun Sea, I have been going there instead. The staff is very friendly and helpful.
So, the next time you need something for your car, pet, children, or anything at all — you might want to stop by.  You will be amazed at how much stuff they have inside.
---
Sun Sea
Hours: 10:00 – 20:00
Phone: 098-938-6226
Website: sun-sea2.com
Address: 4 Chome-12-1 Chibana, Okinawa, Okinawa Prefecture 904-2143, Japan
GPS Coordinates: 26.3595436, 127.80043849999993
Directions:  From Kadena gate 3, turn right immediately after exiting the gate. Sun Sea will be on your left side. You can either park at the front of the store (there are about 8 spots) or turn left where the "P" sign is to park at their lot/garage.