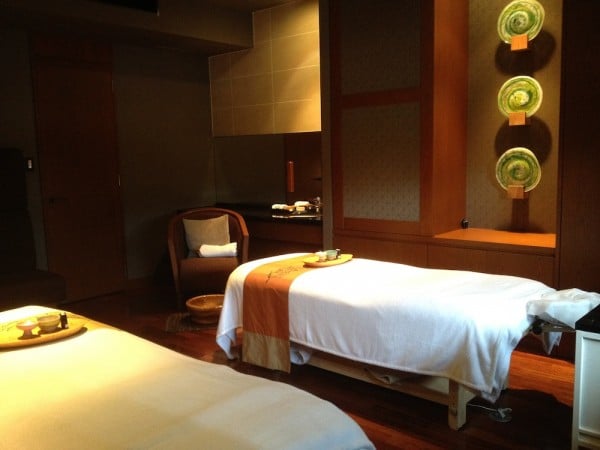 CONTRIBUTED BY JENNIFER MARTIN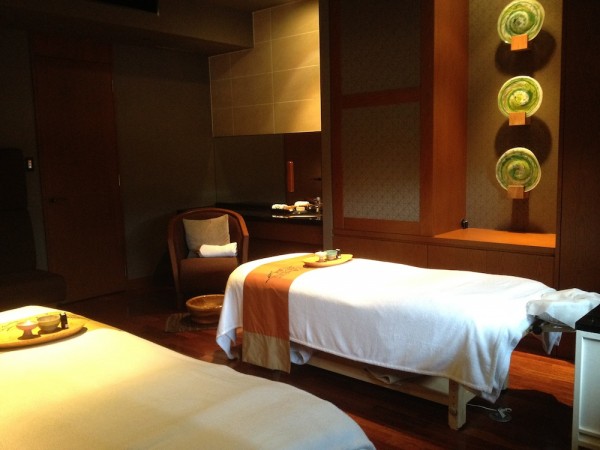 The Kafuu Resort located in Onna is like a precious jewel, amazing from every angle. The Green Spa, located on the second floor of the resort, boasts every amenity one would expect to find in a high-end spa.
The quality of the spa at the Kafuu Resort absolutely rivals the priciest hotels in Manhattan, London, or Paris, but is priced comparatively with other spas found on Okinawa. Built facing the back of the resort, The Green Spa is quiet and peaceful and overlooks a serene pond and tufts of mellow grass. Completely void of car engines and honking horns, it is abundantly clear that great effort was placed in the design and location of the Spa so that spa-goers would have the most pleasant experience possible.
Not one luxurious detail was spared. Every element of The Spa was meant to please and relax the senses. Aesthetically pleasing décor, soft peaceful music, and abundantly friendly staff make any treatment well worth the drive to Onna. I booked two massages: one for my best friend Emily, who was visiting from the States, and one for myself.  We were greeted at check-in by cheerful, English-speaking staff.
After being escorted into a peaceful room with a comfortable bench and oversized chair to lounge in, I was surprised to find that we would have our massages in the same room, side by side. Our gorgeous room had everything inside it one could ask for: soft robes, towels, a closet for our belongings, hair brushes and other toiletries, and a full bathroom with a shower. The lighting was dim, soft music played, and a small fountain trickled water sounds softly. I was at peace already, and the massage hadn't even begun.
Our masseuses were extraordinary. Not only was it was the best massage I've had since I moved to Okinawa, the environment begged us to stay longer. My best friend and I both speak English, but there was no lack of communication between either of us and the masseuses, which helped to give us the best experience possible. We were able to fully discuss any health issues, how hard/soft we like our massage, and what we expected to gain from our treatments.
In addition to massages, we also had facials, which was everything I expected. Our skin was assessed, and we each received an individualized facial meant for our skin type, and our facial included what we expected from it. As uncomfortable as facials can be at times, my serenity didn't waiver.
Followed by utter peace was most stressful part of our experience. The words, "Okay, we're finished. Take your time showering and getting dressed, we'll be waiting outside for you," echoed in my mind. Much to my surprise, our experience wasn't over.
After showering and getting dressed, we met our accommodating staff again in the spa lobby. We were escorted to a wonderfully peaceful room with unobstructed views of what could have been an English countryside.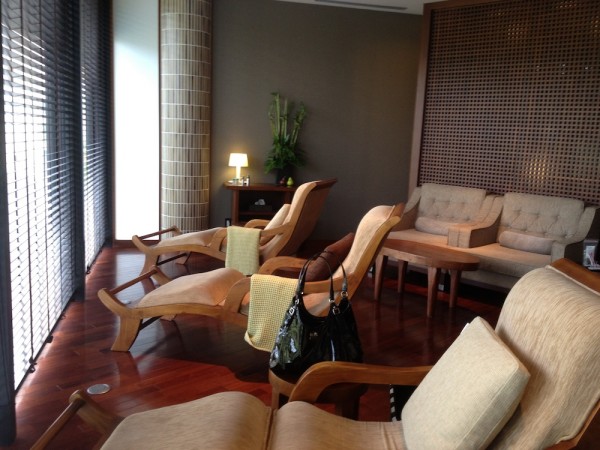 While relaxing on soft, pillowed lounge chairs and curling up with the throw blanket provided, we were greeted with a menu of teas, hot or iced, and were instructed of the various health benefits of our options. Our masseuses recommended which tea would be best for us, and we made our decision. We sat comfortably and chatted, although I nearly fell asleep. We were welcomed to spend as long as we wanted there, and if we didn't have any plans for that evening, I probably would have taken a little nap. Accompanying our tea was the most delicious Japanese cookie I have ever tasted. Not being fond of the traditional less-sweet treats often found in Okinawa, I was pleasantly surprised to find that my purple Ubi potato cookie was absolutely divine. My hot tea was magnificent, the best tea I have had in my two years living overseas, and Emily's cold tea was just as enjoyable.
At last, we said goodbye. At this point in time I usually grit my teeth and wait for someone to sell me something, but not one pushy sales line was uttered.
Perhaps I am overly-critical of spas, but my philosophy is that I have a goal for relaxation, and that is what I am paying for: a complete package of peace, aside from just the treatment I've received. I may be receiving a fantastic massage, but if I'm in the middle of a busy mall and hear the business of life outside of my walled sanctuary, the noise will take the edge off of my peace; fighting crowds or parking on my way to or as I exit my spa will un-do just a bit of my relaxation; staring at a billboard or rusted fire escape stairs from the spa window will take away from my experience as a whole. Perhaps the most undesired part of visiting a spa is being critiqued afterwards for my skin care and being ever so slightly nudged (or downright pushed) toward purchasing the spa's own line of specialized products. When I have just paid for a massage or spa treatment, which can be pricy, I am offended when I am asked to spend more money on their products. Telling a client what product was used is absolutely acceptable in opinion, but asking someone to buy two hundred dollars of product or being pushy about it ruins my experience.
At the Kafuu Resort Spa, however, I was able to look freely at the products available without any pushy sales person telling me what I needed to buy. The teas, cookies, and beauty products I enjoyed were displayed in nicely in the spa lobby. Instead of telling me which tea I had and where I could buy it, I asked them which one it was that I drank—because I really wanted to buy some, not because I was being pressured to buy anything. It was evident from the moment I arrived that the goal of The Spa, and The Kafuu Resort in general, is to create happiness in their clients. Every detail down to the custom sink basin informs people that The Spa is meant for relaxation, no gimmicks allowed. For this reason, The Spa at the Kafuu Resort is certainly a place where I would expect to see repeat customers.
Website: www.kafuu-okinawa.jp/en/
Prices: Keep an eye out for reduced prices, package deals, and coupons. I used a coupon for my treatment; we each paid less than 10,000 Yen for a 60 minute massage and 30 minute facial. In addition, resort packages are offered through travel agencies that sometimes includes spa treatments or massages. Each spa treatment is offered at a varying price, but the prices reflect the typical rate of spa treatments and treatment packages in Okinawa.
Payment: They accept Yen and credit/debit cards. On one occasion while eating at the Kafuu Resort restaurant Muku, the credit card machines went down. They gave us free coffee and treats while we waited for an hour in hopes they would be up and running again, but their IT wasn't able to fix the problem. I had to come back the next day to pay, but they were very accommodating and didn't ask us to find an ATM at 9 pm and return immediately with Yen. I do recommend bringing Yen with, just in case.
Directions: The Spa is located inside of the Kafuu Resort. From Kadena, take highway 58 toward Onna. On the right side, you will see a sign that says Kafuu Resort Fuchaku. Make a right at the sign, and follow the driveway up the hill. Staff will direct you where to park as you pull up to the entrance. Note: You will see the large Kafuu Resort on the hillside before you approach the turn on 58.